Welcome back to Recommended Reading! I hope your Sunday is going well. I woke up to a short story rejection, so I lopped off 350 words and sent it in to another place. Excelsior!
To some, today's trilogy needs little introduction. Each book won the Hugo Award, three years running, the first time an author had accomplished this feat. And the author, N.K. Jemisin, has been central in the fight to get the vocal alt-right trolls in the speculative fiction* community to shut the fuck up**.
In an acceptance speech that's being hailed as one of the best ever made at the Hugos, Jemisin defiantly raised a "rocket-shaped finger" (a reference to the rocket-ship design of the massive Hugo statue) to the racist rhetoric that positions the recognition of her work as being about identity politics rather than her own talent.

"It's been a hard year, hasn't it," she began. "A hard few years, a hard century. For some of us, things have always been hard. I wrote the Broken Earth trilogy to speak to that struggle, and what it takes to live, let alone thrive, in a world that seems determined to break you — a world of people who constantly question your competence, your relevance, your very existence."
The Broken Earth trilogy takes place in a world called the Stillness, where geological cataclysms periodically decimate the population, through both the initial events and the ensuing nuclear winters. Some people, called orogenes, are born with the power to harness and redirect the earth's energy. They are hated and feared, and the dominant imperial power collects them as children, to break them and train them to serve the empire.
One day, after deciding such a civilization is unfit to continue, an orogene of immense power rips the continent in half.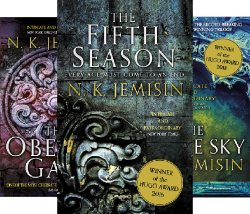 The story begins that day, following a handful of orogenes and their associates as they try to survive. For a fantasy epic, it's very intimate; as with all the best stories, the conflicts are between individuals with different goals, each for understandable reasons.
I ordinarily would pick something less famous to write about, but this one is just so good. You should check it out! The first book is called The Fifth Season, and is probably available wherever books are sold.
What have you been reading lately?
*I know some of you love to hate this umbrella term for stories about worlds other than the one we live in; I don't care.
**I was chatting with my friend about this the other day. I said, "I guess I could see how your stereotypical libertarian reader might disagree with some of the themes, but it's a very nuanced take on prejudice and empire." He said, "You're acting like these people opened the book after they saw a picture of a black woman on the back." Touché!