According to The Times, the U.S. is taking "more aggressive digital action" in Russia's power grid "in a warning to Moscow and in a demonstration of its abilities," explicitly to brush Putin back from further election interference. Yesterday afternoon, Ryan Goodman, professor and former special counsel to the DoD, highlighted this excerpt from The Times article (source):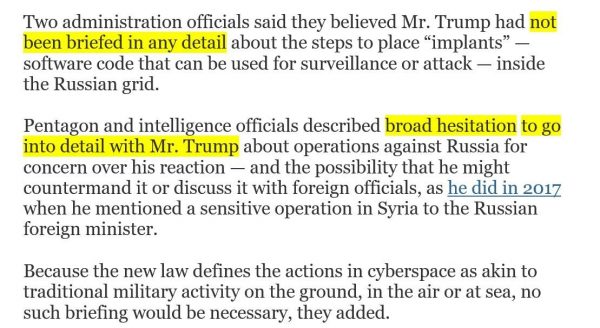 So, Pentagon and intelligence officials are taking action independently because everyone's afraid if they clue Trump in, he'll blurt out details to a hostile foreign power's officials or quash the effort altogether. My gratitude that at least someone is taking the threat of Russian interference seriously is tempered by the knowledge that, under normal circumstances, unelected officials shouldn't freelance U.S. foreign policy. There's a norm that will be difficult to reestablish.
Anyhoo, yesterday evening, Trump confirmed that efforts to counter Russian interference in U.S. elections either have to take place behind his back or not at all: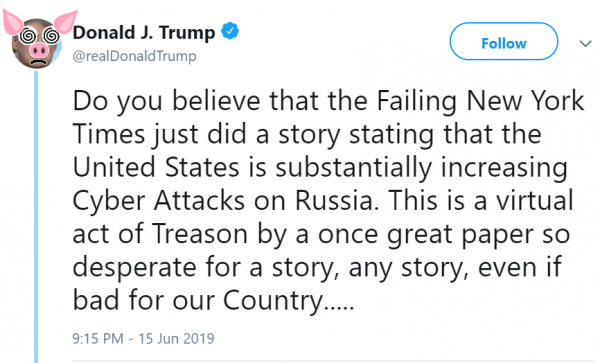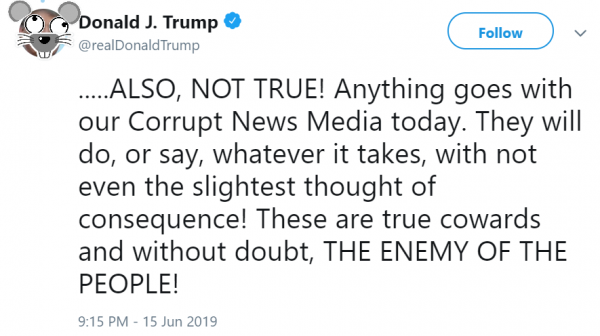 Recall former DHS Sec Kirstjen Nielsen's failed attempt to put plans in place to deal with Russian interference in the upcoming election. One of the primary duties of the DHS secretary is to ensure election security. But in a bid to save her job, Nielsen focused on caging kids instead when she was told that bringing up Russian interference wounds Trump's ego. [Mother Jones]
When former Department of Homeland Security Secretary Kirstjen Nielsen began to prepare a plan to address potential Russian interference in the 2020 election, she was told by President Donald Trump's chief of staff, Mick Mulvaney, to refrain from discussing the issue in front of the president, according to a report from the New York Times.

A senior Trump administration official recalled to the Times that Mr. Mulvaney said it "wasn't a great subject and should be kept below his level," because Trump considers any discussion of Russia's interference in the 2016 election to be a challenge to the legitimacy of his presidency.

The DHS is the federal agency primarily responsible for election security, but despite Nielsen's growing concerns about Russia's continued involvement in the 2018 midterms, she abandoned her effort to organize a meeting with the White House in the hopes of creating a cohesive strategy for 2020 after pushback from Mulvaney. The issue therefore did not gain traction within the White House and has resulted in a lack of public awareness regarding the latest potential attempts of Russian election interference.
These are two instances we know about where Trump's ego and unwillingness to address urgent threats compromised national security.* Mitch McConnell was complicit before and after the 2016 election, refusing to join a bipartisan effort to counter foreign interlopers prior to the last presidential election and refusing to bring a bipartisan election security bill to the floor of the Senate for a vote now.
We know what's going on here. Trump always abandons his responsibilities as president when they conflict with his personal interests and is keen to avoid any suggestion that someone other than his magnificent self was responsible for his glorious victory. McConnell and the Republicans have known for some time that they can't harness white grievance to secure power to enact plutocrat-friendly policies forever, which is why they started laying the groundwork for minority rule long before Trump came along, rigging elections and cheating in every conceivable way.
The House is the last line of defense. The situation demands an impeachment inquiry focused on Trump's attempts to thwart an investigation of previous election interference and failure to protect the country from foreign interlopers going forward. Hearings would expose Republican complicity and, if House leadership follows Laurence Tribe's recommendation, deny McConnell the opportunity to "exonerate" Trump via acquittal in the Senate — all while underscoring the corruption of the Republican Party.
I have a ton of respect for Nancy Pelosi, who knows a lot more about congressional procedures and political strategy than I can ever hope to learn. My hope is she's being deliberate about impeachment because she has a strategy to not only expose Trump but also his corrupt enablers in Congress. I sincerely hope so, because lawlessness will continue until lawbreakers are held accountable, and past a certain point, it will be too late.
*Thanks, it must be said, to The Times. Their garbage Beltway reportage notwithstanding, the paper still breaks some incredibly important stories.