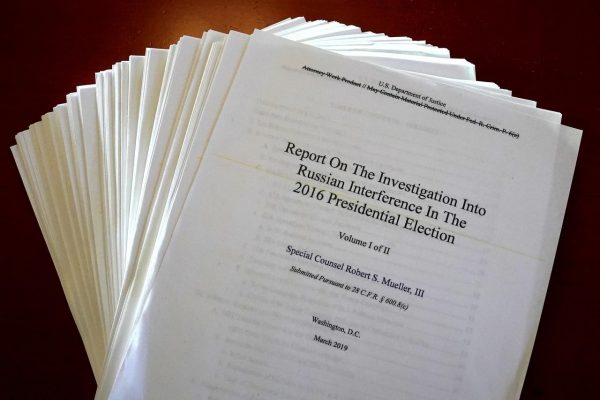 (pp 11-13)
This section lays the basis for and scope of the investigation. It first cites Rod Rosenstein's Appointment Order. (The report uses more capitalization than I usually do. It is helpful in pointing to specific documents.) The subjects of investigation are:
(i) any links and/or coordination between the Russian government and individuals associated with the campaign of President Donald Trump; and
(ii) any matters that arose or may arise directly from the investigation; and
(iii) any other matters within the scope of 28 C.F.R. § 600.4(a).
The last covers "federal crimes committed in the course of, and with intent to interfere with, the Special Counsel's investigation, such as perjury, obstruction of justice, destruction of evidence, and intimidation of witnesses." It also covers similar crimes committed during the FBI's investigation that was wrapped into the Special Counsel's investigation.
Later memos confirmed that the investigation includes
allegations that three Trump campaign officials – Carter Page, Paul Manafort, and George Papadopoulos – "committed a crime or crimes by colluding with Russian government officials with respect to the Russian government's efforts to interfere with the 2016 presidential election"
Manafort's crime arising from payments he received from the Ukrainian government
Manafort's crimes arising from his receipt of loans from a bank whose CEO was then seeking a position in the Trump Administration
allegations that Papadopoulos committed a crime or crimes by acting as an unregistered agent of the Israeli government
four sets of allegations involving Michael Flynn, the former National Security Advisor to President Trump
the "pertinent activities" of Michael Cohen, Richard Gates, Roger Stone, and two names redacted for personal privacy (PP) reasons
leads related to Cohen' s establishment and use of Essential Consultants LLC to, among other things, receive funds from Russian-backed entities
individuals who might be working with people being investigated
allegations that then-Attorney General Jeff Sessions made false statements to the United States Senate.
That's a big investigation. Mueller inherited parts of this from the ongoing FBI investigation. It speaks to Mueller's care that he confirmed with the Acting Attorney General that the bulleted points were indeed to be investigated. Two district court cases have confirmed the office's authority to investigate these matters.
The Special Counsel's office operated like a US Attorney's office. The Office made its own judgements about what to investigate within the stated parameters and, for example, didn't chase down every news item about a Russian contact with the campaign.
"Certain proceedings associated with the Office's work" continue and have been transferred to the Department of Justice and the FBI.
The Special Counsel's team at its max:
19 attorneys – five of whom joined the Office from private practice and 14 on detail or assigned from other Department of Justice components
a filter team of Department lawyers and FBI personnel who screened materials for privileged information before turning those materials over to investigators
three paralegals on detail from the Department's Antitrust Division
an administrative staff of nine responsible for budget, finance, purchasing, human resources, records, facilities, security, information technology, and administrative support.
They worked alongside approximately 40 FBI agents, intelligence analysts, forensic accountants, a paralegal, and professional staff assigned by the FBI to assist the Special Counsel's investigation.
The Office
issued more than 2,800 grand jury subpoenas
executed nearly 500 search-and-seizure warrants
obtained more than 230 orders for communications records
obtained almost 50 orders authorizing use of pen registers
made 13 requests to foreign governments
and interviewed approximately 500 witnesses, including almost 80 before a grand jury.
The FBI also embedded personnel at the Office who did not work on the Special Counsel's investigation, but rather reviewed the results of the investigation and sent written summaries of foreign intelligence and counterintelligence information to FBIHQ and FBI Field Offices. Not all of that information is included in this report.
This ends the preliminary materials in the report. They are important because they tell us some things about what Mueller thinks is important (that Russia interfered in the 2016 election) and how he went about the investigation.
Articles of interest:
Just Security: Unfinished Business: What Mueller Didn't Cover, But Congress Can
Washington Post: Was Mueller's dodge on obstruction a blunder — or brilliant?