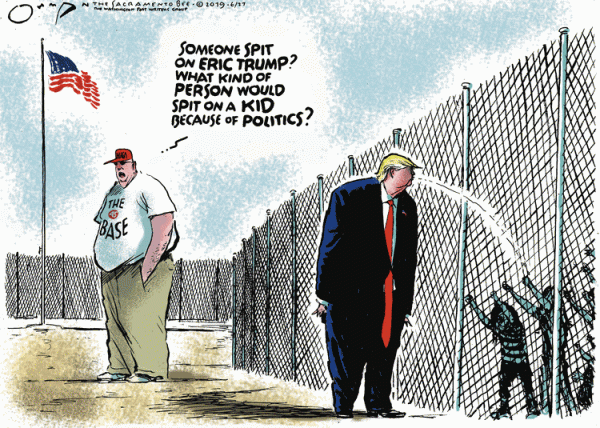 I do have values, I swear, I just can't recall what they are – The Washington Post https://t.co/DhV6kl72IK

— Alexandra Petri (@petridishes) June 24, 2019
Alexandra Petri is a national treasure:
Let me make one thing clear: The treatment that children are receiving at the border, reported with horror by those lawyers — this is not against my values. Do not misunderstand! I still have more values than anyone. I am a values voter, with values for days, values that go all the way to the floor, values that wave amberly as far as the eye can see!…

We can clearly see that these are just children by themselves, not families, and they are merely covered in filth and tear stains, not exposed to comprehensive sex education, Darwinism or a textbook implying the reality of climate change. So, yes, what's going on there is in no way an attack on the family. The family is something to be cherished, as luminous as it is theoretical.

It is important to have these values. But I have lots! All the most important, decorative values are the ones I have…

We must have values because people are flawed and fallen. As the Good Book teaches us (it is no "The Art of the Deal," but it has some points, if you skim it correctly), if you see someone who is suffering, ask yourself, is it possible that this person did something wrong? Not only is it possible, it is probable. Well, then! Probably what they are getting is a just desert. Cross to the side of the road, and let a Samaritan handle it, or some other foreign entity….