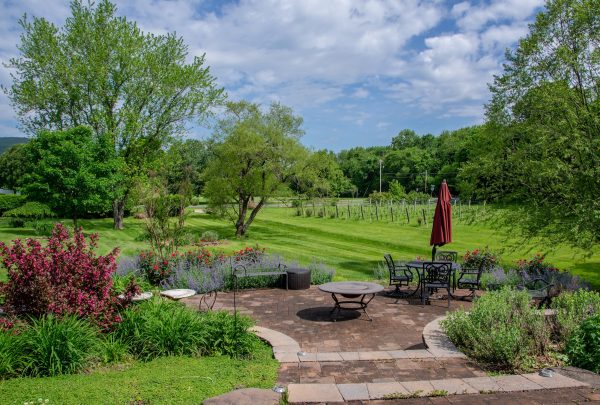 From fortunate (and ambitious!) commentor PAM Dirac:
At top: Here's the view from the front porch over the patio and out into the yard. You can see the main vineyard. For anyone wanting vineyard details, you can go to Waving Free Vinyard.

This is the first spring as a retired person and most of the work I've done has been to get the vineyard into top shape. The patio area was not in too bad a shape and just needed a bit of weeding and a bit more attention to rose pruning. The roses, weigela, and catmint are in bloom.


2) When we had a big chunk of landscaping done about 10 years ago, we bit the bullet and paid a lot of money to get a bunch of river birches put in. It was well worth the money. This is sitting on the patio looking at the morning sun filtering through the trees. Wonderful place to sip some tea.


3) Here's another view in the front yard showing (but not too closely) some of the beds we have put in. My wife demanded a moratorium on new beds until I cleaned up what we have. I have done the first pass weeding, so almost all the stuff we are sure we don't want is gone, but there is still a fair amount of work to figure out what we do what. Next spring!


4) The back yard of course has more grape vines and the vegetable garden. Again, I was ordered to stop adding beds until I got these under control. Not too bad this year. The back beds have tomatoes and some peppers. The front left has some types of squash and the front left has a nice crop of carrots. The middle front bed is a flower bed that my wife's sister worked on when she came to live with us in the last months of her fight with cancer and we try to keep it in her memory.


5) My wife has turned the space between the end of the deck and the garage into her secret garden. Lilies, peonies, various hydrangeas, lilacs, and of course another grape vine.


6) Lots of very pleasant places to sit, even if there is still a lot of work to do. Pull up a chair. We've poured you a glass of wine.
***********
What's going on in your garden(s), this week?