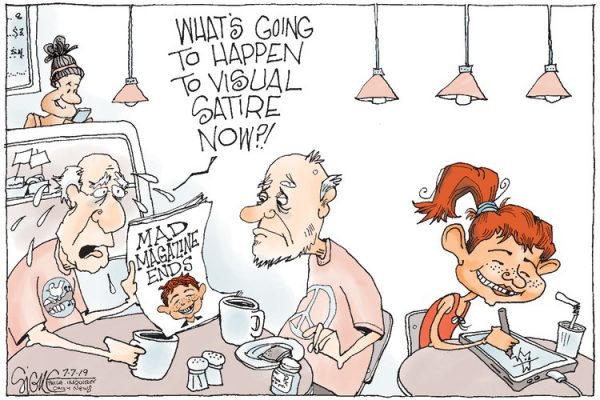 This su{fold here}upposed news about Mad closing is inevitable in an age where advertisers have so many other choices, and nobody's kids are rushing to the supermarket magazine rack. Which revered publication is next? It's as random as how a bingo machine pi{fold here}cks balls.

— Jason Markusoff (@markusoff) July 4, 2019
I'll always have a soft spot in my heart for MAD Magazine, which my dad started reading when it was still a comic book. (He never forgave my mother for throwing those precious issues away during the divorce.) And I cherish the 1973 ComicCon program I got Sergio Aragonés (and others) to autograph. But it's been at least 30 years since I bought a copy of the magazine, so…
"To be subversive, however, requires a dominant culture to subvert… a journal of subversive humor is funny only if there's someone up front attempting to maintain order." https://t.co/DLhGvUIC6r

— Liam Donovan (@LPDonovan) July 6, 2019
… "Age hits everybody: It hits magazines, it hits the movies, it hits technology," legendary Mad cartoonist Sergio Aragonés told The Washington Post on Thursday. "It's been a logical development."

Mad magazine hit a peak of more than 2 million subscribers in the early '70s, when it memorably satirized shifting social mores and cultural attitudes. Emblematic of that era — when Mad flexed the most pop-culture muscle as a powerhouse of topical irreverence — was a Watergate-era sendup of President Richard Nixon and Vice President Spiro Agnew in a "big con" spoof of the hit Oscar-winning movie "The Sting."

But commercial pressures had changed since the '90s. To try to survive in more recent years, as circulation dwindled precipitously, the magazine owned by Warner Bros.' DC division shifted to a quarterly publishing schedule and moved its offices from New York to the Los Angeles area. Now, the Mad brand will mostly endure by simply recirculating its classic vintage material, living on through the appeal of what it once was…

Mad will begin disappearing from newsstands, though it will remain available to subscribers and through comic shops. After this fall, the magazine will produce no new content, except for the end-of-year specials. All issues after that will be republished content culled from 67 years of publication, and Mad will continue to publish books and special collections, multiple people told The Post. DC declined a request for comment…
Tim Kreider, at the NYTimes:
… I also learned from Mad that politicians were corrupt and deceitful, that Hollywood and Madison Avenue pushed insulting junk, that religion was more invested in respectability than compassion, that school was mostly about teaching you to obey arbitrary rules and submit to dingbats and martinets — that it was, in short, all BS. Grown-ups who worried that Mad was a subversive influence, undermining the youth of America's respect for their elders and faith in our hallowed institutions, were 100 percent correct.

I never wrote or drew for Mad (though I have several friends who did) but my own cartooning was deeply influenced by its artists, from Mort Drucker's obsessive perfectionism for the most inconspicuous detail to Don Martin's wild, spontaneous precision. I learned from Mad that a line could be funny: not just a face but the cock of an eyebrow, the sploosh of a bowl of soup. Certain expressions drawn by Harry North, Esq. — a vacationing veteran's hollow-eyed paranoia at the lying smiles of the Japanese all around him, a guy realizing what he should've said to the jerk who cut him off in traffic earlier that day — have become engraved as the dictionary illustrations in my brain for "xenophobia" and "l'esprit d'escalier."…

Mad's influence is ubiquitous now. The glut of satire and subversive comedy we all now consume daily is created by kids who grew up on Mad or on humor inspired by it: "Saturday Night Live," "The Simpsons," "The Daily Show," "The Colbert Report" and The Onion are all in one way or another the spawn of Mad. But in the end, the magazine largely obviated itself as a cultural force by becoming the dominant mode of humor in America. The language of advertising, P.R. and even politics have all appropriated the snark and irony of Mad. Even The Man wants to be a wiseass now.
Mad Magazine Is Shutting Down https://t.co/ltKKAj62L1 pic.twitter.com/UX3fkKgeZI

— Jeff E. (@JedadiahLeland) July 4, 2019