The Senate Finance Committee just released their Medicare and Medicaid drug pricing bill. It contains a lot of interesting and useful policy proposals. The one that I am curious about is the proposed redesign of the Medicare Part D drug benefit.
Right now the benefit design is an initial deductible, a coinsurance phase, and a catastrophic phase with a much lower coinsurance. There is no out of pocket cap. For most people who are not on specialty drugs, the lack of an out of pocket cap is not relevant but it is a poor insurance design in a world where life sustaining drugs can cost the equivalent of a median price of a three bedroom pre-war house in an inner ring Pittsburgh suburb every year.
I told him those are the drugs I study
His reply was no way could he afford that. He would just have to die.

— Stacie Dusetzina (@DusetzinaS) October 23, 2017
The Senate Finance Committee proposes to change this:
This provision would make substantial changes to the structure of the Part D benefit in order to simplify the benefit design and realign incentives to encourage more efficient management of drug spending. Starting January 1, 2022, it would: (1) change enrollee cost sharing in the initial coverage limit and the coverage gap; (2) cap enrollee cost sharing above the catastrophic out-ofpocket threshold; and (3) change the amount of annual out-of-pocket spending needed to trigger catastrophic coverage.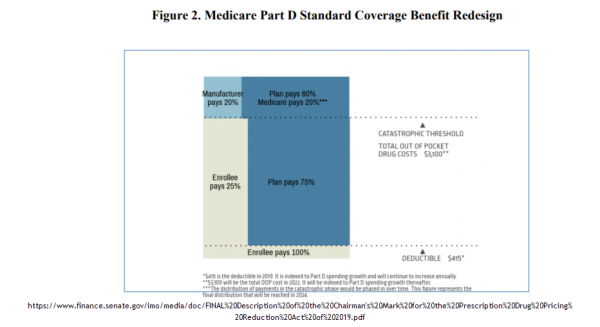 This change, if approved, actually makes Part D insurance against a catastrophic risk instead of cost assistance and insurance against moderate risk. This would be, in my opinion, by a good change.
As a side note, it is interesting to note that this would be another major technical revision of the Part D benefit since it was passed into law in 2003. This is a normal process for major social welfare and health system legislation. These types of things need to be tweaked and course corrected every so often. This is Congress responding relatively normally to a normal problem.
Update 1 Kaiser Family Foundation has a good explainer on the current Medicare Part D benefit structure: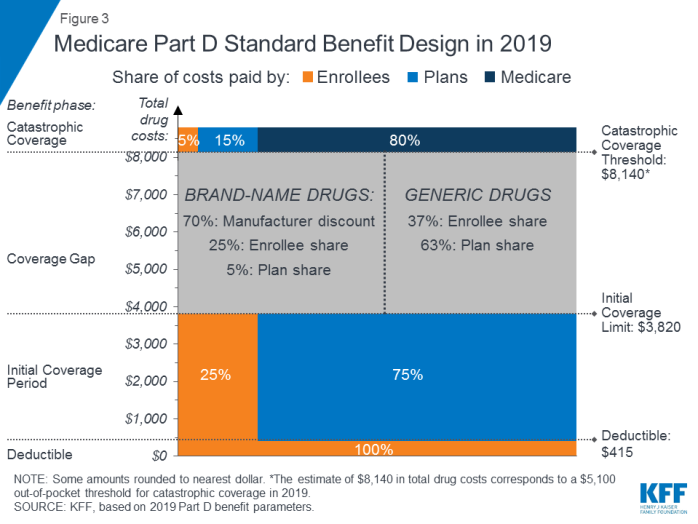 Currently there is a $415 deductible, 25% co-insurance for all expenses between $415-$3,820 and then depending on the type of drug, another 25% to 37% coinsurance for claims between $3,820 and $8,140 (weird stuff happens here). For everything above $8,140 to infinity, the patient is on the hook for 5%.