On Thursday, the House Committee on Oversight and Reform, which is chaired by Rep. Elijah Cummings, subpoenaed emails and texts sent to and from White House officials (Jarvanka) on personal accounts — you know, activities similar to those that allegedly made Hillary Clinton an intolerable national security threat. Cummings issued a statement, excerpted below:
"The Committee has obtained direct evidence that multiple high-level White House officials have been violating the Presidential Records Act by using personal email accounts, text messaging services, and even encrypted applications for official business—and not preserving those records in compliance with federal law. What we do not yet know is why these White House officials were attempting to conceal these communications. Although our Committee's investigation began as a bipartisan inquiry under former Chairmen Chaffetz and Gowdy, the White House has refused to produce a single piece of paper in this investigation for this entire year, which is why today's subpoena has become necessary."
This morning, Rage-oholic Foxbot Grandpa experienced a pants-pissing, remote control-throwing, projection-filled meltdown on the Twitter: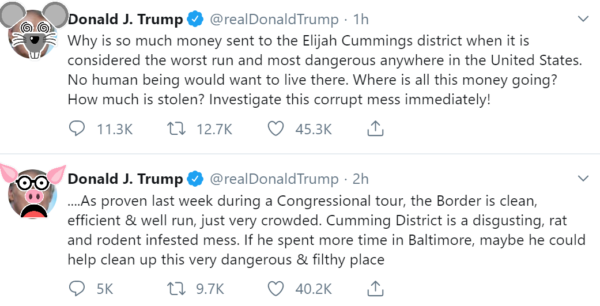 This sequence of events is surely as coincidental as the fact that every time Trump describes some awful shithole no "human" would tolerate, the geographical location so depicted is always populated by more people of color than white folks.
In future coincidences, the crack New York Times political team will yawn at email stories in 2020.