My screen-test for @starwars w/ Harrison on the 1st day I ever met him. Neither 1 of us had read the script at this point, only this 1 scene. I asked George what kind of movie it was-"Let's just do it, we'll talk about that later" We never did talk about it later-we just did it. https://t.co/e7cHWoLmJk

— Mark Hamill (@HamillHimself) July 28, 2019
I am not surprised how dynamic Harrison Ford is in this – what I am surprised is about is how long it took a casting director and director to see it. And I adore following Mark Hamill on twitter, more than once he's taken a lightsaber to Trump and his minions.
Bella Q sent me these adorable visitors: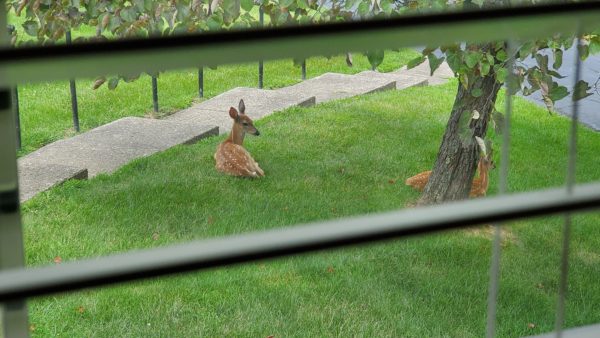 They're called the Temple Twins because they're often seen at the site what was a Temple and is now a grassy lot (congregations merged) a couple of miles away. The size difference distinguishes them from the 2 other sets of twins in this part of the neighborhood.
My house is almost back together and the third load of laundry is started. I need a nap.
Respite open thread