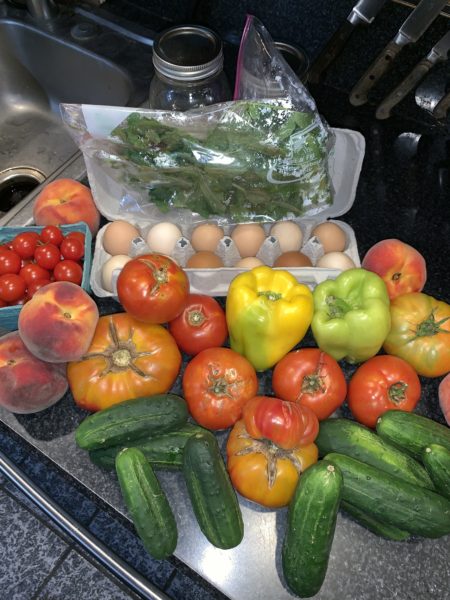 That's the basket of goodies I dropped off at Tammy's today (she said I have to post it because she took such a nice picture- BTW MY CHERRY TOMATOES ARE SO PERFECT THEY LOOK FAKE). The cukes came from the farmers market, the peaches from the orchard, and the eggs from my friend down the road, but the rest came from the back yard (the bag is mint). At any rate, one of the problems with preserving everything you grow and then canning stuff from the orchard is it is a lot of work. In return I got sourdough starter, frozen watermelon, a bunch of pickles she made, some chicken stock I need to preserve, and something else I am forgetting. Division of labor, yo.
Basically every other night for the last two weeks I have been cleaning, cutting up, and freezing a gallon bag of tomatoes, and right now my freezer has 14 jam packed bags of tomatoes in them. On Monday, I am picking Tammy up, and on Tuesday and Wednesday we are going to make sauce, salsa, tomato paste, and we are going to take some of my unsliced tomatoes and use the dehydrator and make sun dried tomatoes and then freeze some and preserve the others in olive oil. I'm going to use the skins that we cook off the sauce tomatoes and dehydrate them and then use a mortar and pestle and turn it into a powder to put on top of dishes as a seasoning.
Tomorrow I have to put up another bushel of peaches, and on Saturday the kraut will be done and I have to can all eight gallons of that. I'm also going to finally use the chicken carcasses in the other freezer in the basement and make stock this weekend. I have to trellis the cucumbers I put in two weeks ago, harvest the green beans and can them, pull up the first run of tomato plants and put in the second run of pole beans, and put in another run of beans where the first run is. Also have to thin the beets I put in two weeks ago, and pickle the okra.
It's been a fun experiment this summer, but it is a lot of work. And even while it is a lot of work- I am thinking about how to do it better and get more out of it. I think I am putting in two peach trees and two pear trees on the side of the house and another apple tree inside the yard, and next summer I think there is room for another raised bed. On the left side of my deck there is an unused 25′ long by 5′ wide space that is nothign but mulch, and next year I am just going to run trellises along the fence and do the beans there and squash on the ground. I want to experiment on a better schedule on when to put things in and may try three sisters and square-foot gardening. I also, swear to goodness, am going to start writing things down so this isn't just all in my head and I have to remember what I was thinking two months after I started, so I don't plant something and two weeks later swear and remember it was supposed to go somewhere else. Also, I need to look into drip irrigation, at the very least for the tomatoes to try to nip this leaf blight in the bud.