Hey all, spent the morning canning peaches, and though I would write this up for both me and you. That way, if any of you want to give it a go, you can try what I have learned from my dad and from reading and watching videos, and also I will have this to read next year before I do it again so I don't forget anything and ruin any product.
Obviously the first thing is to source your peaches. I got mine on Monday, and I placed them all stem side down on my counter to ripen.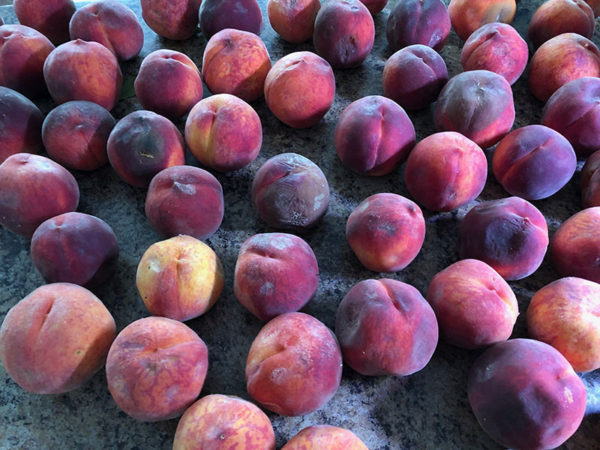 They told me the name of the peach but I will be damned if I can remember. At any rate, the peaches are ripe, so today was the day or I would start to have spoilage and then get fruit flies I would NEVER BE ABLE TO GET RID OF. So I filled my canner with hot water and a little vinegar and started sterilizing jars, filled up my 24 qt stock pot halfway to scald the peaches, put all the rings and lids in a pot to bring to a simmer, created a simple syrup in another stock pot, cleared off my workspace, sharpened my knives, fill the sink with ice and water, and fill another large pot with cold water and an appropriate ratio of fruitfresh produce powder. Here's a picture of the simple syrup: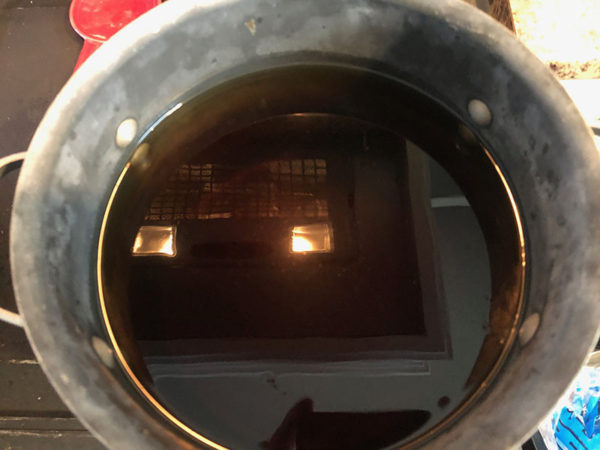 I like a light simple syrup made with something other than sugar because these peaches are super sweet already, but a little sweetener helps round it out a bit. I also made more than I did the last time, because I really like drinking the ice cold syrup, and since it is no extra calories because I am not using sugar, I will fill the jars just a little bit less so I can enjoy that delicious peachy nectar.
So I have all four burners rocking, the sink is prepped, and now it is time to get down to business. Take every peach, and make a circular incision across the top of the peach in line with the natural seam of the peach. Then make another incision across the top to quarter the peach. It should look something like this: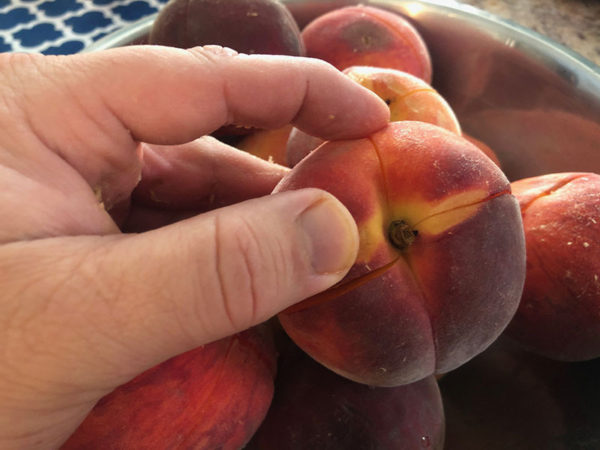 When you have a bowl of them done, throw them in the not quite boiling water for a minute to scald them: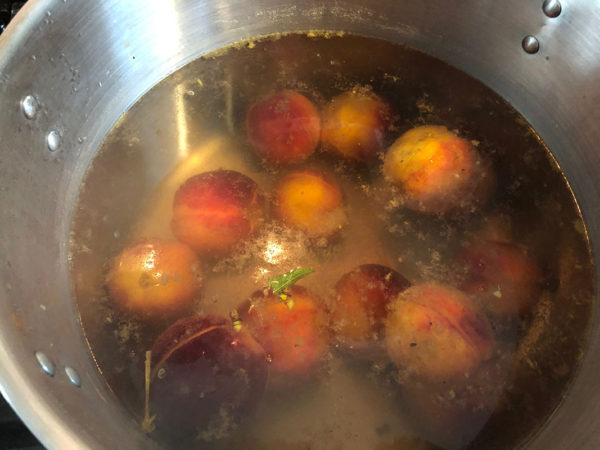 A lot of people wash their peaches before doing this, but I see no point- this can be accomplished at the same time as scalding. If that grosses you out, fine, wash your damned peaches first and don't eat mine. As you can see, after a minute,the peaches change color a little and you see a lot of the fuzz come off.
This is a very important stage for quality control- CAREFULLY ladle them out into the ice bath. The peach is a delicate fruit to begin with, and you have made it mushy by near boiling it, so if you are rough you will lose a lot of fruit and have an ugly product. Go ahead and do this with a bunch of fruit, then go back to quartering and repeat the process until you have a sink full of chilled fruit: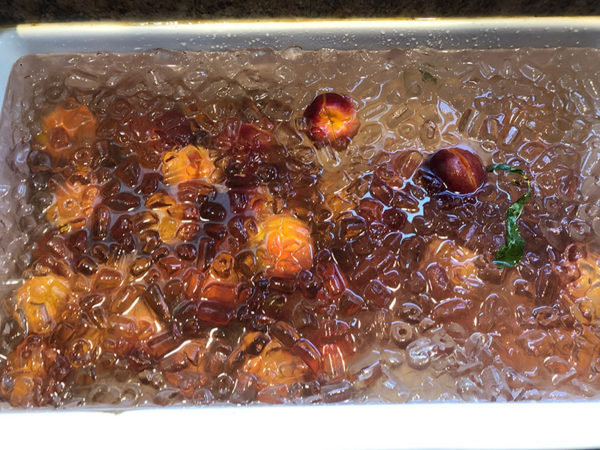 You will read some people who will say you don't have to have an ice bath and it is not important, I think that is nonsense. I didn't use enough ice the last time, and my results were not as good as today. The ice bath immediately firms the peach back up and makes it easier to twist the fruit with your palms to get rid of the pit. If you just use water, it will not get the same level of firmness back and be a mushy mess to work with. The last time I stored ice from the freezer for a few days, and it just wasn't enough, so this morning I went and got a 22lb of ice from the general store.
Pit all of the fruit, put it on the cutting board, and then get down to peeling and putting the fruit in the water bath with fruit fresh powder: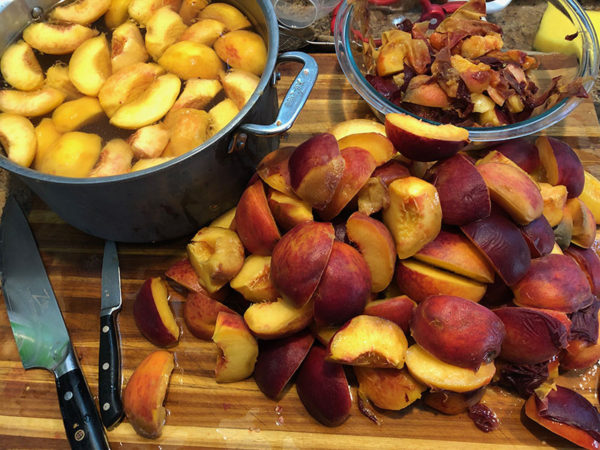 As you can see, I keep all the skins and just throw the pits back into the ice bath to deal with later. At this point, if you are doing a lot of fruit, every time the water bath fills up, fill a couple of your sterilized jars, move them aside and cover them with something (I use kitchen towels) so no fruit flies or anything else can get in them. This is also an important time to use your pairing knife to get rid of imperfections on the fruit slices (just throw them in with the peels- we'll use it later). Just continue doing this until you have all your jars filled: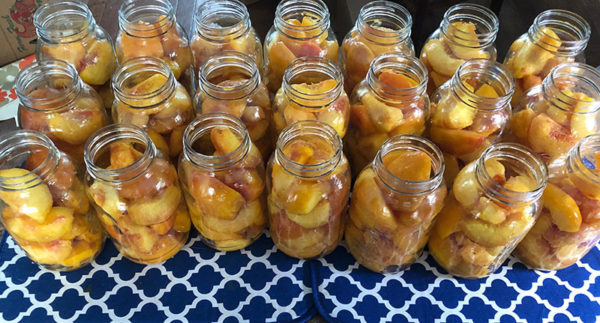 At this point, take your simple syrup off the burner (you can also turn off the boiling water for scalding- just look over the deck before you dump it because you don't want to boil Steve who may be lounging below) and put it on a trivet. Slowly ladle the simple syrup into the jar, and fill it to the neck line. You don't want to overfill. Do this for all of them. At this point, I put a little squeeze of lemon in each jar, and for half of them I put a teaspoon of good vanilla extract in half the jars. You can use an actual vanilla bean, but I am not spending that kind of money for something that is going to only marginally improve what is already amazing.
You then want to tap every jar on the counter and use a spatula to make sure there no air bubbles (there shouldn't really be with the simple syrup in there) and then with a clean moist dish towel, gently wipe the lid of every jar. Grab your pot full of lids and rings, and use the magnet to put a lid on each one. Gently screw the ring on to hand tightness.
Place your jars in the water bath canner with an inch of water covering them, and bring it to a boil: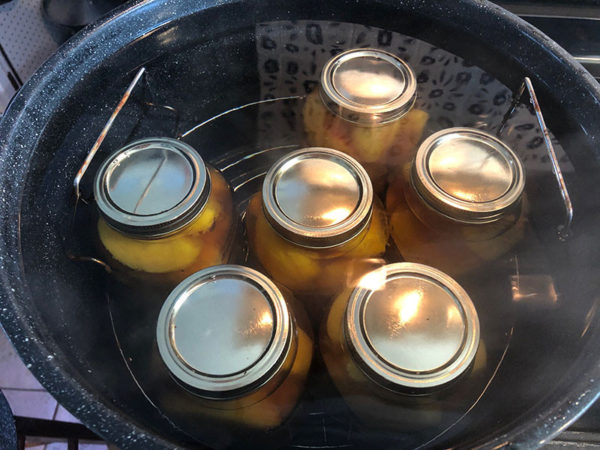 Once it comes to a boil, set a timer for thirty minutes. I'm not using the pressure cooker for these because there is no need to do so.
And that is that. While everything is rotating through the bath, I am packing the sauerkraut that I cleaned up (I'll post that process later) and boiling down the peels for jelly: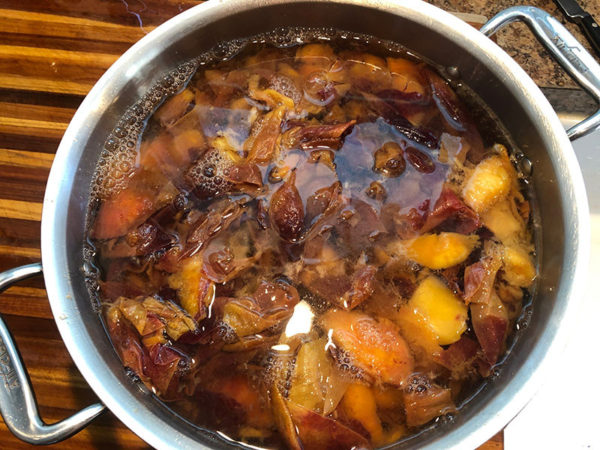 DON'T THROW OUT YOUR PEELS!
*Obviously there are lots of ways to do this- this is how I am doing it. And no, you don't have to be an insane crazy person and do this a bushel at a time. If you want less, just buy fewer peaches. I like doing it, though, like the price when you do it in bulk, and want to share with friends and family.