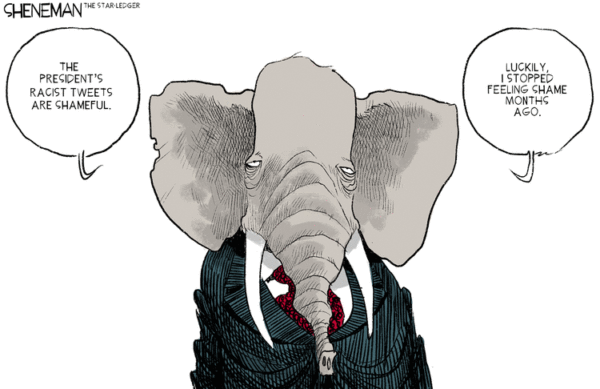 A normal president would be cruising to reelection on the strength of the economy. Trump's racism is a liability, not a shrewd campaign strategy https://t.co/N68YW6zzYc

— Michael McDonald (@ElectProject) July 28, 2019
The "adults in the room" of the Permanent GOP Party embraced Donald Trump because he seemed like a bargain-basement solution to overcoming Hillary Clinton's predicted landslide victory. Now that Trump's gleefully ravaging the whole party's chances in 2020, they're stuck — they can't cross the Oval Office Occupant's rabid "Base" (not to mention the GOP traitors like McConnell and Nunes, who've traded their souls for Russian payola and 'red meat' votes), but all the still-normal Repub voters and "independents" can't stomach the stench. Let a thousand tiny, tiny violins play!
One problem Trump's advisors don't seem to grasp is that being good for the president's base is not necessarily concomitant with being good electoral strategy, overall. This error cost Trump in 2018 although it may have helped the GOP in some Senate races in very red states. https://t.co/qOZnrjKcDQ

— Nate Silver (@NateSilver538) July 27, 2019
It's a dumb strategy, but it's not surprising since Parscale isn't a real political operative, he's a professional Trump ass-kisser. It's what Trump wants to do, & it's what happens when the campaign manager never says no & the brains of the operation is Kushner https://t.co/UjK3SQheWc

— Dana Houle (@DanaHoule) July 28, 2019
Trump's racist, nativist rhetoric is now central to his re-election strategy to appeal to white voters, @ToluseO & @AshleyRParker report https://t.co/jEWtCkotDD

— Philip Rucker (@PhilipRucker) July 27, 2019
No cost in suburbs, really? In @FoxNews poll 58% of college + whites say Trump doesn't respect racial minorities & same said his "go back" tweets were racist. GOP holds just 16/165 most urban/inner suburb House seats & just 1/4 of districts w/more college grads than ntl average. https://t.co/IQsq8bfgdw

— Ronald Brownstein (@RonBrownstein) July 28, 2019
And rather than formulating a plan to rebuild GOP in urban America Trump "uses cities to intensify the culture war & agitate his base," as @carloslcurbelo says. As metros forge the US future, he is tying GOP's l/t fate to a single ?: how long can Paducah tell Seattle what to do? https://t.co/AYBCnntgKc

— Ronald Brownstein (@RonBrownstein) July 28, 2019
"Mr. Trump sees attacking African American members of Congress as good politics, as it both warms the cockles of the white supremacists who love him and causes so many of the thoughtful people who don't to scream." https://t.co/virwecpr8m

— Kyle Griffin (@kylegriffin1) July 28, 2019
I have a theory that it's backfiring with the women. https://t.co/vQhM1iWqkC

— Molly Jong-Fast (@MollyJongFast) July 27, 2019
The overwhelming majority of Republicans in Congress are not condemning Trump's openly racist attacks and/or defending them.

How is this even a question open to speculation? It's a fact. https://t.co/wDl3ZsuGGm

— igorvolsky (@igorvolsky) July 31, 2019
You know what defeats the hatefulness of Trumpism? The largest electoral margin defeat since Goldwater. That is what he deserves. A humiliating, historic landslide loss. And that is actually possible.But it takes a bigger coalition than your twitter bubble. Build the army.

— Neera Tanden (@neeratanden) July 18, 2019