Do you stand with this torchbearer?
Or this one?
And that should be the ad the Democrats should already be running on every station, across America, to set the conditions for a successful 2020 presidential campaign, as well as campaigns for the House, Senate, and gubernatorial and state legislative elections. Once nominees are in place, you can then superimpose the Democratic nominees for these positions and relevant portions of their platforms, tailored to the specific races, on the image of the Statue of Liberty and of the President on the image of the Charlottesville white supremacists and neo-NAZIs.
Back in January I wrote about the context in which the 2020 US election was going to take place. I specifically wrote that the US was currently experiencing a very specific type of resource war:
The 21st Century American Resource War: An Ideological and Partisan Dispute Over Who Gets to be an American

The most divisive political dispute, for lack of a better or less incendiary term, that is going on in the US right now and will continue into and through the 2020 election is one over resources. This is not a dispute over physical resources; and it is not really over even political and economic power in the sense that we're used to understanding those types of disputes in the post WW II United States. Rather, the actual resource in dispute is Americanness itself. As in who actually is, or may make a claim to be, an American. This is not a new fight within and between Americans. It goes back to the origins of the country. And it, as it is doing right now, usually flares back up immediately after there has been an extension of civil liberties and rights to groups that were not previously considered, whether for political, social, religious, and/or ethnic/racial reasons, to be entitled to the full rights, protections, and liberties of other Americans. We are, unfortunately, currently in one of these periods. And the fight is over two very different visions of what it means to be an American and who gets to be an American.

The President, his senior policy advisor Stephen Miller, fellow travelers like Congressman Steve King, many of his outside advisors like Anne Coulter and Ginni Thomas, and his base are committed to a very narrow, crimped, and small minded vision of what it means to be American and who gets to be an American. Those in opposition to this have a far broader, expansive, open minded, and welcoming understanding of Americanness. This is the real core political, social, and religious dispute in the US today. It is an ideational, ideological, and in some cases theological and dogmatic war over the resource of Americanness. And, for the time being, it is fortunately and largely non-violent. Though the acts of domestic terrorism that are being driven by the most extreme adherents of the narrow, crimped, small minded understanding of Americanness and who is an American are accelerating as we saw in Pittsburgh.
Unfortunately, the frequency of the domestic terrorism from within this long simmering American insurgency is escalating. The violence, or the attempts at violence, are increasing and, often, as we saw yesterday in El Paso, increasing in lethality. We know what side the President, his senior advisors, his surrogates, his supporters, the Republican Party, and the conservative movement have chosen. The rest of us need to get focused and realize that a political war is upon us. And that that political war is over who is and gets to be an American. And those seeking to narrow it are more than happy and willing to both promote violence to achieve their ends and to undertake it themselves. The separation of migrant children from their asylum seeking parents, their abysmal treatment in the concentration camps they're being detained in, and the violent rhetoric the President, his surrogates, his enablers, and his supporters use are all types of this violence. These often state directed actions are acts of symbolic and rhetorical violence intended to influence the President's most extreme followers and their fellow travelers to actual physical violence.
This is a political war that must be fought. And it must be won. It isn't going to be won by arguing over who is or is not the most progressive or whose policy proposals are more centrist or more socialist, when even the most centrist of them are far to the left of the leftmost proposals from a decade ago. It will only be won by recognizing that we are actually in a political war and that this reality changes the dynamic of our politics in general and the politics and politicking of the 2020 election. This is not political and campaigning business as usual. This is not an attempt to somehow reset everything to dawn on November 8, 2016. This is not about things going back to normal. This is a fight to preserve as much as can still be preserved, to clear American politics of those who promote this bigoted, racist, xenophobic, small minded, and narrow vision of who is and can be an American, and then build something stronger on what has been preserved.
Pick a torch!
It's that simple. You're either on the side of the Statue of Liberty or the side of the tiki torch neo-NAZIs and white supremacists. There is no both siding this. There is no "if my favorite candidate isn't the nominee, I'm not voting because I won't compromise my ideals and ideological purity". Refusing to pick a torch, is refusing to take a stand. It is putting yourself and whatever your pet issue or issues are over promoting the general welfare and providing for the common defense. None of your high minded, ideologically pure agenda is going to ever get enacted if you don't stand with those standing with Lady Liberty against the nationalist conservatives, the white supremacists, neo-nationalists, neo-fascists, and neo-NAZIs. Failing to pick a torch moves us one step closer to a white Christian herrenvolk democracy in the US where everyone who isn't white and Christian has their rights challenged, limited, and/or taken away.
Pick a torch!
Updated at 2:57 PM EDT
Redshift in the comments asked for a side by side, easy to use on social media version of the images. So here you go: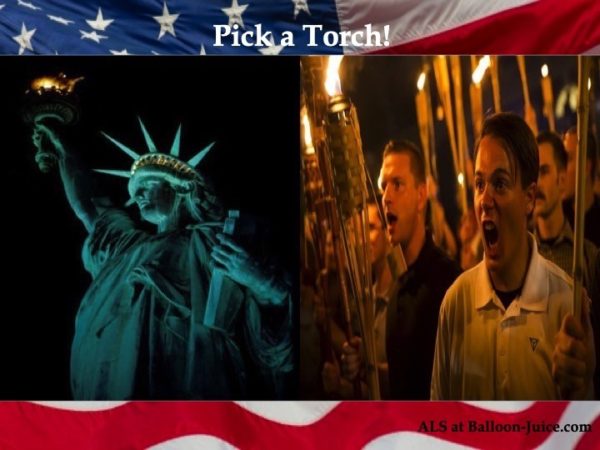 Open thread!