I went to Albuquerque for shopping today and lunch with a friend. Just before I left, the news of an explosion at Nenoksa, in northeast Russia near the city of Severodvinsk, was hitting Twitter. I come home this afternoon to the news that Sue Gordon, Deputy Director of National Intelligence, has tendered her resignation and will be leaving the DNI's office along with Dan Coats on August 15.
The Nenoksa explosion – There's not much news, and it's early news, the kind that often turns out to be wrong. The official announcement is that two are dead and several injured.
Here's a thread from Jeffrey Lewis that is probably the best summary around. I'll just give you the top two tweets. He's been tweeting additional material through the day.
Nenoksa is an interesting site — it is a Russian missile test site along the Arctic Coast. @planetlabs has an image taken on August 8 at 11:29 local time. (We still aren't sure exactly when the explosion occurred.) pic.twitter.com/kRhrQmGCMp

— Jeffrey Lewis (@ArmsControlWonk) August 8, 2019
The Severodvinsk city government reported that their radiation detector had a sudden pulse. I haven't seen a number in the news, but a friend had some numbers, and they were very small. The fact that it was a pulse and not continuing means it was even smaller than that. Note that the Tass article that Lewis quotes says that radiation levels in Severodvinsk are normal. My best guess is that it was a blip in the detector. Other guesses from knowledgeable people were a broken "EXIT" sign's tritium or a smoke detector. Nonetheless, the New York Times saw fit to lead with radiation.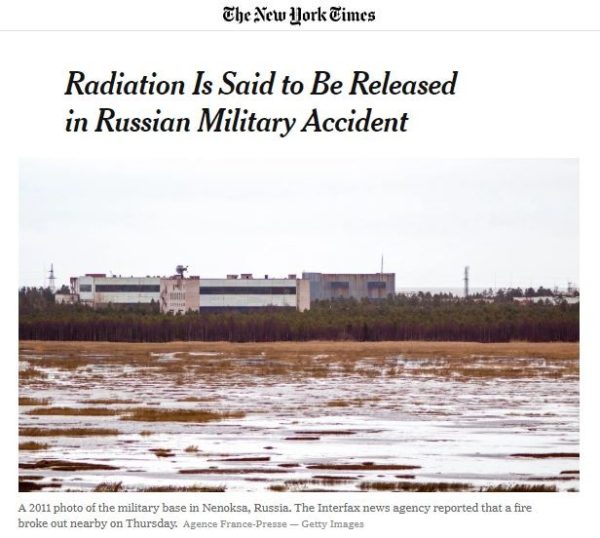 Reporting on radiation, and public ignorance of radiation, is getting worse and worse. Radiation is the ultimate terror, and it's coming to get YOU!
A bunch of us are speculating about what it is that blew up. It may have something to do with Russia's planned nuclear-powered cruise missile, although I think that is mainly vaporware.
Sue Gordon Resigns – This was pretty much expected, although reasonable people hoped it wouldn't happen. The usual noises were emitted from the upper reaches of the Trump administration indicating displeasure with having to appoint her Acting Director of National Intelligence, which is the usual prelude to moving a person out of a job. Yes, the law said that she should become Acting, but that was why she had to be made to resign. Gordon's career has been in intelligence, and knowledgeable people think well of her. Daily Beast article here.
Joseph Maguire, the current director of the National Counterterrorism Center, will be the Acting Director of National Intelligence. Presumably he has done the proper obeisance to Trump and will give interviews on Fox News to seal his position from acting. Although for some positions, an Acting Director can't become Director. Tune in for next week's drama.
Trump is removing competent people and replacing them with toadies. This is one reason that I think that Nancy Pelosi's long game is a mistake. Every one of these jobs that gains a toady or goes unfilled adds to Trump's power. The intelligence community has not supported his Foxified view of the world. We can look back to the report, "Bin Laden Determined to Strike in the US," George W. Bush's daily briefing for August 6, 2001, to see the kind of damage missing or ignored intelligence can do.
Open thread!