Today I had to drive to the big city to drop Tammy off, and it was around lunchtime, so I stopped at a place I go to about twice a year, a little hole in the wall that sells nothing but dirty water hot dogs: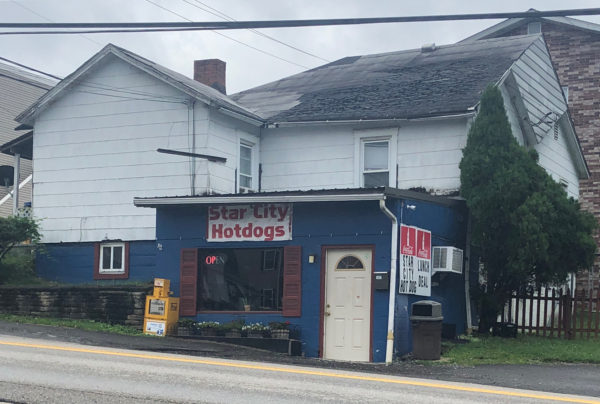 That little blue thing- that's basically it. I have no idea what is in the rest of the house it is attached to, but that blue front is the whole place. You open the door, run right into a counter with about 4 stools and they make your dogs right there. And they are amazing.
Now when I say dirty water dogs, I mean just plain old dogs simmering in a tepid pool of gray water. And these are not artisanal dogs or any shit like that. We're not talking all beef franks with a natural casing. We're talking real American hot dogs made out of all the shit they can't put into a chicken nugget or that is too low quality to make scrapple or sausage, mash it all together into a pink slime with an assload of chemicals, and throw it into something resembling a casing. If you read the label it will tell you made from chicken, turkey, pork and a list of other stuff, but they could really just write "lol animals and shit" because YOU KNOW WHAT YOU ARE GETTING AND YOU DON'T GIVE A FUCK.
They then take the dog, put it in a sad, damp bun- you know the kind, like wonder bread but with less lust for life, the kind you see on the bottom shelf of your grocery store bread aisle that come in an eight pack and half of them have inevitably been crushed or stepped on while stocking them and the sign says "59 cents but will negotiate" in magic marker on one of those pink stars.
Once in the bun-like object, it is covered with an all "meat" chili that comes in mild, medium, or hot. I don't know if it's actually meat- it could be soy or something else, all I know is there is nothing as natural as a bean anywhere in it. We'll just call it meatlike chili sauce. On top of that, if you like, and I do, they will top it with an overly creamy cole slaw. The end product looks like this: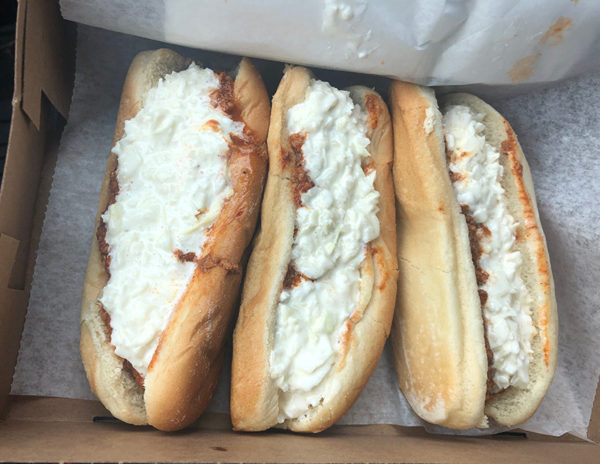 And they are fucking fantastic. I could probably shove an entire one in my fat face and eat the whole thing in one bite, but I don't because you gotta savor this shit. And I love them. But I only get them about every six months, because while they are amazing, in about 45 minutes, I will have the world's worst heartburn and sometimes awful things happen later on.
But it's totally fucking worth it.