First the reward (no sing-for-your-supper spiritual joylessness here!).
Here's one fat cat that is Warren-curious: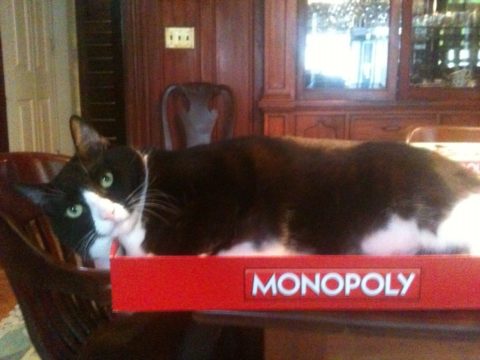 Tikka has views on the e-book vs. book-books debate. E-books…nah.
Yup. Books it is!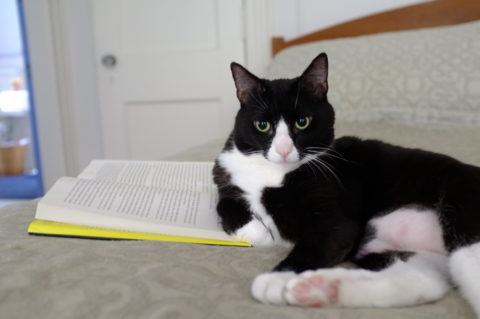 (I find myself more and more on the opposite side of this divide; I spend more than half of my reading time on my Kindle these days.  But Tikka's most definitely old school.)
Now to money.  Got my email update from Krugthulu today (Paul and I are like that, I tell you!).  While he notes, in effect, that the bond market and its economist watchers have correctly predicted eleven of the last three recessions, there's no way to construe what's happening in with US debt in any comforting fashion:
So the slump in long-term yields since last fall, from a peak of 3.2 percent to just 1.63 percent this morning, says that investors have grown drastically less sanguine about the economy. Long-term rates are now notably lower than short-term rates — and this kind of "yield curve inversion" has in the past consistently been the precursor to recession…
Why the long faces?
Krugman offers a few reasons why bond folks might be running scared.
For one, the ginormous, "self-financing" tax cut has failed; it hasn't come close to stimulating enough economic activity to avoid blowing a hole in the deficit.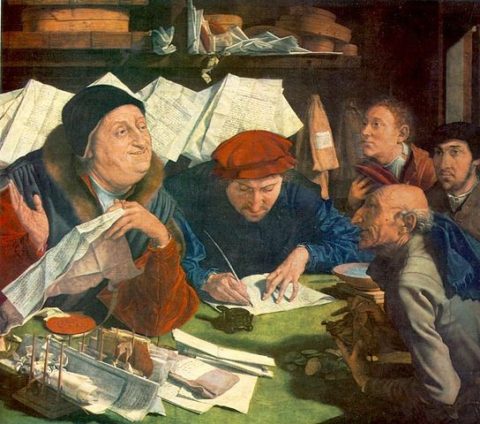 Trade wars, so easy to win, turn out to be a predictable idiocy, not just costly in themselves, but as they foment uncertainty, a deterrent to capital investment.  And last, he notes, economic troubles elsewhere, especially Europe, are beginning to affect us.
What might all this mean? Well, maybe a recession, maybe not:
The truth is that nobody is very good at calling turning points in the economy, and calling a recession before it's really obvious in the data is much more likely to get you declared a Chicken Little than hailed as a prophet. (Believe me, I know all about it.) But the bond market, which doesn't worry about such things, is looking remarkably grim.
And if the smart money here is also the correct money then, as Krugman writes…
I leave the possible political implications as an exercise for all of you.
Bonus Krugman — four key paragraphs from today's column "Useful Idiots and Trumpist Billionaires":
More to the point, Trumpism is about much more than tax cuts: It's an attempt to end the rule of law and impose an authoritarian, white nationalist regime. And even billionaires should be terrified about what their lives will be like if that attempt succeeds.