Fresh poll of likely caucus-goers in Iowa has good news for Senator Warren's campaign: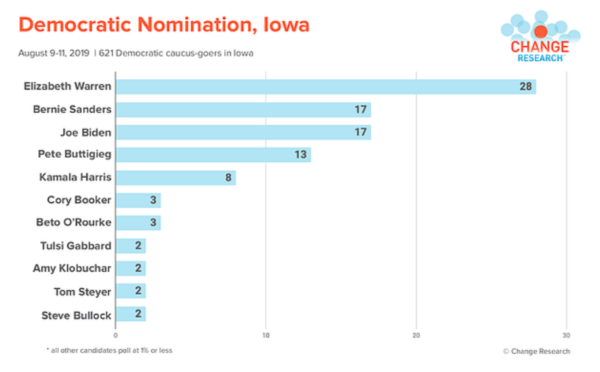 So, instead of Warren and Sanders duking it out for the lefty vote, it looks like Biden and Sanders are having the Battle of the Retreads.
Excerpt from an article in Iowa Starting Line:
Elizabeth Warren's early investment in Iowa is paying off…

The horserace numbers reflect a shake-up that those of us on the ground in Iowa have been seeing for a while…

The other good news for Warren is that her support appears to be very broad in the party. She leads every age demographic (even surpassing Biden in the oldest age bracket, 31% to 28%) except for the youngest. Sanders has a 14-point lead here among the 18-34 range with 34%.
The article also notes that Senator Harris is going all-in on the Iowa caucus now, which seems to be the smart play. That's a fairly recent development, according to ISL. We'll see how the numbers shake out down the road.
All absolutely bereft of meaning at this stage, of course! Open thread!