Both CaseyL and OpieJeanne sent me after action reports and pictures from last night's Seattle Meet Up.
CaseyL:
What a great gathering!  HinTN is so delightful, we should get him to move here to the PNW so we can see him more frequently.  We also had two new people:  EthylEster and Jonathan (aka informationdriveway, though he comments, when he does, under his RL name).  And of course the Seattle BJ regulars:  me (CaseyL), OpieJean and Mr. OpieJean, ThalactosMaritimus (whose husband stayed home because the Writing Muse was with him), DanB, and BeautifulPlumage.

We ate and drank our way through the Saffron Grill, where the food is wonderful and so are the staff.

Of course there are pictures.  They're glare-y because of light coming in through the window, so sorry; and one is blurry because our waitperson studied at the John G. Cole School of Photography.  And I took one of our GoH, HinTN, that is a hoot because he looks like "I Am Not Amused" – which is not at all true; he had a blast (we all did).

Thank you Adam, for alerting us to organize this shindig, and for posting this report on the festivities.

I should also mention that Yutsano, who could not attend in person, called in via cell.  We had him on speaker, and I held up the phone so everyone could say Hi, but we couldn't really hear him, so I chatted with him for a bit and then held up the phone so we could all say goodbye.
CaseyL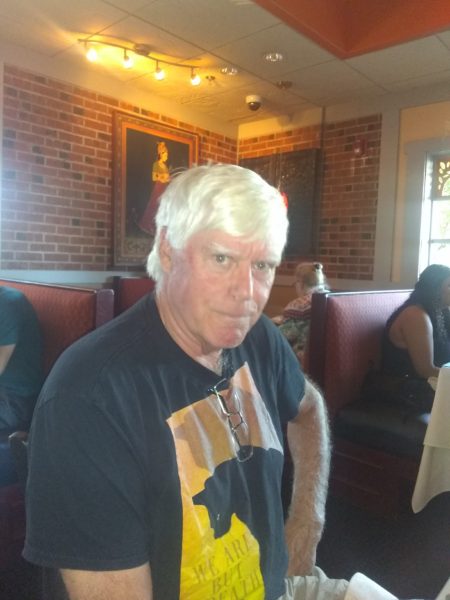 (Harry HnTN, Guest of Honor, Looking Stern.  Self explanatory.)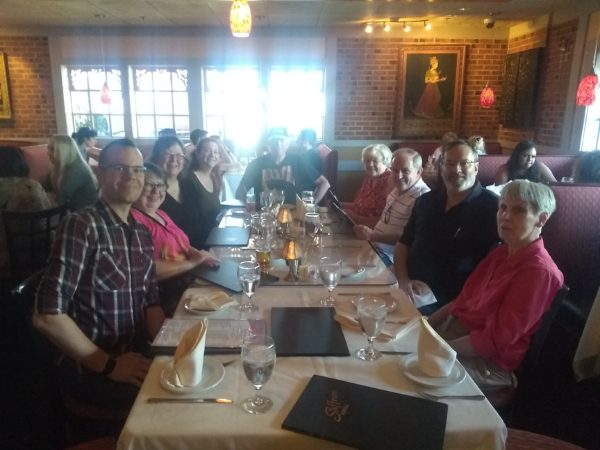 (The Whole Gang:  From left: Jonathan, BeautifulPlumage, ThalarctosMaritimus, CaseyL, HinTN, OpieJean, Mr. OpieJean, Dan B, EthylEster.)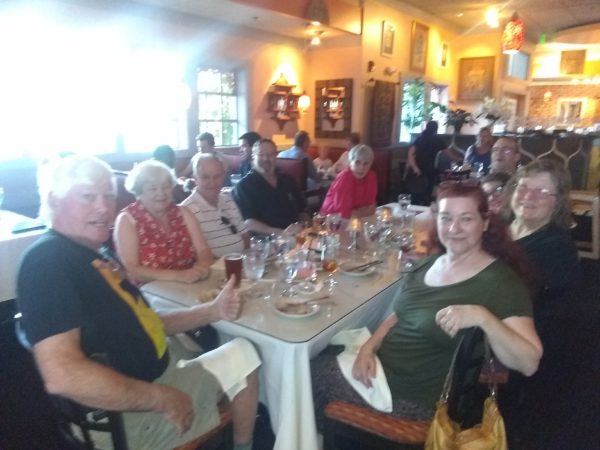 (Also Whole Gang Tho Blurrier: From left: HinTN, OpieJean, Mr. OpieJean, Dan B, EthylEster, Jonathan, Beautiful Plumage, ThalarctosMaritimus, CaseyL)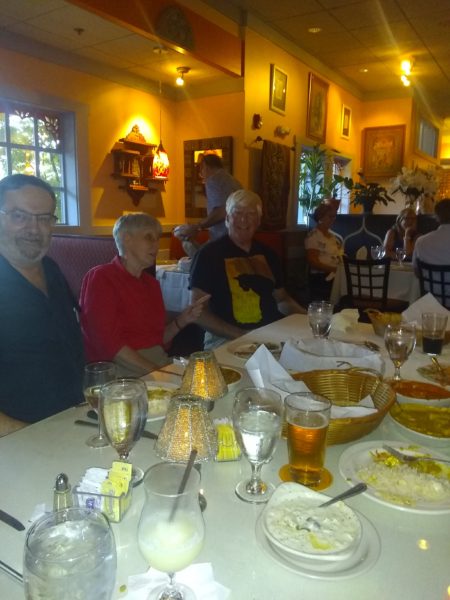 (Subset of Whole Gang: DanB, EthylEster, HinTN)
OpieJeanne:
I got a couple of photos at the meetup last night. The Saffron Grill is a nice restaurant with an Indian, Mediterranean, and "American" menu. I only glanced at the American choices and went for the Tandoori prawns. Everything was delicious and the company was great.

(The first one is Casey L. standing and the guest of honor, HinTN.)

(The second photo is Beautiful Plumage on the left and Thalarctos Maritimus on the right, but she's not really a polar bear.)

opiejeanne
Open thread!