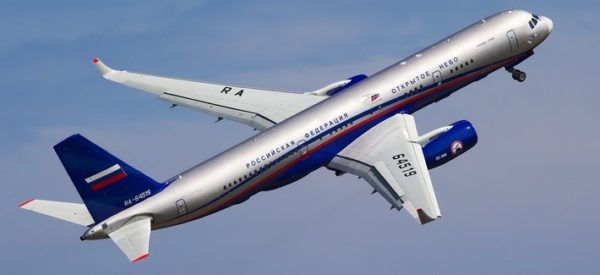 Some weird stuff has popped up in my Twitter feed this week. Fortunately, I follow experts who are trying to figure it out.
Steffan Watkins is a Canadian who follows ships and planes via the internet. If you like that sort of thing, I recommend you follow him. He is also very sensitive to disinformation and occasionally given to lectures about it. He is very knowledgeable about the Open Skies Treaty.
The Open Skies Treaty (text, fact sheet) allows the nations that have signed it to fly observation planes over other signatories' territory. It's an arms control treaty in that it allows nations to follow up on suspicions or just keep an eye on each other. It says nothing about numbers of weapons. The simple fact that nations are open to each other in this way builds trust, which is needed to negotiate on more difficult subjects.
Every arms control treaty has an information side to it: inspections may be requested, or numbers and types of weapons are reported to the other parties regularly. When the US government abrogates a treaty, we lose a window into what the other side is doing. Of course, they get to see the equivalent of what we're doing.
The Open Skies Treaty, like all well-made treaties, has very specific provisions for what kinds of aircraft, cameras, and routes may be flown. Arrangements must be made to schedule the flights. For flights over the United States, the airplane must be inspected by Americans, an American is on board, and the photos are shared after the flight. Other nations have the same rights for flights over their territory.
Russia does several flights a year over the US, and we reciprocate with flights over Russia. Watkins follows those flights and others that interest him. Last year and this, he told me when the Russian plane was in my area. I think I saw it last year, but this year it didn't come close enough to Santa Fe.
This week, Michael Carpenter tweeted that the Russians were up to nefarious activities, FLYING OVER CHICAGO AND TAKING PICTURES! This is precisely the kind of thing Watkins likes to debunk, and he did, with places and times for the Open Skies flight. What is surprising is that Carpenter was in charge of the Open Skies program under President Barack Obama and is associated with the Penn-Biden Center. When he was questioned by Watkins and others knowledgeable about the program, he insulted them and cited an old New York Times article containing Republican propaganda. Republicans don't like this treaty, along with all other arms control treaties. Watkins debunked that article here.
Tom Moore also got into the act. He is a former professional staff member on the Senate Foreign Relations committee. He didn't believe what Carpenter was tweeting either.
Here's Carpenter retweeting his first tweet that got the reaction.
To those crying "what about Open Skies," let's recall this from @nytimes about OST: "Russian flights have developed a wandering eye…and now fly more routinely over some of the country's most important infrastructure, according to classified military intelligence assessments." https://t.co/ThfdRlutTJ

— Michael Carpenter (@mikercarpenter) August 16, 2019
And Moore's reply
https://twitter.com/PaperMissiles/status/1162564914671751168
https://twitter.com/PaperMissiles/status/1162565720926052352
https://twitter.com/PaperMissiles/status/1162569114738708481
There's more in the thread with others chiming in.
And this morning,
https://twitter.com/PaperMissiles/status/1162779545747021825
That's RT, the Russian propaganda network, gloating that Americans are overreacting to an agreed flight. Watkins also identified Russian bots that were pushing Carpenter's claims.
It's not clear to me why Carpenter would do this. It's the kind of thing that can be exploited by Russian propaganda all too easily, and they are going with it. They are both happy to spread Carpenter's misinformation and to sneer at American overreaction.
So if you run into someone claiming that the Russians are sending spy flights in, now you know how to debunk that. And please do. The disinformation is only going to get worse in the leadup to the election.
Top photo: Defense One
Cross-posted to Nuclear Diner