Folks,
Today I want to teach you a bit about canning, and about a simple technique that can help preserve food or keep things water/vermin proof when you don't have normal storage or preservation available.
The Basics of Canning
Canning is a simple concept – you put things in a jar, put a lid on it, and, using a variety of techniques, draw air out of the jar so that a slight vacuum is created inside, which keeps the lid snug and the things inside air-and-contaminant free. Well-processed canned goods can last decades without spoiling.
Normally, this involves a water bath canning setup, for most fruits and veggies, and occasionally calls for a pressure canner for meats and some fruit and veggie products. Note – this is because you can get to a higher effective temperature with a pressure canner and so you can ensure that your meat/tetchy-fruit/veggie contents are safe.
A water bath canner is just a large wide pot in which you boil water and put filled jars into, in order to heat them to boiling temperature and get the residual air in the jars to expand and force itself out through the not-firm seal. The heat affects a sealant on the lid that helps it adhere ever-so-slightly to the clean glass as the escaping gas causes a vacuum in the jar. A pressure canner is just a large pressure cooker; mine is like 13 inches high and 12 around. I left my dedicated water bath canner in Colorado when I went "wagons-East", but my pressure canner suffices for both purposes, I just leave the lid off except when initially heating the water.
Lids and rings are the two other pieces of the canning puzzle. Both are sanitized before use (I boil them in a saucepan and keep it on a low simmer) and the lids have a design that means that once they seal, they permanently deform when opened so they cannot be used to re-seal a jar in a canning setup.
Field Canning
The idea for field canning came when I was camping and I wondered if there was a better way to deal with half-eaten contents than just putting a lid back on a jar. I did some research once home, and voila – field canning. It is not hygenic-per-se and does not result in safe food – it just seals a jar with a light vacuum seal.
Field canning is useful whenever you have a need to seal a jar and don't have proper canning equipment. It requires – a semi-full jar of something, some wax paper, some foil, a lighter/match, a non-used lid (i.e., a new or not used to vacuum seal lid extra from the jar), and, ideally, the ring for the jar lid.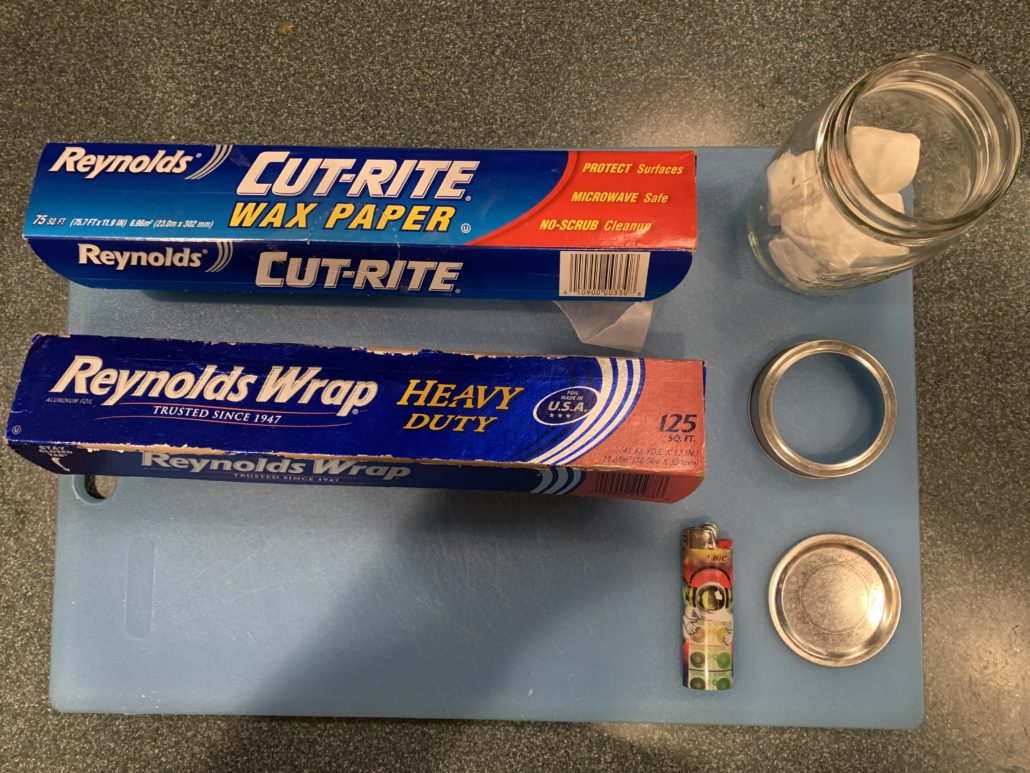 From here, it's quite simple:
Make sure your lid is clean and unused; this technique will not work with an already-used lid.
Take a small piece of foil and make a small "boat", nothing ornate. This will protect the jar contents from flame and ash.

Take a small piece of wax paper and roll it into a wick. When I put it in the jar, I try and and bend it into a "U" shape to ensure it sits with the burning end sticking.

Put the foil boat into the jar and adjust its edges so that wick/ash won't fall.
Wipe the jar edge with a clean, very slightly damp paper towel or cloth and make sure the lid and ring are ready.
Light the wick and put it on the foil.

As quickly as you can, carefully stuff the burning wick down a bit and put the lid on the jar and press it down gently but firmly. The flame will sputter and keep burning for what seems like forever; in reality it's just a couple of seconds.
Screw the ring on snugly to ensure the lid isn't jostled; depending on your altitude and how much burning there was after you closed the jar, the vacuum seal on the lid may be delicate.
At this point, the jar is sealed with a light vacuum seal and there is little-to-no oxygen inside. The contents are safer from spoilage than they would be just with a closed jar, though they may have a slight smoke flavor from the wax paper.
This is NOT a true form of canning – because the contents are not brought to boiling, you're not making the food inside safe. This technique is only one for sealing for temporary preservation, where you want no air in the jar, or want the stuff inside staying waterproof (in case of a flood, for example). It can be great when camping because you can open and reseal a large jar repeatedly, only limited by the number of unused lids you have.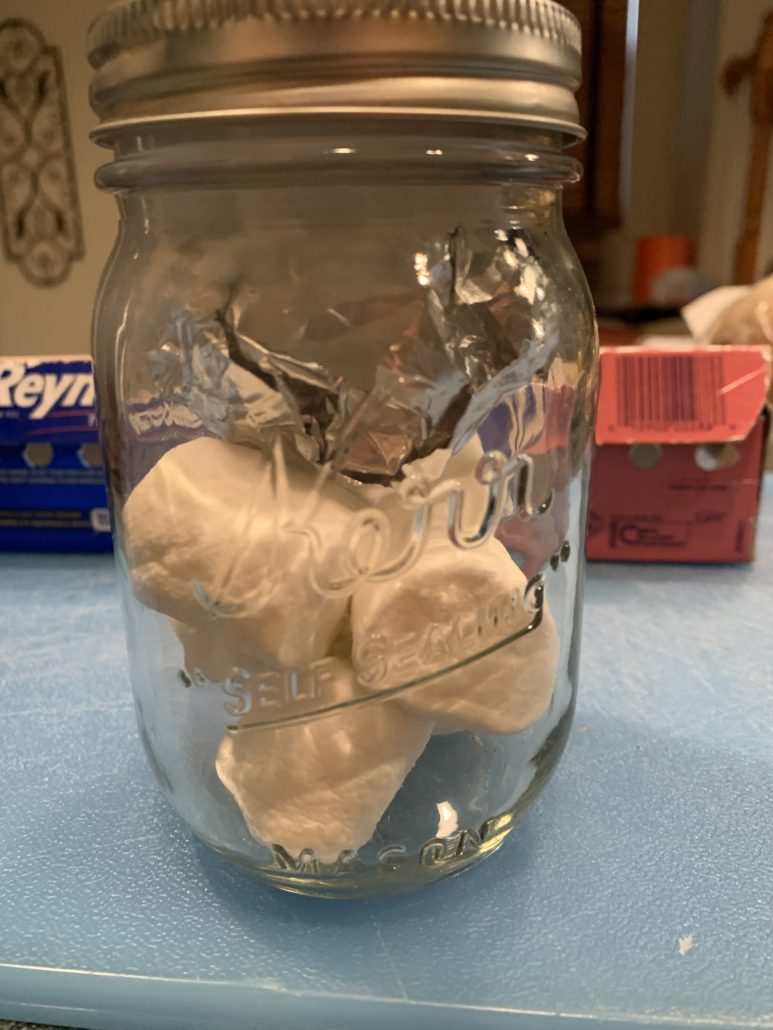 An afterthought is that you'd more likely keep the graham crackers in the jar so they don't get moist than the marshmallows, but they were at hand.
Thus endeth the lesson.