I have been super busy and have not even had the normal amount of time to write vile things on twitter, so I thought I would apologize and post some Steve pics.
Steve and I have been together for about six years now (btw I have been officially sober for five years now- I missed my anniversary again and remembered the other day when I was cutting up cabbage for another run of sauerkraut and this time was using a bottle of dry white wine and some of it splashed in my face while tamping it and I thought "awkward" and realized I had once again missed my anniversary), and I have really lucked out. He continues to become more and more interesting every day and has really turned out to be a special cat.
He's a very strong presence, which is great, as Rosie and Thurston can be quite overbearing, but he holds his own. He's chatty, and you know when he comes in a room, but he is also super affectionate. He absolutely loves to be hugged, which just cracks me up. He likes to jump up on the arm of my chair, drape his front paws over my chest and keep his back legs on the armrest, and then will lie there for hours while I hold him: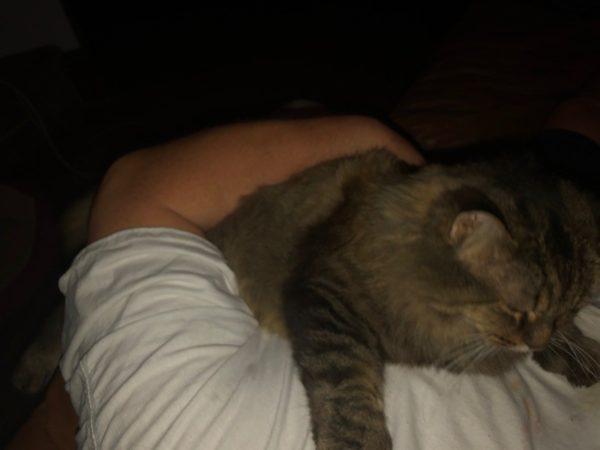 It's really bizarre (not to mention hard to get a picture in that position), but he loves it. He also likes to sleep on the side of the bed, and wake me up for attention: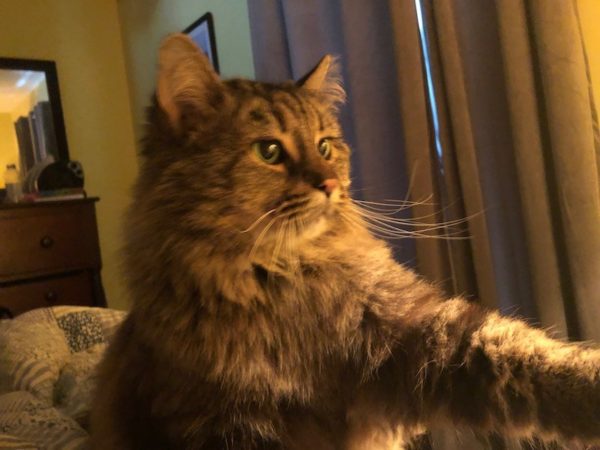 He will sit like that forever while I gently rub the insides of his ears until he falls asleep and/or drools on me. At night, when I am asleep, he somehow manages to arrange himself so we are spooning, and I often wake up and he is sleeping in my right arm.
Steve has really turned into just an outstanding cat. I am a lucky human.