A while back, CNN's excellent Trump fact-checker Daniel Dale identified the "sir alert" phenomenon:
I've fact-checked every word Trump has uttered since his inauguration. I can tell you that if this President relays an anecdote in which he has someone referring to him as "sir," then some major component of the anecdote is very likely to be wrong.

Lots of people do call Trump "sir," of course. But the word seems to pop into his head more frequently when he is inventing or exaggerating a conversation than when he is faithfully relaying one. A "sir" is a flashing red light that he is speaking from his imagination rather than his memory.

In poker parlance, it's a tell.
In the linked piece, Dale describes how Trump seems to particularly relish tales of tough, burly men tearfully addressing him as "sir," providing an example of an absolutely false story Trump told about farmers and ranchers blubbering with gratitude at a signing ceremony for an executive order. It was a lie, of course — as Dale notes, there's video of the event, and there wasn't a wet eye in the house.
Looks like we need to add "Mr. President" to the "sir alert" trigger-word list in honor of this big, fat whopper: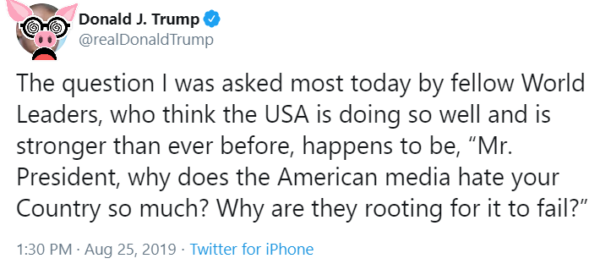 There's just no fucking way this is true. I mean, maybe BoJo said something along those lines to suck up; earlier today, Johnson humiliated himself by standing up to Trump on the trade war thusly:
"But just to register the faint, sheeplike note of our view on the trade war, we're in favor of trade peace on the whole, and dialing it down if we can."
"Faint" and "sheeplike?" Jesus Jazz-Hands Christ, that's embarrassing. So maybe Johnson further debased himself by reinforcing Trump's ridiculous and contemptible conceit that the American media is "the enemy of the people" because non-Fox/Sinclair outlets don't sing his praises 24/7. But the idea that this was the top question from "fellow World Leaders" is insulting to everyone's intelligence, and I hope the people Trump's trying to co-opt for his pity party push back on it publicly.
Open thread.