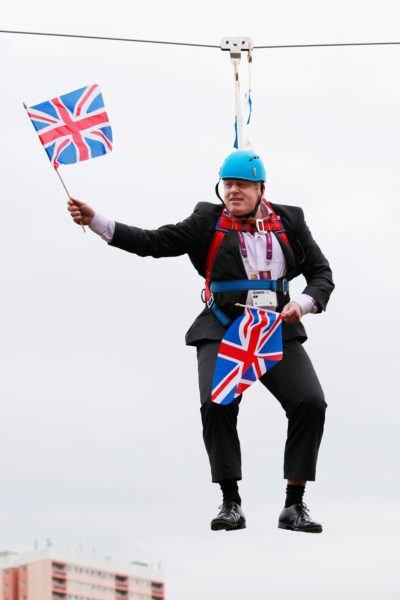 DougJ touched on Mad King Boris' suspension of Parliament yesterday, and there are reports that he and his shitgibbons have planned all summer for a way to ram through a no deal Brexit on the population:
BuzzFeed News has learned that in the last few days, Johnson's senior team — led by his chief of staff Dominic Cummings and director of legislative affairs Nikki da Costa — has explored a number of increasingly controversial proposals it could deploy depending on the success of rebel attempts to thwart Brexit. The ideas under consideration include the following:

* Attempting to disrupt a Commons debate on Northern Ireland power-sharing due on Sept. 9, a day which could be used by rebels to attempt to delay Brexit. It is described by Johnson allies as a "time bomb" set for them in the final weeks of Theresa May's premiership.

* Determining whether Johnson would be breaking the law by ignoring any successful rebel legislation or refusing to resign in the event he lost a vote of no confidence.

* Using a variety of mechanisms, including a potential budget, to create new Commons debates and further reduce time for rebels to act.

* Using the prorogation of Parliament to "kill the bill" by rebel MPs and force them to table it again after the Queen's Speech on Oct. 14.

* Creating new bank holidays to prevent the House of Commons from being recalled during the prorogation period.

* Filibustering any bill by rebel MPs attempting to force Johnson to delay Brexit when it reaches the House of Lords.

* Ennobling new pro-Brexit peers as a last resort to kill any such bill in the Lords.

* Exploring what the consequences would be if Johnson advised the Queen not to give royal assent to any legislation passed by Parliament delaying Brexit.

The measures were devised by the prime minister's senior aides who have spent the summer in their Downing Street bunker war-gaming how to respond to potential parliamentary manoeuvres by MPs determined to block no deal. The rebels, by contrast, spent the August holidays debating whether they would back Ken Clarke as a potential caretaker prime minister in an unlikely government of national unity.

Number 10's prorogation plan was ready to go and be put into action on Tuesday evening, just hours after Labour leader Jeremy Corbyn agreed to a pact with the so-called Remainer "rebel alliance" seeking to prevent a no-deal Brexit.
The way I see it, the Brits have two options. The first is to simply take it in the ass and do nothing.
The second is to just shut it all down. Everything. General strikes, take to the street, the whole fucking thing. That's the only thing that will work. You gotta bring the country to a near riot stance or nothing you do will matter, because Boris Johnson and the Brexiters are like Trumpers and the GOP- they don't give a fuck about public opinion, they don't care about threats, they don't respect traditions or the law. The only thing they understand is force. SHUT IT ALL DOWN. Take to the streets, shut down the public transit, shut down the ports, shut it all down.
If you don't, they will just do whatever the fuck they want. And they might anyway. But really, I think creating extreme discomfort is the only option.