So Penelope Pearl started laying consistently this week. Her endeavors have been adorable. The eggs have ranged from full-sized to fun-sized. I should have added chicken egg for comparison – but the third egg in is about chicken egg-sized.  Duck eggs are much bigger than even extra-large chicken eggs.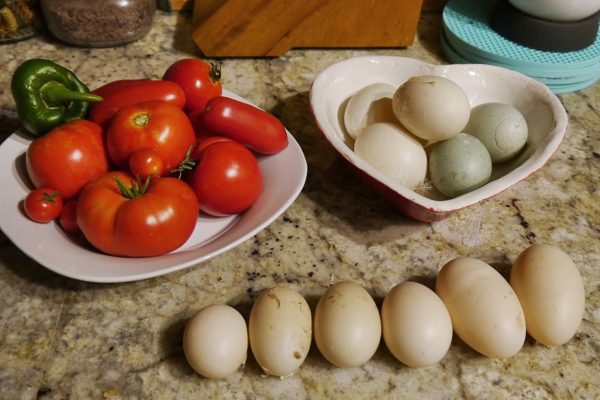 You can also see that Mabel and Maddie have been busy, as well (in the bowl). Their eggs are back to being hard-shelled after a few months of soft-shelled eggs. The culprit? Bixby's dog food. They do love their dog food, so I switched Scout and the ducks back to the old food, while Bixby has to have a beef food because he's developed a chicken allergy.
Ten days off of dog food and many days of Ducks On Strike and everything went back to normal. Except they still wouldn't lay eggs consistently, so I relented and give them about 2 cups of Scout's food to share in the morning. They are eating more laying mix of seeds/scratch but happy to have their dog food back and laying eggs daily.
They are also EXCELLENT bug hunters and I love watching them run around the yard devouring flies, grasshoppers and grubs.
Respite open thread