Iran had a missile blow up on the launch pad a couple of days ago, and the folks who do open-source intelligence (OSINT) have been looking at open-source overhead photos, trying to figure out what happened. I put in a guess or two.
This afternoon, a really great photo showed up in our Twitter streams. All those guesses and questions were answered. Caution for those holding clearances: The image may be classified.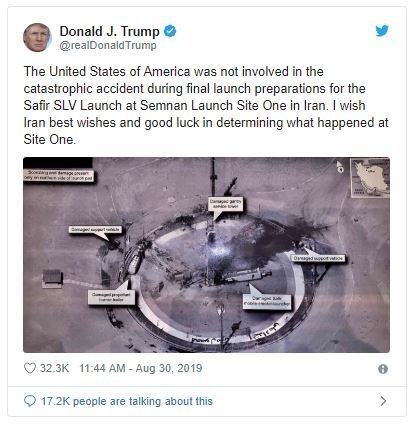 You can see the reflection of a camera flash in the middle, and another reflection on the right side. Looks like someone took a cell phone photo of an intelligence briefing.
The photo's resolution is far beyond what we all were looking at. It's clearly from a spy satellite or drone overflight. The OSINT people have identified a spy satellite that was overhead at about the time indicated by the shadows on the photo.
…and we have a classified US bird, thought to be a KH-11 (KH-11B?), passing near the target, in the same window.https://t.co/zm6qRJ6gwI

— Steffan Watkins (@steffanwatkins) August 30, 2019
It's also possible to infer the aperture and resolution of the camera used. Looks to me like nobody's decided whether it was a drone or a satellite yet. Nobody in OSINT, that is. Presumably Iran, Russia, and China are on it.
The President just released a load of classified information for the purpose of dragging Iran. That's it. That's the whole purpose. Oh, and this.
I am seeing the usual "The President can declassify anything he wants." That's correct only in the sense that if he were brought up on the charge of endangering the national security, he could make a case based on the regulations that, since he is the ultimate authority on classification. However, since the purpose of classification has to do with national security, other presidents have conferred with national security personnel on the implications of releasing information before declassifying it. There's also a paper trail to be filled out. Anyone want to bet that wasn't done?
More from NPR and Washington Post.