In the downstairs thread, we were discussing an absurd thing that happened earlier today: Trump hosted a "hurricane update" in the Oval Office, seemingly for the sole purpose of whipping out a days-old National Hurricane Center map that one of the low-quality hires altered by crudely extending the "cone of concern" with a Sharpie to include part of Alabama.
Why would anyone do something so idiotic, especially since the actual hurricane has since killed probably lots of people and threatens many more thousands right now? To make it look like Trump wasn't wrong on Twitter last week when he said Alabama was in the path of Dorian. (Narrator: It wasn't!)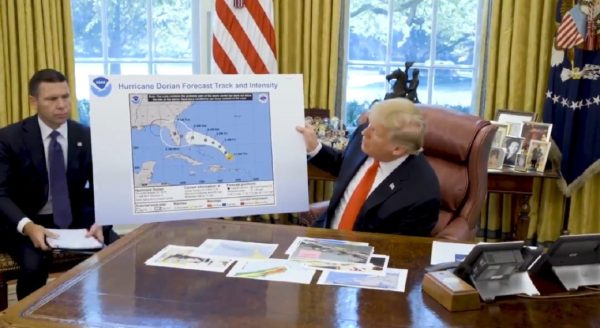 So, the press got a hold of it this afternoon, and Trump doubled down:
REPORTER: That map you showed us today, it looked like it almost had like a Sharpie on it.

TRUMP: I don't know, I don't know, I don't know. pic.twitter.com/d2oZemOshh

— JM Rieger (@RiegerReport) September 4, 2019
More lies and a promise that "better maps" will be "presented later." Someone should tell him the National Hurricane Center archives forecast maps, and they are available to anyone with an internet connection. Jesus Christ, y'all. I knew a Trump presidency would be non-stop stupid and mind-bogglingly incompetent, but…damn.
Open thread?