As dumb as it is — and damn, is it dumb! — SharpieGate isn't going away. Trump's use of a Sharpie to make himself not-wrong on Twitter last week spawned thousands of memes, including this: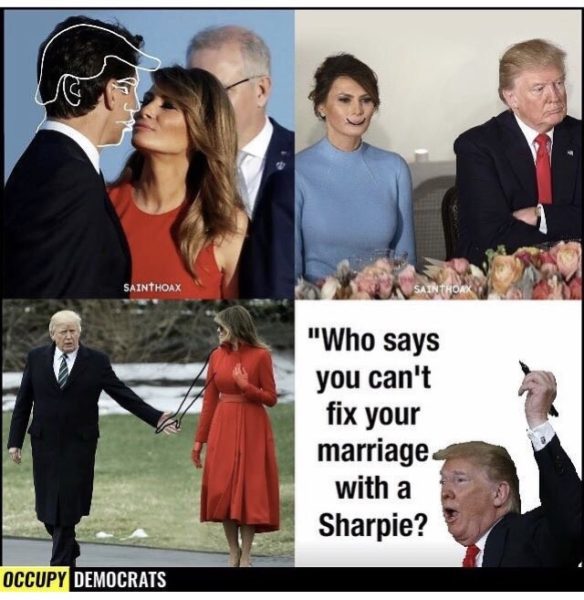 The Beltway press can't get enough of it. 24-hour news has been on it for 24 hours.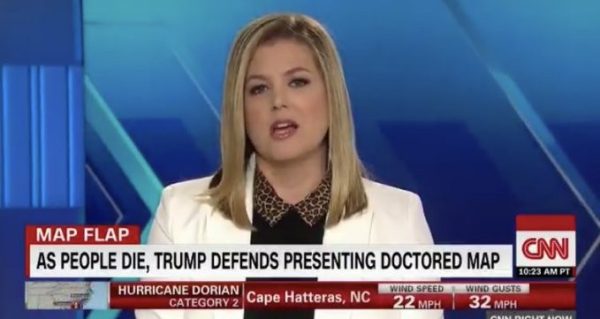 Trump tweeted about it five times today (most recently about 20 minutes ago). His "press secretary" (who neither presses nor secretaries) waded into the fray, spotting an opportunity to curry favor with the boss by taking a whack at CNN — and getting politely curb-stomped by CNN for her trouble:
Thanks, Stephanie. Yes, we made a mistake (which we fixed in less than 30 seconds). And now we are admitting it. You all should try it sometime.

— CNN Communications (@CNNPR) September 5, 2019
Trump can't let it go because he's a walking collection of untreated personality disorders who relies on bullying and dominance to bubble-wrap his fragile ego. I think valued commenter Gin & Tonic was onto something yesterday when he noted (paraphrasing) that the media has glommed onto this because it's both absurd and an easy story to cover.
I'm finding the story hard to let go too because it's such a perfect example of the how the Trump presidency is ridiculous and frightening at the same time: this demented crybaby is inventing stories that would shame a fourth grader, and government officials are serving as props and defenders, as if this whole episode wasn't bug-fuck nuts.
But maybe Mayor Pete Buttigieg has the right strategy here:
"I feel sorry for the President," Pete Buttigieg says on President Trump appearing to show an altered Hurricane Dorian trajectory map. "It makes you feel a kind of pity for everybody involved" https://t.co/jB9dijv8yU pic.twitter.com/ENma54ygE9

— CNN Politics (@CNNPolitics) September 5, 2019
A snippet of the transcript (via The Hill):
"I'm really worried about that," the South Bend, Ind., mayor and Democratic presidential candidate said on CNN's "New Day."

"I feel sorry for the president, and that is not the way we should feel about the most powerful figure in this country," he said. "Somebody on whose wisdom and judgment our lives literally depend."

"I don't know if he felt it necessary to pull out a sharpie and change the map. I don't know if it was one of his aides believed they had to do that in order to protect his ego," he added. "No matter how you cut it, this is an unbelievably sad state of affairs for our country. If our presidency is not in good shape, then our country is not in good shape. And on one level it's laughable, on another it is exactly why we got to do something different."
Maybe pity is the right approach. Perhaps Trump's opponents should discuss him in hushed, solicitous tones, as if the crazy racist uncle has graduated from demented email forwards to leaping out of dumpsters and screaming at passing schoolchildren about the Bilderberg Group. Because in a sense, he has.