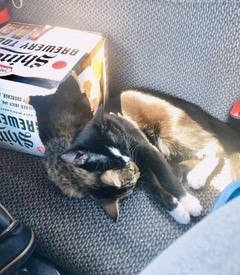 Just got some good news from AmyBlueKat:
UPDATE: MAYSIE AND BIG TUX HAVE FOUND A HOME!

We are now en route to Sister Rail Gun of Warm Humanitarianism's house where lots of love and attention await.

I am beyond grateful for the outpouring of support I have received here in just 28 hours since I first posted. Bill Proctor – this would not have happened without you. May your heart finally rest in peace.
More on how Bill Proctor led to this happy pairing before he left us, here. May he rest in peace.
I told her we would need lots of pictures of the exchange. I will post them when I get them. I just thought we could use some good news today.
Open thread.