One of the problems with the Trump administration is that they are doing so many retrograde, horrible, awful things, that you can't even keep up with chronicling them, let alone fighting them all. You have to pick your battles, and even then, the deck is so stacked against you that victories are few and far between and often pyrrhic. Because of this, you can't even begin to think about dealing with the numerous future crises that are rolling down the road at an alarming rate. For example:
As President, I would issue a robot tax for corporations displacing humans, and create a federal agency to oversee automation. https://t.co/W9JWIFFDaN

— Bill de Blasio (@BilldeBlasio) September 9, 2019
Now I have no idea how well thought out his policy is, or how practical, but one of the things that scares the hell out of me is the future of automation. In particular, automated trucking. I feel like I have mentioned this before, but I can't remember when, but it is important to realize that trucking employs several million people, and there are an equal number of people whose livelihoods come from supporting the trucking industry. This data is from 2014, but that is pretty recent when it comes to data sets of this size: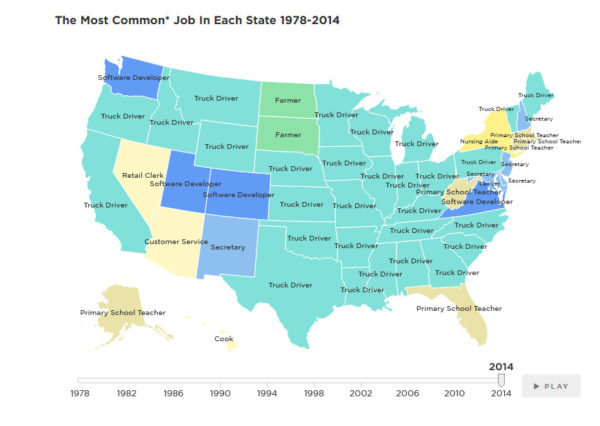 Because I live in an area that is considered both the Ohio Valley and Appalachia, I am acutely aware of how the loss of a couple thousand mining and steel mill jobs every year has perverted our politics for the last two-three decades. Take that upheaval, and make it several orders of magnitude worse, and you get the idea how bad this is going to be. And we're not even getting into the fact that trucking is a tough business as it is, with owner operators getting hosed every single day (the trucking industry as a whole did really well the past few years, but the drivers- not so much. Sound familiar?).
Again, this is the sort of thing that if we were a serious nation, we would be planning in advance how to deal with it, whether it be regulation, legislation banning and limiting it, etc. It's going to be a major deal. The only serious conversations I have even seen about it are coming from the left, with discussions about a universal basic income (Give People Money by Annie Lowrey was a good read), and to his credit, Andrew Yang has talked about this (and also written a book).
Of course, half the people in the Democratic primary would probably scoff at this idea, but it really is not just backwards thinking socialism. It's more forward thinking than people realize, because this stuff is really right around the corner.