At the Health Affairs blog, Jamie Daw, Katy Kozhimannil and Lindsay Admon examine insurance churn among mothers in the time surrounding the birth of a child.
An analysis of the 2005–13 Medical Expenditure Panel Survey found that prior to implementation of the Affordable Care Act (ACA), nearly 60 percent of pregnant women experienced a month-to-month change in insurance type in the nine months leading to delivery, and half were uninsured at some point in the six months following birth
Why does this matter?
The health of mom influences the health of the baby
Churn from one type of coverage to another is disruptive and costly
Medicaid (especially in non-expansion states) has a very short off-ramp for post-partum moms
There is a split in uninsurance of the mother between Medicaid expansion and Medicaid non-expansion states as we should expect by now.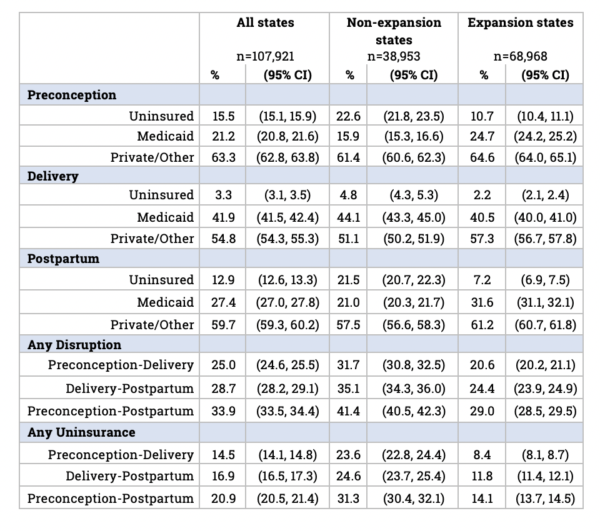 Using this table we can't quite say that Medicaid expansion causes much lower uninsurance rates at all of the relevant time frames as the states that have expanded Medicaid (especially the states that expanded on 1/1/14) are different in very meaningful ways from the states that have still not expanded Medicaid.  The biggest one is political which is confounded in all sorts of way with ideology and state economic situations and distributions.  But even with that piece of caution, an expectant mother is most likely to have a better shot at a good set of outcomes in an expansion state.
Medicaid (both traditional and expansion) seems to be doing its job at the point of delivery.  Traditional Medicaid covers otherwise uninsured pregnant women who earn up to 194% the Federal Poverty Level (FPL) in Mississippi while other states may further expand income eligibility for this category of beneficiaries.  Mothers in Medicaid expansion states may be administratively switched from the expansion population group to the legacy population group with minimal to no disruption to their coverage.  Expectant mothers are more likely to be young than in their peak earning years, so a lot of mothers at the moment of delivery are covered by Medicaid.
However, legacy Medicaid pregnancy coverage terminates after sixty days from delivery unless the state adopts a waiver to extend eligibility at the higher income levels.  In Medicaid expansion states, some of the women will automatically retransfer back to the income eligible Medicaid expansion categories with no more disruption than perhaps a new ID card that arrives in the mail three weeks later during the first sleep regression.
However, quite a few women who are no longer eligible for pregnancy related Medicaid will be dropped from Medicaid.  This will trigger a Special Enrollment Period either at work or on the ACA Exchanges.  However, we know that the transition of insurance creates administrative burdens and administrative frictions.  People will fall out due to paperwork.  People will fall out due to perceived or real affordability concerns.  People will fall out.
Churn is bad when it is administrative and eligiblity criteria churn.  It is bad for the mothers, it is bad for the babies, and it is also bad for insurers as it worsens the risk pool incrementally.