Welp, Trump just had another Lester Holt moment, basically admitting on camera to extorting Ukraine:
Amid questions about whether Trump withheld military aid to Ukraine in exchange for an investigation into the Bidens, Trump says this AM: "If you don't talk about corruption, why would you give money to a country that you think is corrupt?" pic.twitter.com/9tEOEW5g1c

— Manu Raju (@mkraju) September 23, 2019
Let's talk about that, but first, let's discuss Trump's fucking posture, a continuation of my Twitter musings this morning:
Trump has an odd forward-leaning posture when standing, possibly due to wearing lifts. Someone here said he stands "like a centaur without hind legs," and I can't unsee that. pic.twitter.com/g0kuhNqftj

— Betty Cracker ? (@bettycrackerfl) September 23, 2019
It's a minor thing to complain about — a corrupt, incompetent, traitorous authoritarian wannabe's posture. But it has always bothered me, just as everything about Trump's corporeal manifestation irritates me, albeit far less than the (presumably) Cheeto-scented emanations from his anus-like mouth perturb all decent people.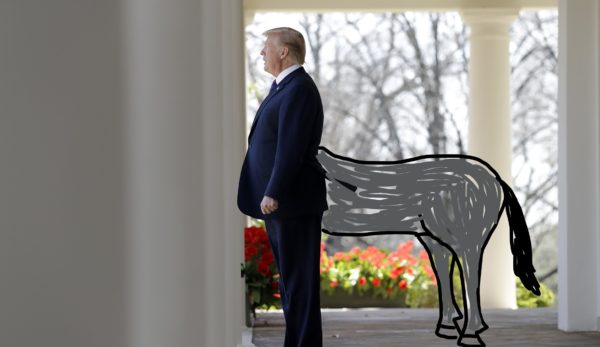 Why can't he stand like a normal person? Why can't any of them stand like normal people?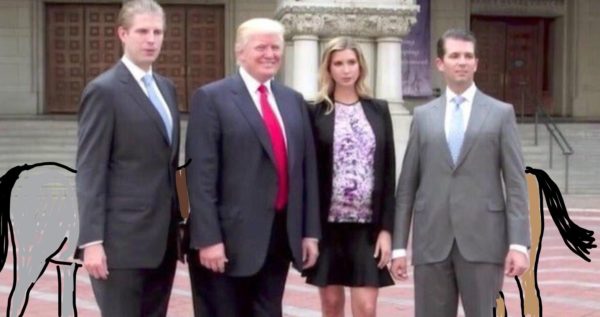 I'll say this much for Ivanka: at least her posture doesn't cry out for added fetlocks. But the adult male Trumps are apparently two-legged centaurs.
My recollection of high school Greek mythology is hazy, but I don't think the creatures' contributions to the pantheon were altogether positive. Make of that what you will, including a foreshadowing that Trump would attempt to extort Ukrainian President Zelensky to rig the 2020 election.
Open thread!