On the Road is a weekday feature spotlighting reader photo submissions.
From the exotic to the familiar, whether you're traveling or in your own backyard, we would love to see the world through your eyes.
Good morning, everyone!
Today I'm going to share more mushroom pictures from my most recent Colorado adventure.  This is as much an informational post as scenic because I'm going to teach you how to properly collect a king bolete mushroom.
But first, an important warning: never eat any mushroom if you have the slightest doubt that you've properly identified it. While all mushrooms are safe to touch/non-topically poisonous, many of them are distressful-to-deadly when eaten. An important adage: there are old mushroom hunters and bold mushroom hunters, but no old, bold mushroom hunters.  Always learn from those who know so that you have the confidence in what you harvest and eat. Properly identifying mushrooms is fun and a good way to ensure you won't be rushed to the hospital, so get a good guide or app to supplement your mentor. Finally, to be safest, make a spore print for the most accurate identification.
Another thing to keep in mind is that most mushrooms need to be cooked. Even non-poisonous ones can have some proteins and enzymes that can cause gastrointestinal distress. Technically you can eat many varieties raw, but I prefer to cook them, often in butter with some garlic and shallot/onion.
Before we get to the instructions, I wanted to share a few of the other fungi I found while searching for the king boletes.  Tomorrow I shall conclude this mushroom extravaganza with some older pictures showing a greater variety.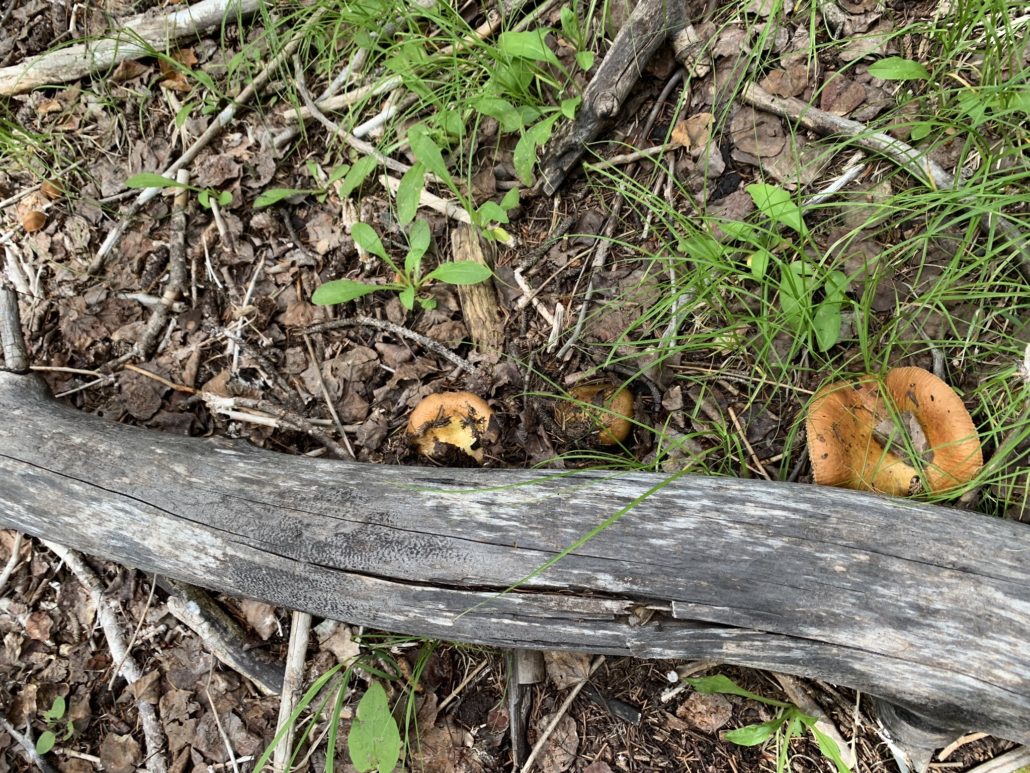 Just some mushrooms growing along a branch. I didn't bother trying to identify them.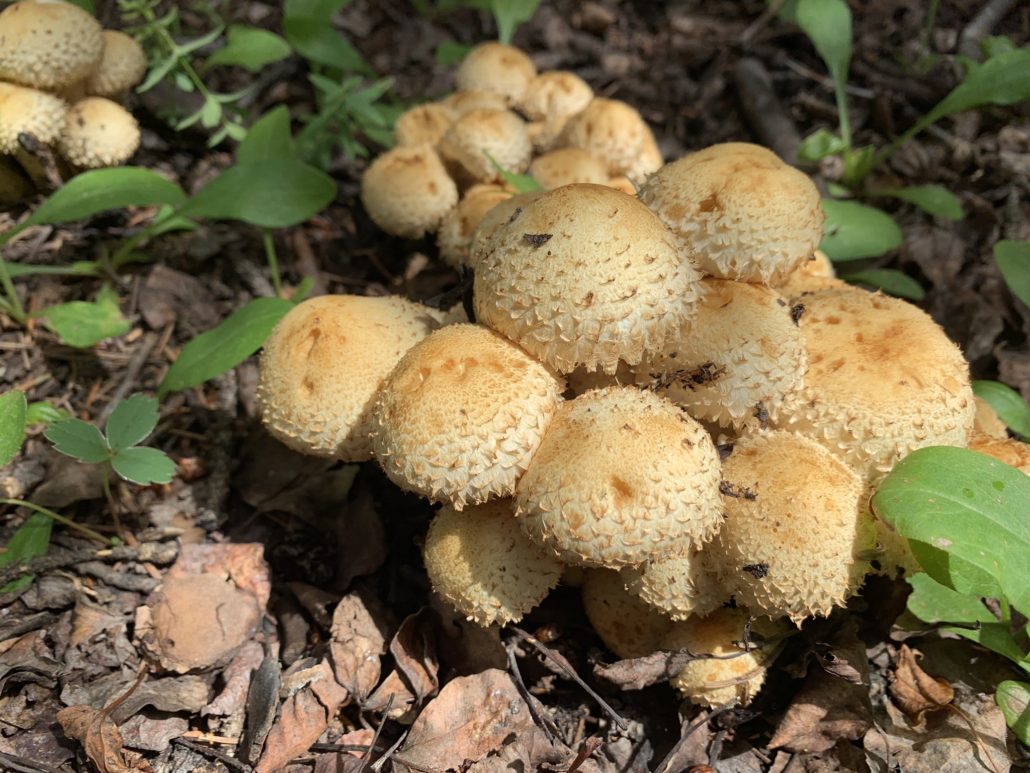 Again, another neat specimen that I didn't identify. Love the scales/shaggyness!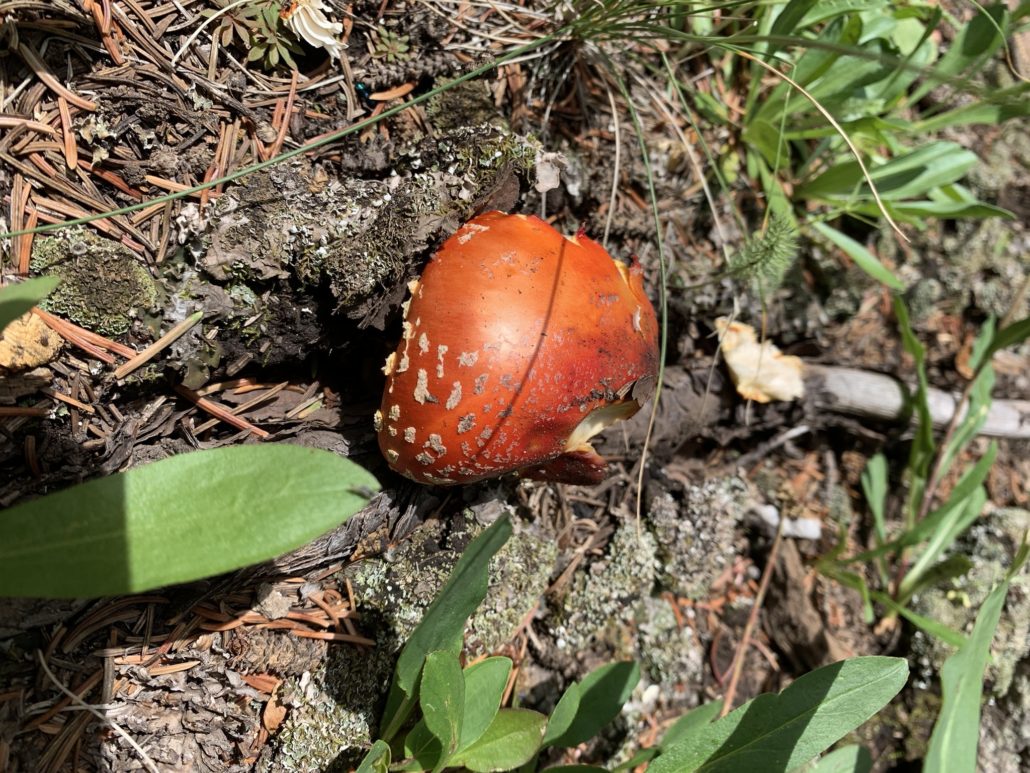 Ah yes, the Amanita Muscaria, the "Alice In Wonderland" mushroom. Bright red with marks. Slightly poisonous, allegedly semi-hallucinogenic. I figure if you want to hallucinate on mushrooms, go find some cow patties and eat something well-known for its "medicinal" use. The nice thing about these from a king bolete hunter's perspective is that, if you see one or more of these, you should expect to find some boletes nearby too. I don't think they compete, but I've almost always found one or more boletes within 20 feet of an amanita muscaria.
On with the instruction!
First things first – you want a basket or open-weave bag to collect your mushrooms, never closed plastic. This is fundamental because after you cut and collect a mushroom, it will often release spores as you walk around the forest. I look at it as a way for me to help spread this amazing organism to thank it for the delicious fruit I've taken. So using a basket or open-weave bag is optimal because spores will be free to spread. In fact, you end being "Johnny mushroom spore",  and that's a good thing.
You will also want a good knife and a sturdy twig. A small brush is useful as well. I have a French mushroom knife with a wicked curve and a brush tip. It's great and I keep it on a "zinger" attached to my backpack so I can let it hang around and drop it without fearing it will be lost. Just make sure when you're cutting with a sharp knife to be careful – I can tell you from personal experience that a pebble can deflect your blade and cut off the tip of your finger at 11,500 feet, 2.5 hours from the nearest emergency room.
So make sure to plan your cuts, especially with mushrooms jutting out diagonally/horizontally from hillsides. And always have first aid stuff on you and at your vehicle. In a worst-case scenario, you could be 30 minutes' walk from the vehicle and alone, so you need to have a solid first-aid kit with you. Hand sanitizer is great in a pinch; you can squirt some on a wound and rub it in for quick disinfection coupled with burning pain.
I was lucky, and after a moment of blood spurting, I took a few deep breaths to calm the building panic and dropped my backpack. I got out the first aid kit and cleaned the wound before compressing it with three bandaids. Note – the tip wasn't completely removed and was in fact still attached which was very lucky indeed. I found my companion about 10 minutes later and he was mostly useless when I needed a better cleaning and binding at the truck, which delivered another important lesson – make sure you can bind your own wounds because your companions might be under-blessed when blood is spurting and tension is high. First aid is rarely necessary, but when it is, ensure you don't have to rely on others' mastery for aid, care for yourself.
Step 1: Clean around the base of the mushroom using the twig. Move dirt, pine needles, etc. away but don't disturb too much. You want to clean off and expose the base so you can see how deep and at what angle you want to cut. One thing I love and think is wild-crazy is how chilly mushrooms are. It can be 80 degrees air temperature, but when you brush away some of the litter and touch the base, it's cool-to-chilly, almost clammy.  I know of a few writers who associated that cold, damp chill with some connection to death, decay, and such things. It's totally understandable.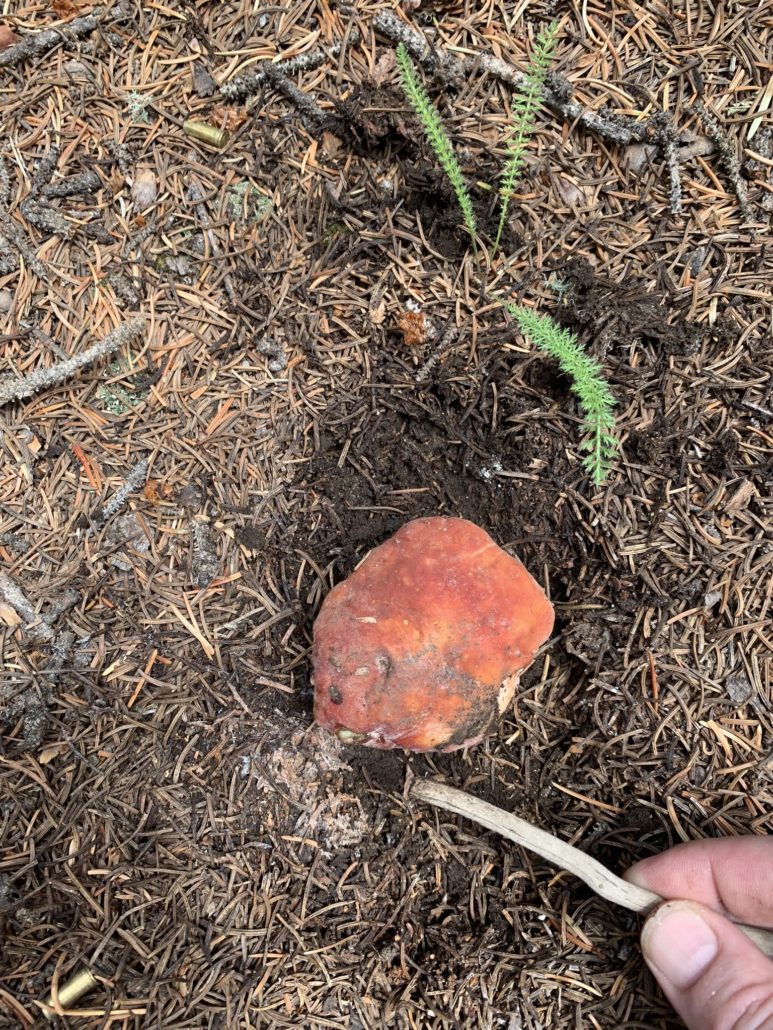 Step 2: Use the brush to remove as much dirt from the mushroom surface. You cannot remove it all, and some mushrooms are in a better state than others. Once you cut, touch, and bag the mushroom, it will release some moisture and proximate mushrooms' moisture will add to the problem, making surface dirt a bit muddy and less-easy to wipe away or clean. Your best chance to remove dirt is now.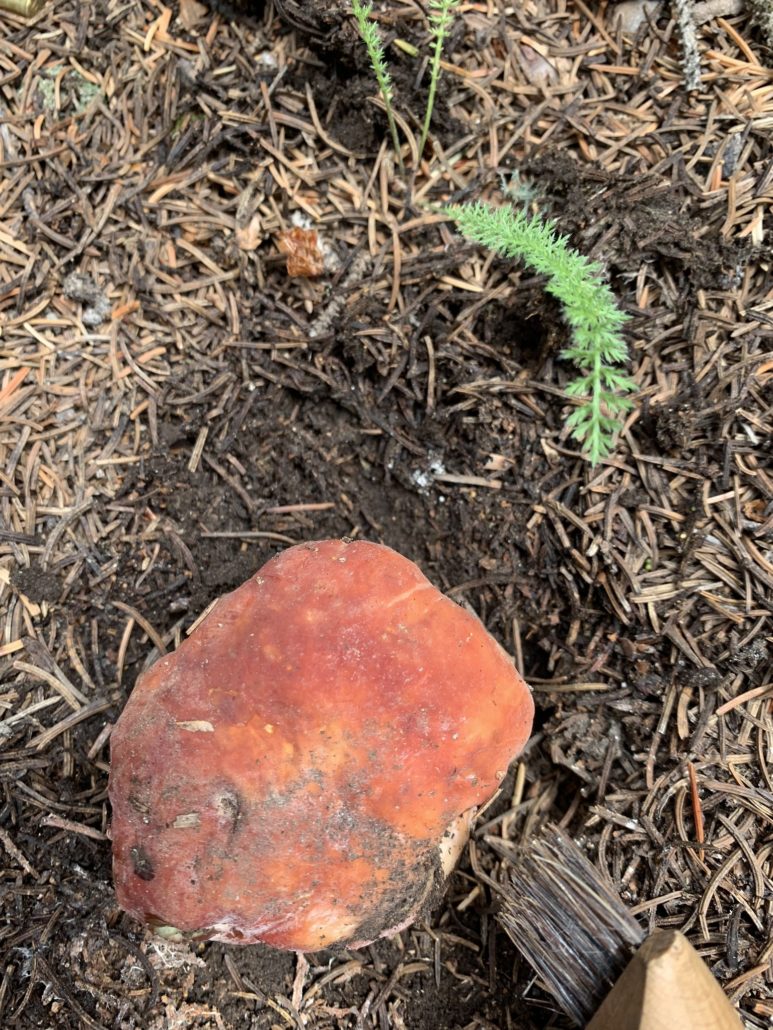 Step 3: Cut the Mushroom: using your knife, firmly but gently cut the mushroom from the white base. You want to leave some of the base in the ground, but not too much! It's easy to get greedy because the base is solid, dense mushroom mass (I liken the texture to steak) and so you don't want to waste any. But waste you must – because cutting further down can disrupt, damage, or kill the mycelium. The actual fungus lifeform is the mycelium – a white web of fibers and stuff that goes through the ground.  It connects roots, trees, etc., and the mushroom that we eat is its fruit. I'm sure you've seen a "white web" in the ground or a rotten log or old piece of firewood – that's what we're talking about.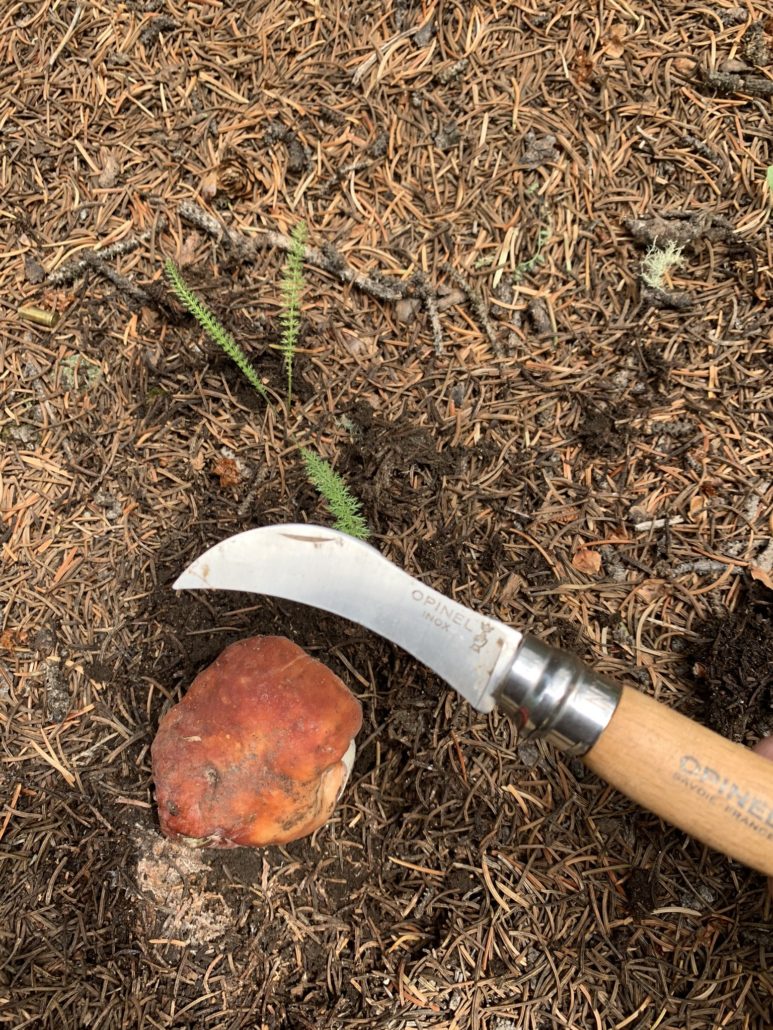 Step 4:  Cleaning, etc. As you can see, I left some of the base in the ground, ensuring that I did not damage the mycelium. Some jerks cut deep into the ground, retrieving the entire base but also getting lots of the white fibrous material and likely stressing or killing the mycelium in the ground.  Never do this! Once you've cut the mushroom, use the twig, brush, and knife to remove all dirt and debris and shave off a thin layer of the outside around the base – to expose bright white flesh instead of the off-white skin that air causes. You can see the leftover shavings from previous mushroom hunters littering the ground near their finds, often a good signpost to look for more-recent emergers nearby. Greedy collectors leave some shavings with chunks of mycelium still attached, showcasing their destruction.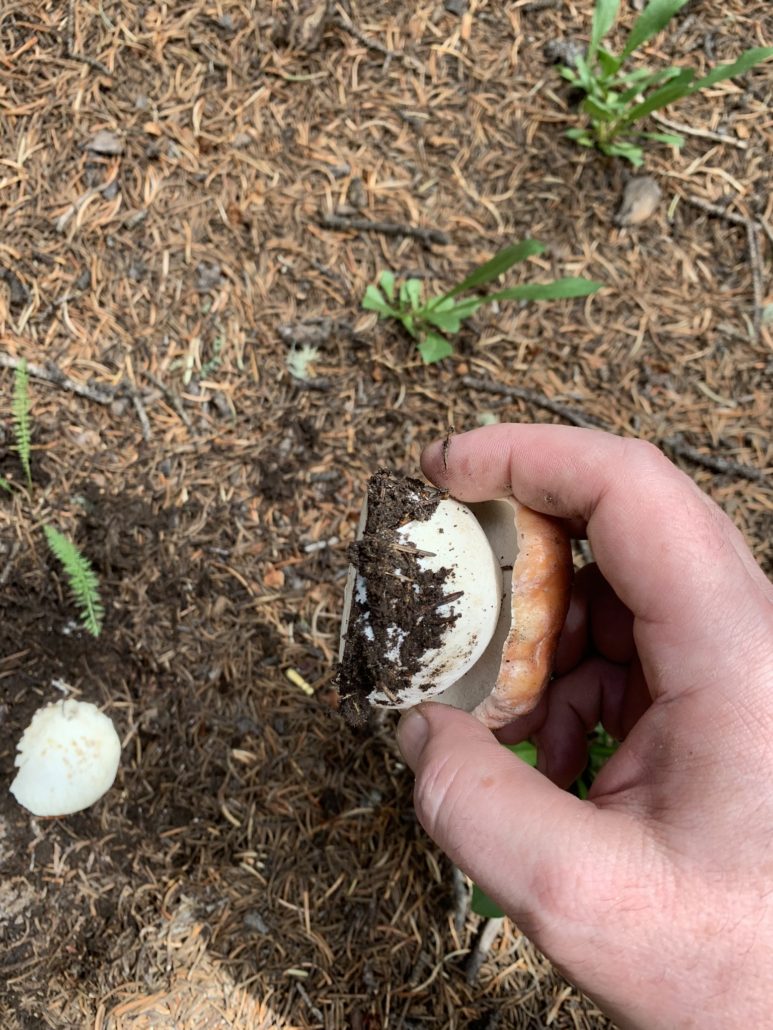 Step 5: A cleaned mushroom. This is the final product. As you can see, it looks pretty good. If the bits of dirt smudges bother you, then remove them – a bit of dirt never hurt me!  Do pay attention to the cap, especially with larger mushrooms. The underside of the cap can go a bit funky, so I'll scrape the gunk out if needed.  I've also seen a bolete that was being attacked by another, different-colored fungus, and suspect that this was the beginnings of a parasitical takeover. Needless to say, I left it alone. Sometimes there are impurities inside the white base. Often these are individual pine needles that were absorbed as the mushroom grew. They often leave a bright-orange or yellow stain around the source, so cut out those bits as you find them as they are bitter/nasty-flavored.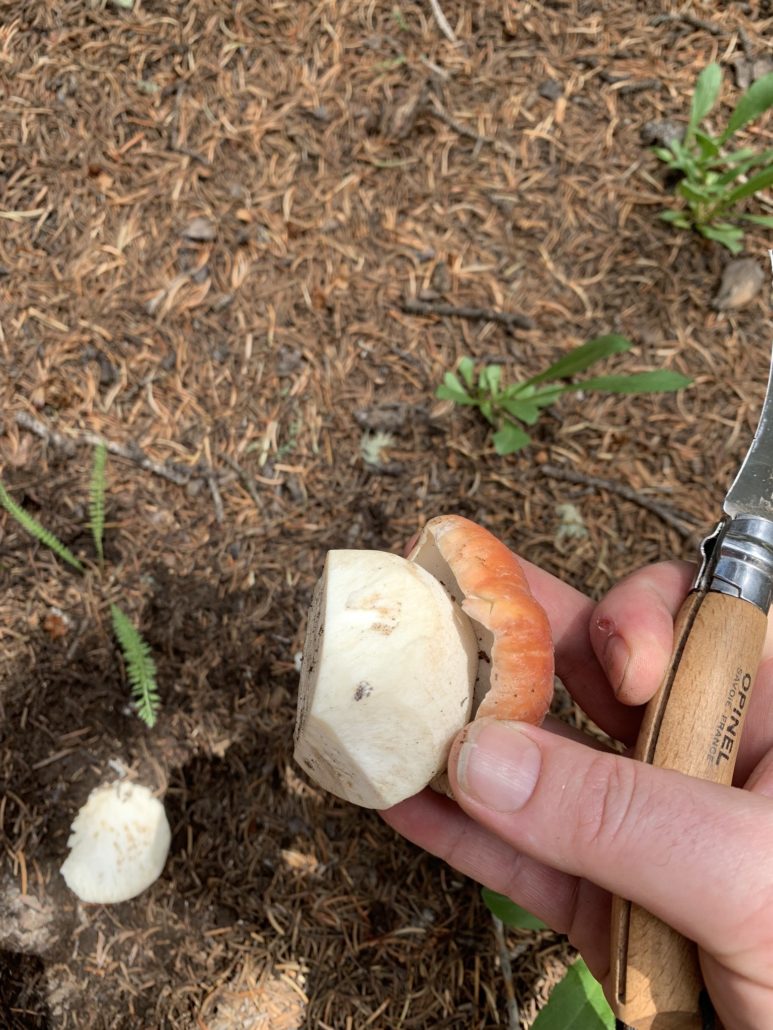 There you have it, some king bolete harvesting basics. I'm happy to answer questions, to the best of my knowledge.
It doesn't matter where you go, fungi are there. They are amazing and beautiful lifeforms, often tasty. Most are not edible, others not so tasty, but if you can find someone near you who knows what, where, and when to hunt mushrooms, I advise you to tag along if possible. It's a great experience and loads of fun and the rewards are stories, pictures, and yummy food. Boletes are not the more common fungi you'll find – chanterelles, oyster mushrooms, and morels are more common in much of the US, and there are also many tasty wild versions of the domestic mushrooms we get in the supermarket.
Have a great day!