Our dog Laika isn't doing so well. She had a big seizure Tuesday night and since then she's had trouble with balance. We are hoping it is just the anvi-convulsant medicine we have been giving her, and that it will pass (the side effects lessen over time) but we don't know. The doctor thinks it is probably a brain tumor. People always say their dog is the best dog but Laika REALLY IS the best dog in the world.
When Benny was a little baby, Laika would lie down next to him whenever there weren't people within ten feet of him, to make sure he was ok and to protect him.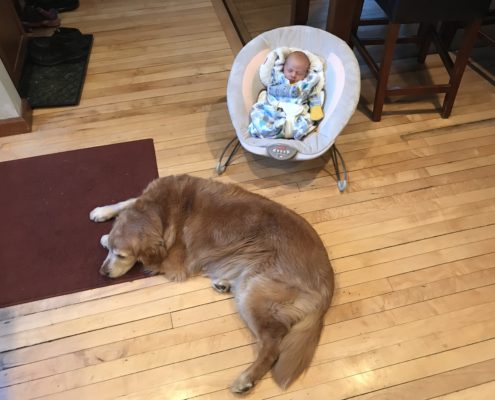 Let's raise some more money for vulnerable Democrats in the House to support the impeachment process. I'm afraid that if Trump skates on this, there's no going back to a world where presidents are expected to follow the law…at least until we get a Democrat in the White House again, at which time wearing tan suits and asking for Dijon mustard will once again become high crimes and misdemeanors. Do it for Laika.