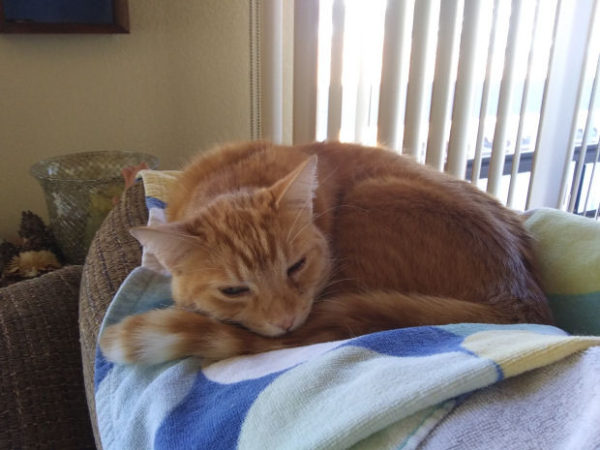 From commentor Dangerman:
There is an ~8 year old Orange Tabby cat that just lost its owner where I live (call it San Luis Obispo, which explains the SLO in my email nym). My location is a bit of an advantage as I'm almost exactly halfway between Los Angeles and San Francisco.

That said, a place "more country than city" would be better for him. His owner passed at 85 and loved this cat in a very big way (I'm a friend); in other words, this cat is spoiled in the extreme, but also very, VERY smart.

There is already kind of an option in place to house this cat but I believe that is much more of a trial/boarding thing than a permanent home thing, so I need to look for options in case of a further emergency.

So, about the cat in a few lines:

(1) VERY friendly, but not really a lap cat; he'll do laps for a few minutes here and there, but it really isn't his thing. Sleeping in a sunny spot someplace is his thing. He's presently being boarded for a few nights and all the Vet Techs are gushing about him as to how chill he is ("so, you want to take my temperature, huh? *yawn*, OK, just make it kinda quick, OK, I got a nap to get to here")

(2) He's fixed but still has his claws; he doesn't believe in cat scratching posts (walks by them, looks, and appears to laugh), so if people have antique furniture or similar, this is not the cat for them

(3) I stated it previously – this cat is SMART; I've never seen a cat so well trained. Now, he is a little older and I have no idea about old cats and new tricks. He either has an amazing biological clock or he has learned how to tell time as I could set a watch by his arrivals to be fed morning, evening, and noontime snacks each day ("lessee, big hand there, little hand there, I get food, WOOHOO")

(4) He just had his shots and annual checkup; there was a minor anomaly in his urine results, but the Vet said no concern at all, just maybe something to watch for in the future

(5) Oh, important, this cat does his business outside; he is litter box trained but from all available evidence (you seriously don't want to know) he only uses the litter box if his bladder or bowels are about to explode. He might use the box once a week or so

(6) Oh, also very important, this thing is an amazing hunter; he has a bell around his neck but still finds a way to bring in birds, rodents, and bats (yes, bats). He doesn't kill; he just wants to play. Well, that presents a problem since the animals involved aren't into the whole play thing. (ESPECIALLY the bats, who are otherwise highly skilled at playing dead, which places the human, generally me, at some risk when I go to dispose of the presumed dead bat.)
If you are interested, know someone who might be interested, or have other helpful suggestions: Leave a comment below, or contact me at annelaurie (dot) bj (at) gmail, and I'll forward your message to the Dangerman.