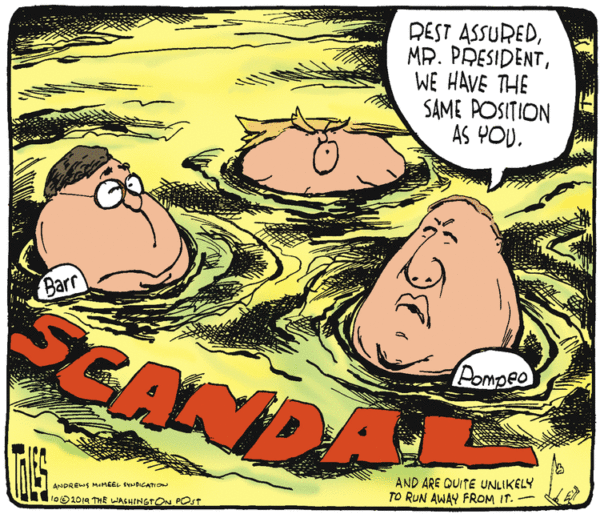 Rudy admits to CNN he passed the packet of Ukraine conspiracy theories and attacks on a U.S. ambassador to Pompeo. "They (the State Department) told me they would investigate it."

— Josh Rogin (@joshrogin) October 3, 2019
And per CNN, the rest of the Republican party is less than thrilled:
What you most hear from congressional Republicans on impeachment this week is the sound of silence.

GOP sources tell CNN they have a good reason for that fear. They have no idea what else House Democrats' investigation will uncover or what comes next.

Along with that fear is frustration with President Donald Trump: his ranting in performances full of false claims, like Wednesday in the Oval Office and White House East Room, and stream of consciousness rapid-fire tweets — curse words and all — are not exactly an anti-impeachment road map for his fellow Republicans…

And although phrases like "witch hunt" and "hoax" worked for the President politically during the investigation by special counsel Robert Mueller, concerned GOP sources — more than half a dozen, including some in leadership who are talking to and hearing from the rank and file — tell CNN that they worry the President isn't comprehending what they believe to be true, that this is different…

Several congressional Republicans tell CNN that their concern is exacerbated by getting very little guidance from the White House. CNN reported last week that, despite an initial flirtation with setting up an impeachment war room in the mold of Bill Clinton's White House during his impeachment, the Trump team is not going there now.

"There is no White House war room. Why are we the ones who have to defend him?" asked one congressional GOP source.

Also noteworthy were comments from Senate Majority Leader Mitch McConnell, who rarely grants interviews. This week, the Kentucky Republican went on CNBC and declared that if the House impeaches the President, the Senate will have no choice but to start a trial.
"Under the Senate rules we're required to take it up if the House does go down that path, and we'll follow the Senate rule," McConnell said.

But before that even happens, several Republican sources on Capitol Hill say they are bracing for more shoes to drop, and don't want to get out too far defending the President when they don't know what else he, or his top aides, may have done…
Hell, does Trump even know "what else he, or his top aides, may have done"?
By the way, Rudy is admitting to manufacturing White House logos and sticking them on non-White House documents and pushing the real government to act on them. https://t.co/8NEfRmvTXy

— Josh Rogin (@joshrogin) October 3, 2019
The website of the consulting firm that forged business contacts for Rudy Giuliani in Ukraine and Russia for more than a decade, TriGlobal Strategic Ventures, has suddenly vanished. The company's website reverted to "TGSV – Coming Soon."https://t.co/R4U41KHGzE

— Julia Davis (@JuliaDavisNews) October 2, 2019
Wait what. https://t.co/2sjcViZ76e

— Daniel W. Drezner (@dandrezner) October 3, 2019
I wouldn't bet that the conspiracy talking points Rudy delivered to Pompeo were from Roger Stone.

But I think it'd be kinda crazy to bet that they weren't.

— Dana Houle (@DanaHoule) October 3, 2019