Before we discuss unpleasant things, here's something cute. My world-traveling sister went to Madagascar recently to hang out with lemurs, among other creatures. (Yeah, I was a little jealous.) She mostly got photos of lemurs in trees. But one day, she sat down, and several lemurs approached to check her out.
She was so thrilled and nervous when they came up to her that the first couple of shots are blurry and only captured half a lemur in the frame, but then this adorable pair plopped down nearby: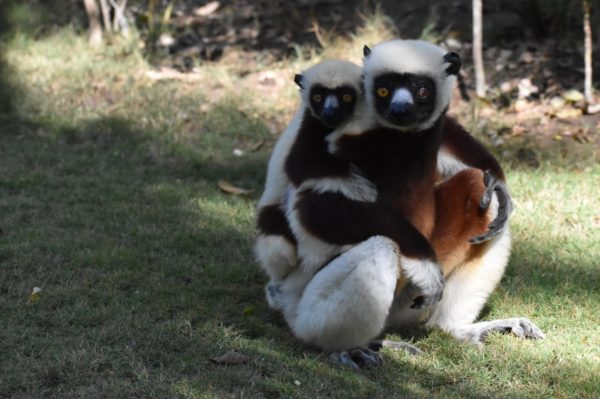 Isn't that the most squeeeee-worthy thing ever? I think so.
Moving on to not-adorable things below the fold…
The list of true believers — folks who buy the crackpot conspiracy theory that DNC/Soros/Ukraine framed Trump/Putin/Russia in 2016 — keeps growing. At first it seemed that people like Pompeo, Barr, et al, were trying to distance themselves from this insanity shambling around in the person of Rudy Giuliani. But that option is now foreclosed because their boss, Trump, believes it and keeps repeating it.
The NYT reports that Kushner is a believer. Lindsey Graham too — McCain's best pal beclowned himself yesterday in front of the Australian government in service of this whackadoodle stuff, sending a letter demanding that the Aussies accommodate Barr's investigation into the origins of the Mueller probe…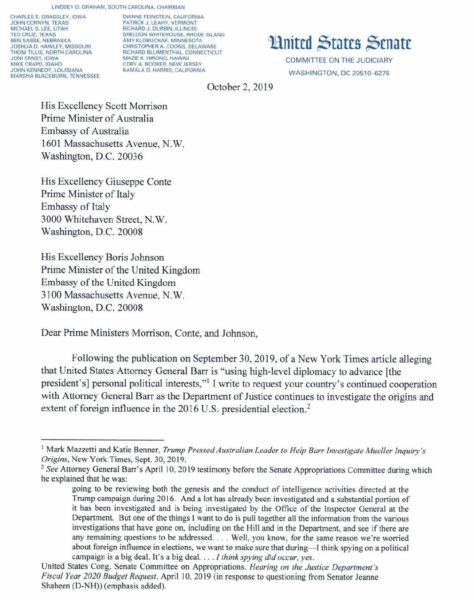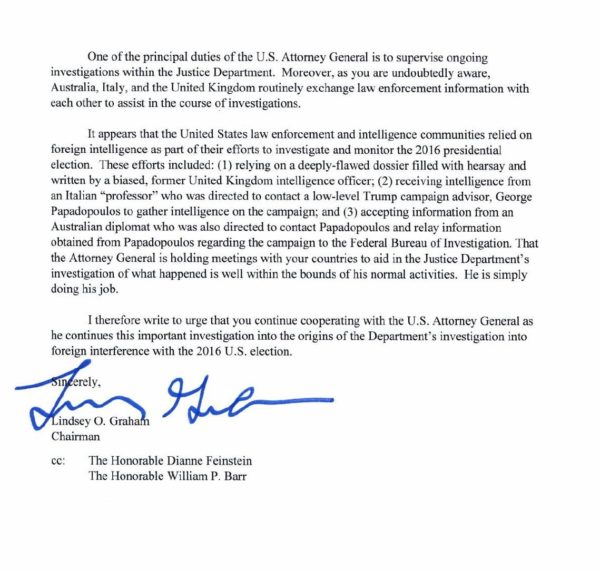 …only to have the Aussies clap back that they had publicly announced their willingness to cooperate in the snipe hunt in MAY, thankyewveramuch, and by the way, stop crapping on our diplomat: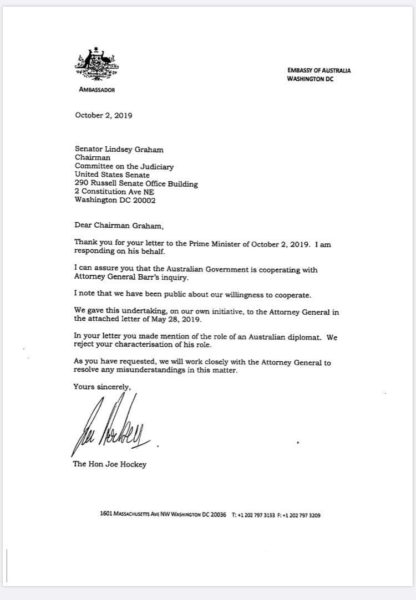 Josh Marshall wonders why Trump keeps ruinously tilting at this cancerous windmill:
All of this seems focused on pushing (and getting backers for) the idea that US intelligence agencies and the Mueller office were plotting against the President and that Russia was framed for interfering in the 2016 election. And the storylines and theories are mostly or all ones that first surfaced in Russian propaganda outlets. Again, why? Just feeling wrongly accused or trying to exonerate himself simply isn't a sufficient explanation.
It's possible Marshall isn't taking Trump's brand of malignant narcissism into full account here. The suggestion that Trump is an illegitimate president by dint of Russian interference on his behalf is a more than sufficient an explanation, IMO. In the excerpted piece, Marshall speculates that Manafort may have steered Giuliani and Trump down this path, which makes sense. But Trump would be more than eager to grasp that straw, not because he gives a shit about Manafort, but to sooth his wounded ego.
Regardless of its genesis, the DNC/Soros/Ukraine theory is fast becoming the main line of defense in this scandal, from the GOP point of view. I don't know how it helps them since the issue is Trump leaning on Zelensky to investigate the Bidens, and we know that happened because Trump copped to it publicly. (And then did it again today when he suggested that Ukraine and China should investigate the Bidens!) Maybe crackpottery is all they've got, so they're squirting it out like so much squid ink?
In any case, this sets up a reckoning for Republican members of Congress. Most of them are on record affirming the conclusion of U.S. and global intel organizations, which is that the Russians interfered in the 2016 election. Now they're being asked to "reject the evidence of [their] eyes and ears" and agree that Russia is the innocent party, a notion that is shaping up to be Trump's "final, most essential command." And at least some Republicans seem eager to obey.
Thanks to today's fresh round of impeachable offenses, Republicans have another loyalty test before them: affirming that there's no problem with a sitting president calling on foreign countries to investigate political opponents. Pence has already puckered up and affixed his lips to Trump's ass to signal his submission, quelle surprise. Will the rest of the GOP follow? Probably!
I'm not quite sure where that'll leave us, fellow citizens. We've seen a lot of norm busting over the last few years. But if one of our two political parties adopts the position that it's okay for foreign governments to curry favor with American presidents by investigating their political opponents, it seems like either that party — or democracy — is toast.