On the Road is a weekday feature spotlighting reader photo submissions.
From the exotic to the familiar, whether you're traveling or in your own backyard, we would love to see the world through your eyes.
Folks,
Sorry for the no-post Friday, my laptop was restoring until the wee hours of the morning and I was sound asleep.
On that note, have a great day and let's hope this week is full of good stuff, though perhaps less crazy. Or not, maybe this is the fever we need to burn through.
For mushrooms this year, I've got one last set of pics and explanations.
First, to answer some questions from earlier posts, like all fungi, the king bolete(boletus edulis) fruit when the conditions are good. That set of conditions varies depending on the type of mushroom. It is often about water. This is for two reasons – wet ground is welcoming to mushroom spores and the moisture from the rain is used to make the mushrooms which are a fruiting of the fungus organism to spread spores. In the mountains of Central/Southern Colorado, temperature is also a factor as rains earlier in the summer do not produce the boletes, and the later in the year, the less likely a rain is to generate growth. These proto mushrooms usually begin underground along the mycelium strands in the dirt. With sufficient moisture and time, they will pop-up from the ground, displacing earth and otherwise forcing themselves up and out of the dark. If there was substantial rain, or if more comes, then the mushroom will keep growing. I've seem some (rotten!) that were close to 2 feet tall and I've seen pics of even larger specimens from Oregon where moisture is prevalent; the mountains I explore in Colorado are in the arid zone for the most part, only a few spots being "alpine". The mycelium routes water from a large area to their fruit, so finding pools or areas where water flows when it rains will often be good clues to finding mushrooms.
Mushrooms are huge protein providers, so many forest animals enjoy them, even species that are toxic or distressful to humans. It's neat to see an elk or deer snacking on a large mushroom, or to see a squirrel or chipmunk run away with one in its mouth. They are tasty and very good for you, but as I recommend, although you can eat some raw, most mushrooms have some proteins and enzymes that can cause gastrointestinal distress. These potential irritants are denatured by cooking. Never eat something unless you are 100% sure you've identified it correctly; this takes experience. The wrong mushroom, raw or cooked, can permanently destroy one or more organs or cause a painful, horrible death of organ failure and lingering misery.
Preserving mushrooms is a whole book, I'm sure.  I usually slice them and dry them in my dehydrator or a very low-oven (very risky if you aren't a hawk!). You can also slice them and mix them with oil and freeze with reasonably good results.  You can also can them – either in water or in tomato sauce (as a jump start on pasta sauce as the boletes contribute a lot of flavor and umami). I keep dried mushrooms in glass jars and they survive fine for years if kept cool, dark, and dry.
I was asked about spore printing to identify mushrooms. What you do is cut two mushrooms of the same type and put each cut on a piece of black or white paper. After a couple of hours, it will release spores from the underside of the cap onto the paper. This print is unique to the species and so is a great tool for identification, even if it takes some time. You do white and black paper because identical-looking mushrooms (LBMs, for example – little brown mushrooms) can shoot out white or black spores or something in between, so it's best to just spore print both paper colors unless you're sure. I've not seen colored spores, but I believe that there are some neat specimens out there.
I wish I knew more; I hope to be able to spend some serious time learning more about the different species. I've got a few books but so much of the detail washes over me like a small wave. I have seen some amazing slime molds and non-mushroom fungus but cannot find the pictures. I expect I'll find them some day and that will be a new post!
OK, onto the pictures. These were mostly taken in the rain.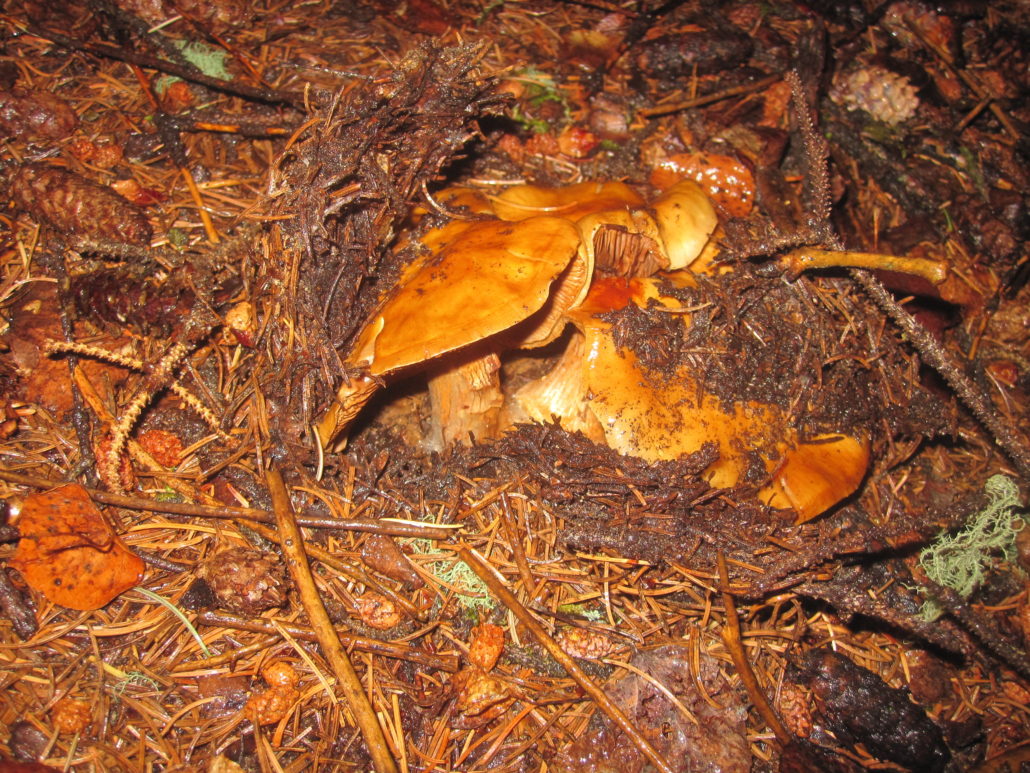 Pushing up through the soil/litter. These are not boletes, sullus or something like that. The color is similar, and when you find mature specimens, they often confuse from the top. The dead giveaway is that the underside of the cap has gills whereas the king bolete has tubes.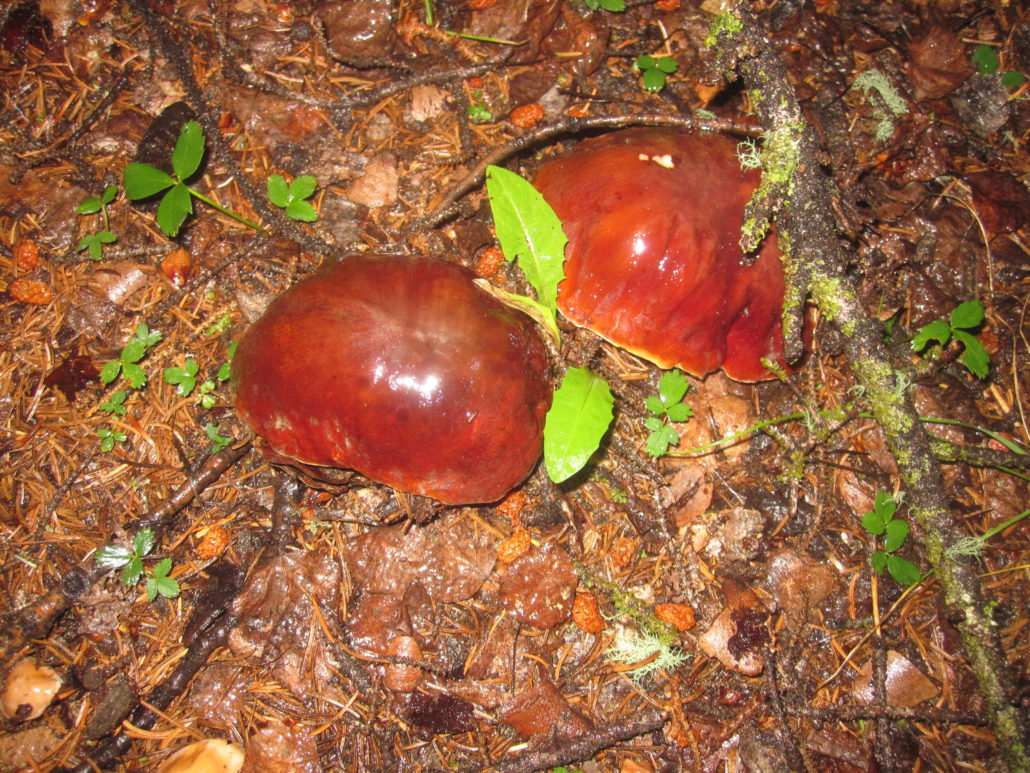 Boletes soaking up the rain and getting bigger in front of my eyes!  Yum yum yum.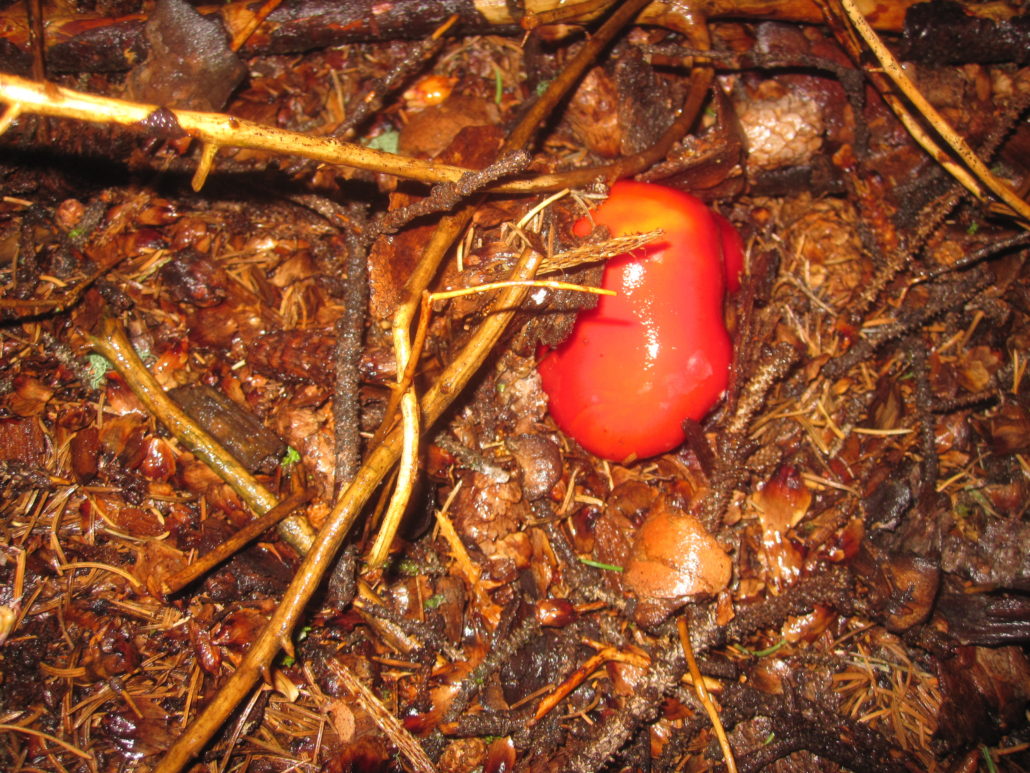 A wet, fresh amanita muscaria.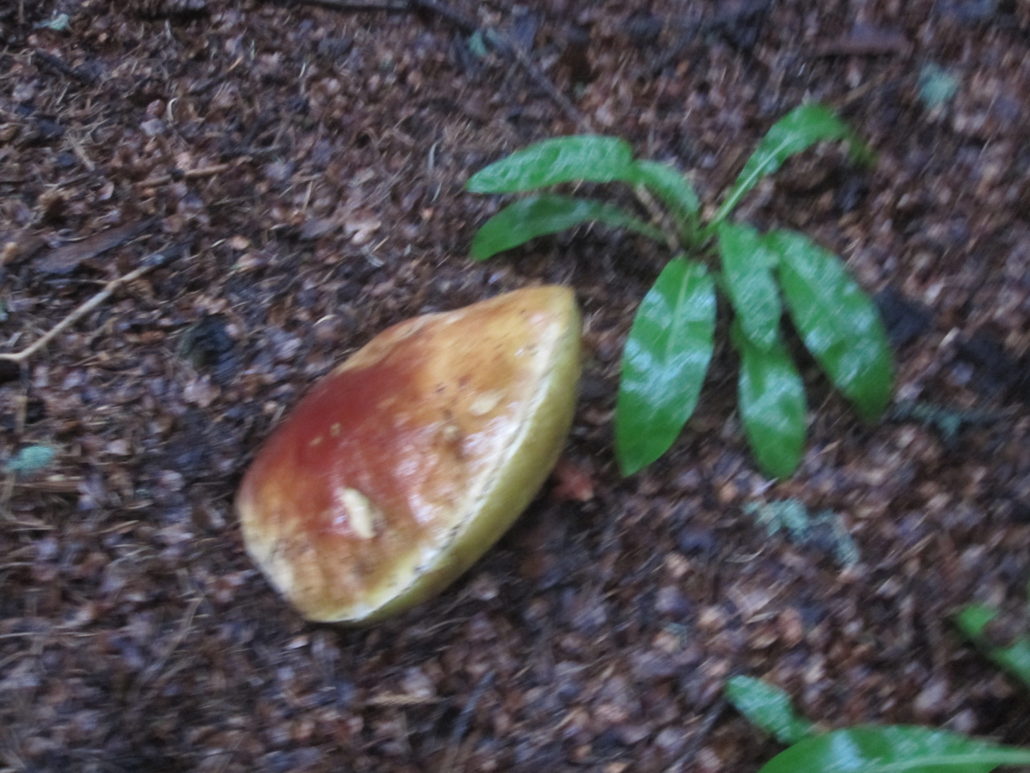 The cap of a bolete growing at-angle. Odd.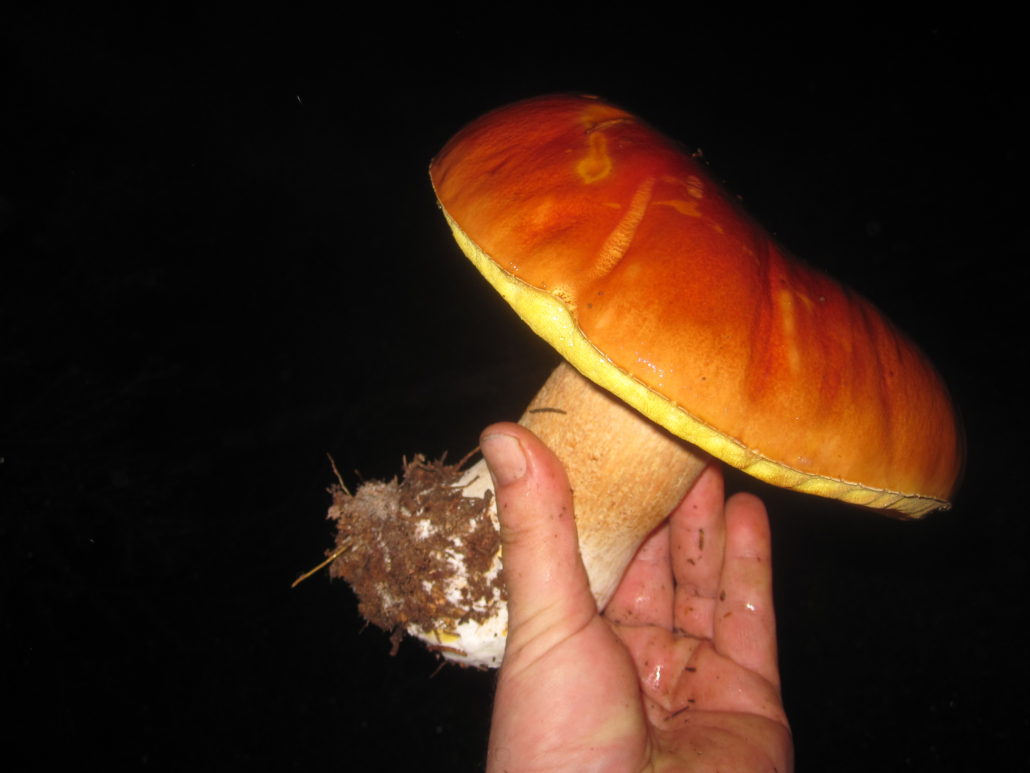 Not too bad a mushroom! I did not cut this well – you can see the white matter/clumping stuff under and in the dirt. That is the mycelium and ideally, I'd have cut the mushroom stalk at a better angle to maximize harvest while leaving the mycelium and adjacent mushroom flesh in situ.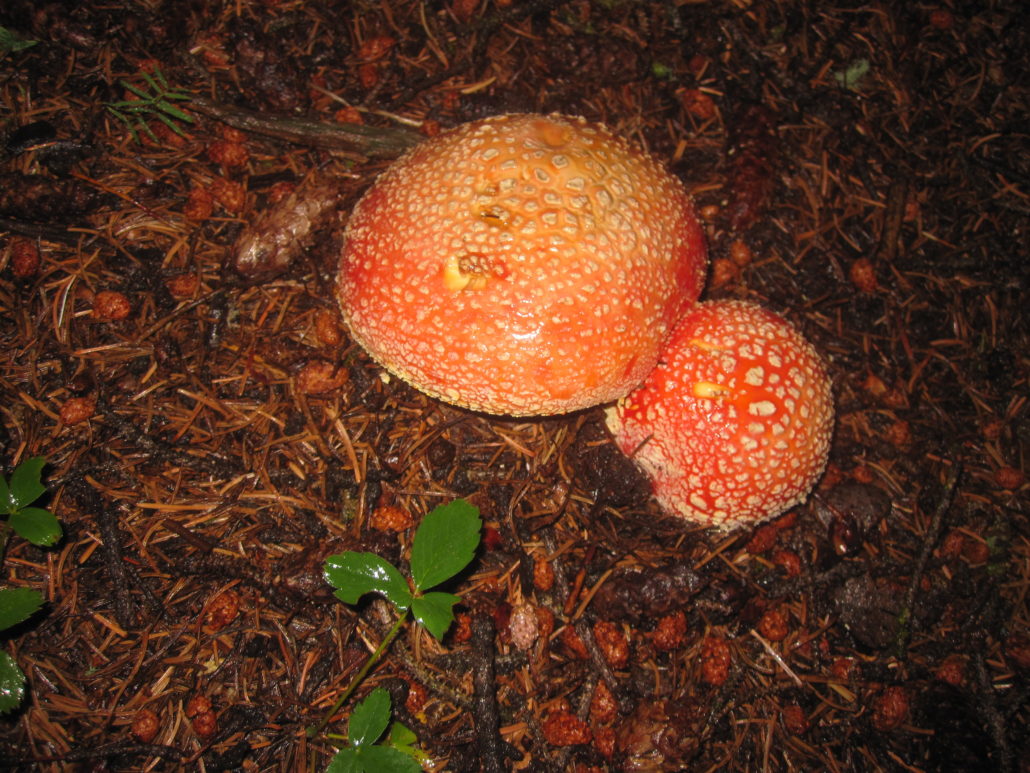 Yep, more amanita muscarias.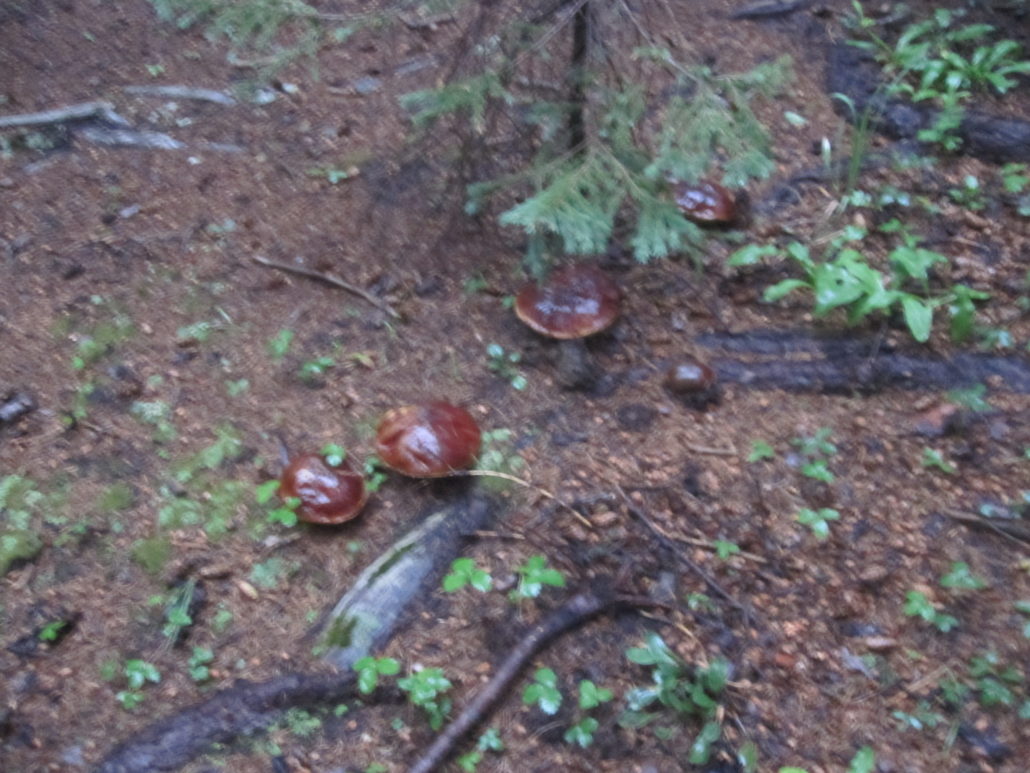 Now this is what I'm talking about – a nice group of boletes to collect. In good years, when you find one, you find a few, and when you look around when you get up from cutting and cleaning the last one, you see many neighbors within sight. It's like a gold rush – your heart starts pumping more, the adrenaline floods, and your excitement pulses.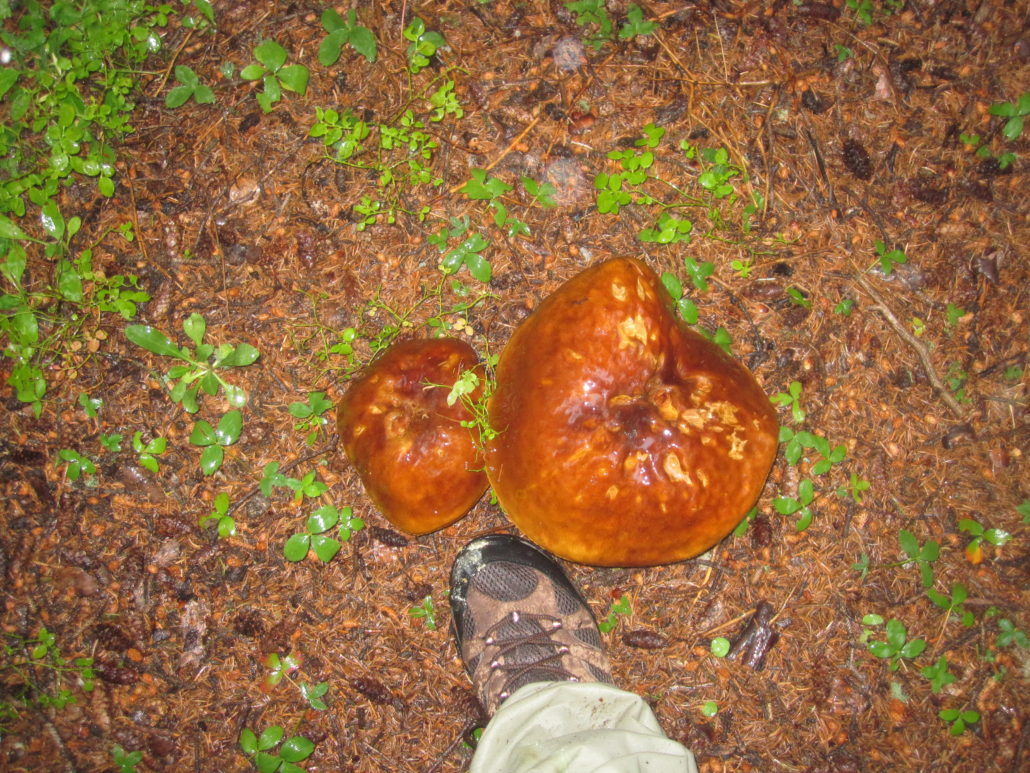 A large bolete and a huge bolete. That's my foot, folks!  They are young, so not so tall, which is good because less chance of flies, but bad because the white stalk is solid protein and the bulk of the edible mushroom ideally and so another 6-24 hours of growth would make for a lot more to harvest. I took them anyway.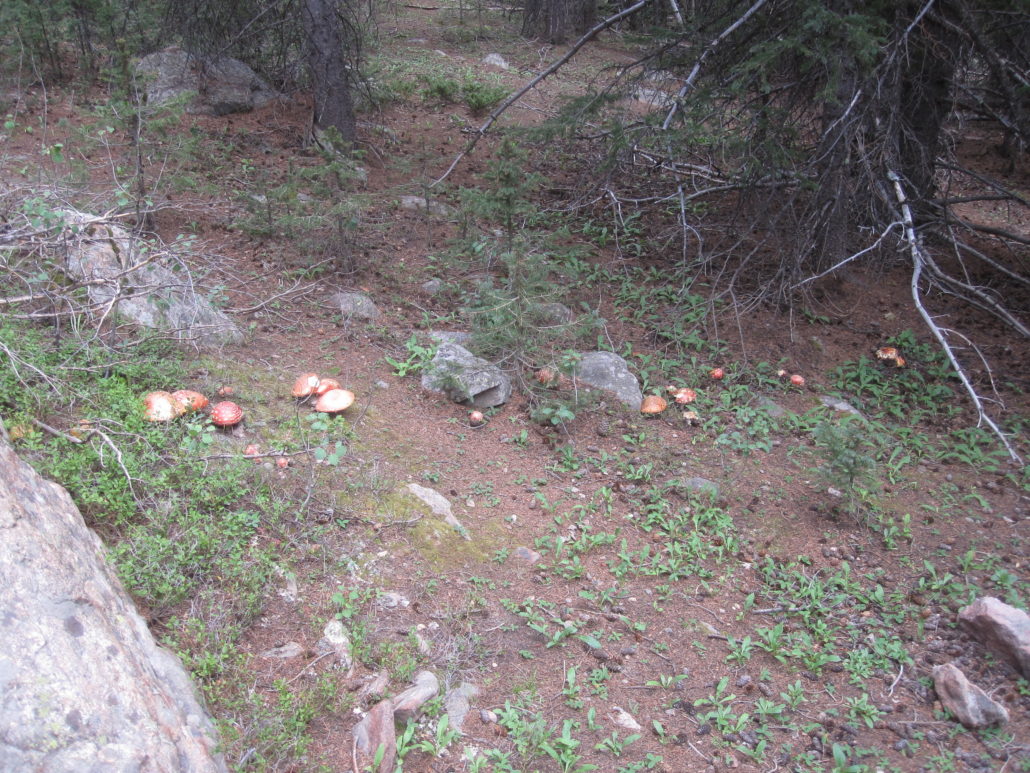 Not quite a Fairy Circle, but darned close. Fairy Circles are "circles" of mushrooms of the same type, but this is just a run.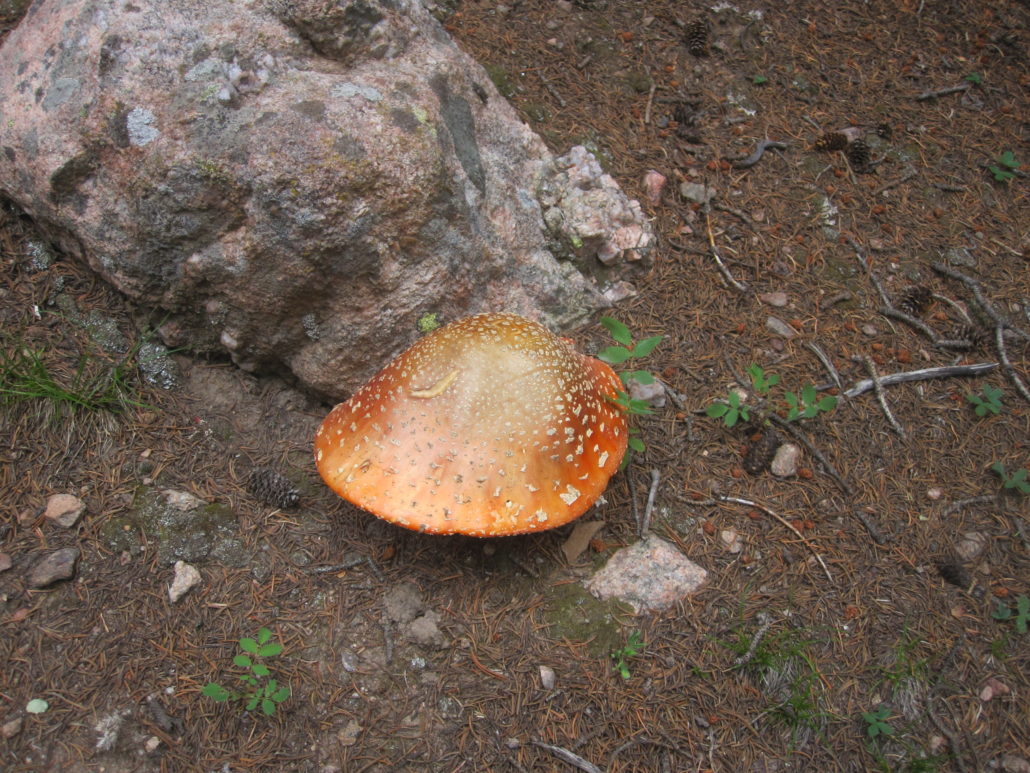 Nope, not a bolete, a large amanite muscaria.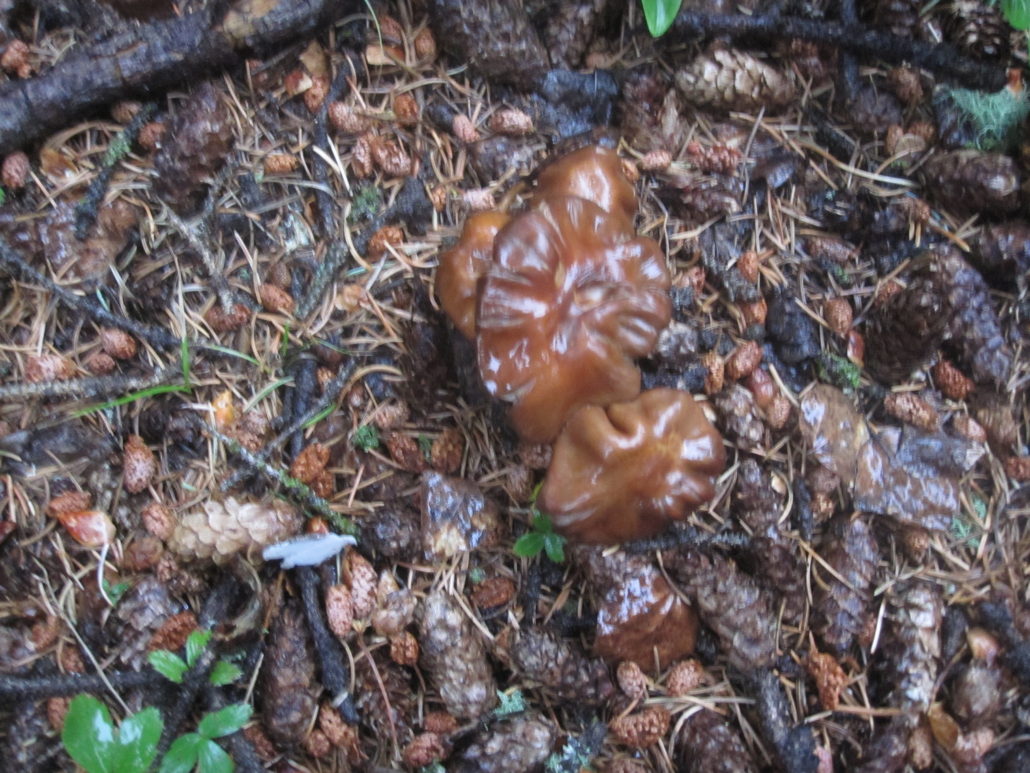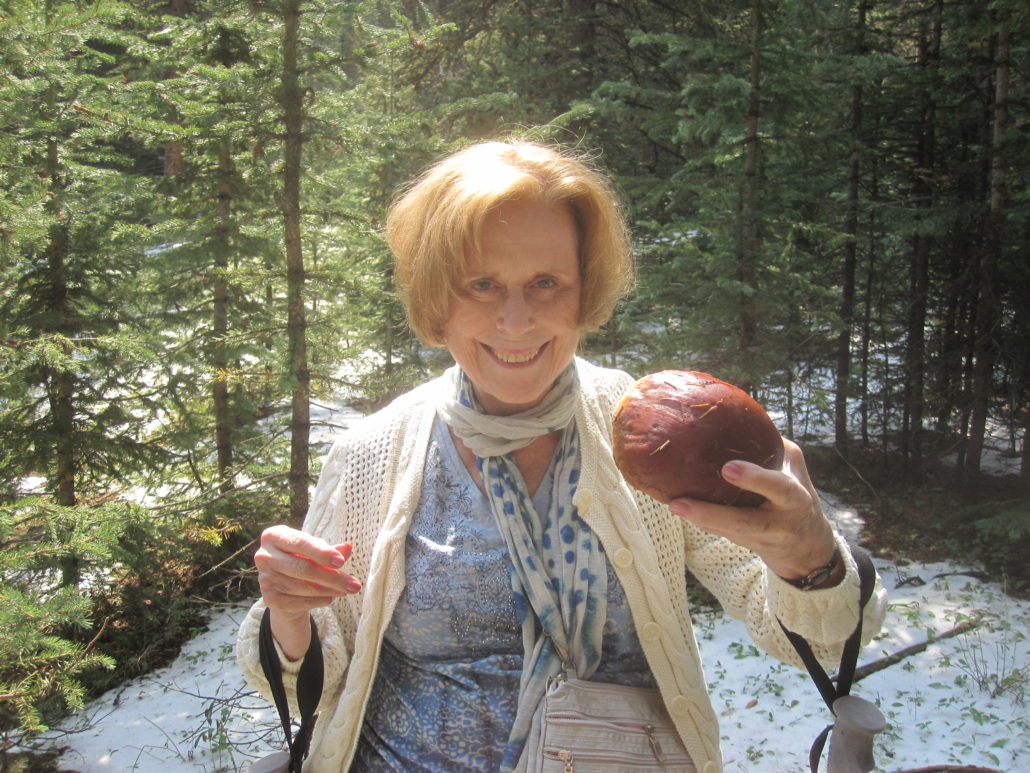 My beloved mother, collecting boletes with me on a hail-covered mountain side. I miss her every day and I'm so thankful I could take up her up on an adventure I wanted to share. She was a great sport and look what she found!
Have a great day, everyone, we'll be back tomorrow.