Over the past couple of days, I've thought maybe Trump would toss Rudy Giuliani under the bus. Trump grunted out mouth-noises in response to questions about Giuliani that were similar to what he said about Michael Cohen before that worthy esquire was introduced to the undercarriage. But nope — here's a tweet from Trump circa this morning: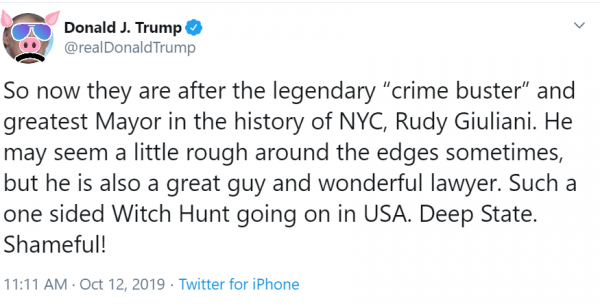 First, let's pause a moment here to note the hilarity of TRUMP calling RUDY "rough around the edges." I mean, a normal person could get away with saying that, but from Trump it's like one Kardashian calling another a "shameless self-promoter."
But the more substantive issue here is that Trump can't really embussen Rudy now, even if alarmed sycophants in the White House are encouraging it, and no matter how many shady South Florida clowns, Eastern European mob bosses and oligarchs come tumbling out of Rudy's closet.
Trump and Rudy are both publicly committed to a wacky conspiracy theory that exonerates Putin and legitimizes Trump's 2016 win. So, if Rudy ever does meet mass transit steel, it'll be double-decker style, accompanied by Trump himself, and the corrupt and absurd Republican Party's fingerprints will be on both their backs.
That's my new theory, anyway. Open thread!