Michael McWilliams and others in 2011 looked at the impact of cognitive capacity and the number of Medicare Advantage plans available to Medicare beneficiaries to see if those factors mattered in plan choice in a Health Affairs paper.
The number of plans mattered a lot: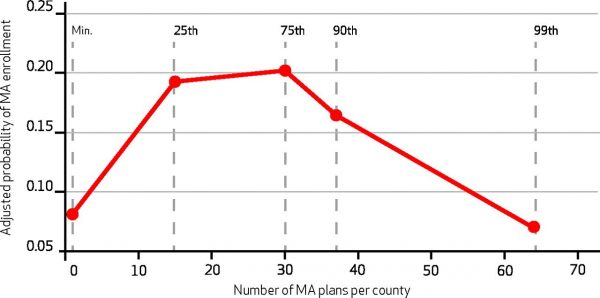 People got overloaded with choice and chose the default, traditional Medicare, when there were too many plans to sort out.  There is a great study on the overload of choice in choosing jelly where a big spread of choices could attract attention but not purchases while a curated set of choices led to more conversions of interest into purchases.  This applies to at least Medicare Advantage as well.
I have two wonders from this study:
Do insurers intentionally overload a market to risk select in a strategic manner?
Does this generalize to the ACA population
I am not sure where to get started with the first question.
The second question requires some data that I can not freely access (if you are a potential collaborator who knows health surveys with linked IDs to Healthcare.gov or state based marketplaces, let's talk). However, we can freely identify the variance in plan offerings. I am using 2019 Public Use Files to count the distinct number of plans on Healthcare.gov by county for all on-exchange plans, including catastrophic.  Individuals over the age of 30 and those who do not file for an exemption will see slightly fewer plans.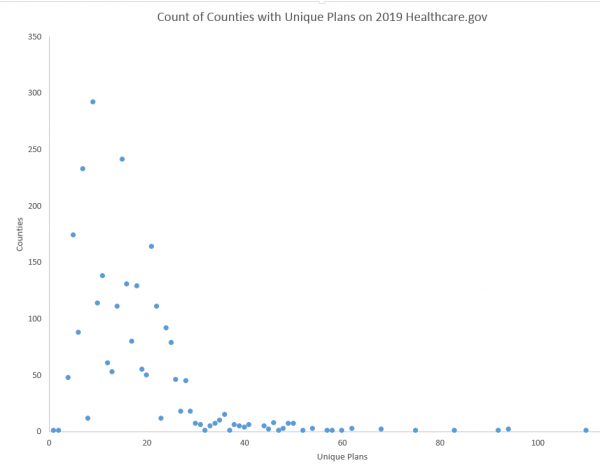 The range is a single county (Holmes County, Ohio) with 1 plan being offered to a single county (Seminole County, Florida) with 110 plans being offered. 2019 is a little less spread out than previous years:
Plans offered by County on Healthcare.gov 

| Year | Minimum plans offered | Maximum plans offered | Mean Plans offered |
| --- | --- | --- | --- |
| 2014 | 2 | 169 | 31.2 |
| 2015 | 6 | 158 | 35.2 |
| 2016 | 10 | 143 | 33.7 |
| 2017 | 2 | 110 | 19.7 |
| 2018 | 2 | 119 | 14.5 |
| 2019 | 1 | 110 | 15.5 |
I think a priori that a single plan county is giving up potential  enrollment. Lost enrollment will happen for two reasons in a single plan county; first, that plan may not have desired attributes and secondly, far more mechanically the single plan can not create anything cheaper than the benchmark plan so the pricing won't be attractive to low risk, subsidy eligible, individuals.
I also think, a priori, that counties with 50 or more plans in them are probably losing some counter-factual enrollment as well. Again, this is partially a pricing problem, but to a lesser degree than in the single plan only county as there are numerous bronze priced below benchmark. But I also think it is a search cost problem. Figuring out the minuscule differences between the plans is mentally exhausting. Individuals who know that they have a strong need for insurance will pay that cognitive management tax. Individuals who are flipping a coin between insurance and not-insurance have a non-zero probability of rage quitting.
I don't know where the optimal range of plans being offered lies if we are optimizing on enrollment. I am very confident that the number is greater than one and significantly less than 110.  Beyond that, I am uncertain.  9 to 15 plans does not sound crazy to me. 15 to 30 plans also sound facially plausible to me.  I'm guessing at this point.
I am curious.