Continuing on a theme this year, I made grape jelly in early October. Mid-summer, I sought Concord Grapes from local sources, knowing they would be ready in Fall. I waited for them to be at their peak, then had a lovely morning drive to Catoctin Mountain Orchard to buy a half bushel of lovely Blue Concords. It was a delight to be in true farm country and to purchase the fresh cider, fruits, pies, and other such treats that they had for sale.  They clearly have some of the Pennsylvania Dutch heritage, based on the styles and types of baked goods. This makes me very happy, indeed.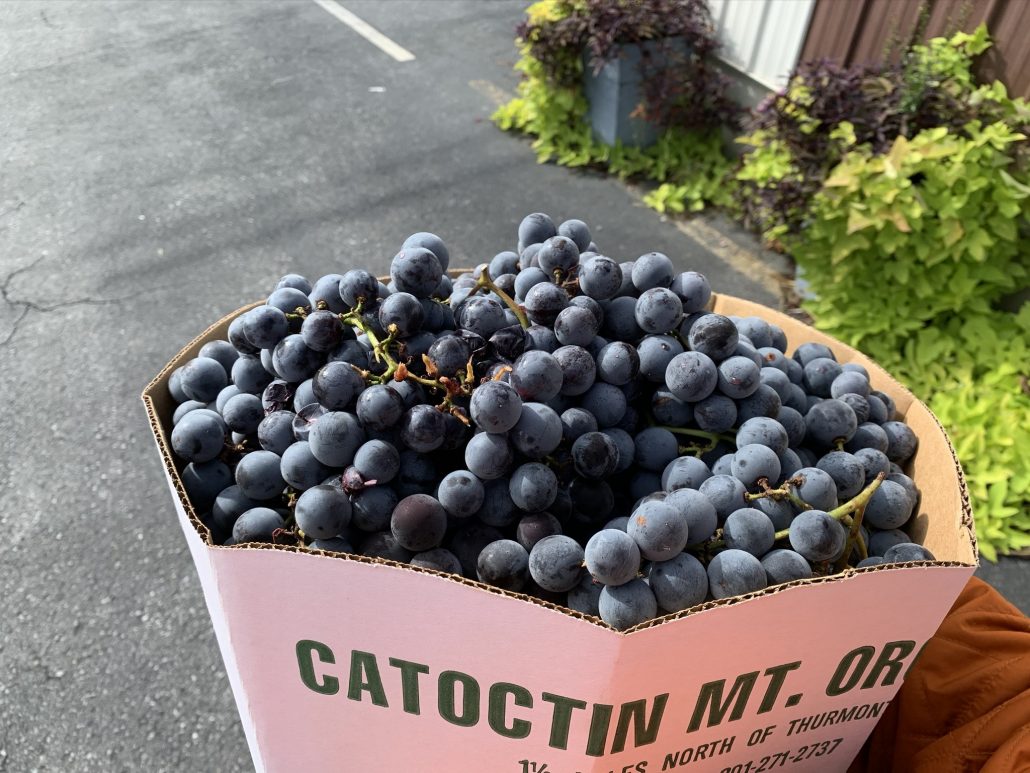 After lugging my grapes home, I then set about making first juice, then jelly. It was a long, grueling day, and I hope you find the story and pictures interesting.
I first made grape jelly back when I lived in Colorado.  A coworker had some Concords growing, and was complaining about her back, so I offered to help harvest if I could take some. She offered to lend me her borrowed steam juicer to make the job easier, and I took her up on her kind offer. It was an amazing day, the first time my house was filled with utter grape-i-ness. My first batch didn't set, and since I had so many grapes, I made a second, then a third, and they turned out much better. We enjoyed it and gave it as presents and a couple of years later, I made a second batch.
That was six years ago, and we've been jonesing for more since our last jar ran out a few years ago. A toasted piece of wheat bread with a bit of butter, peanut butter, and this jelly is a wonderful, quick breakfast or snack when you're feeling a bit funky from hunger, allergies, or stress. The difference in flavor between home-canned jelly like this and store-bought is astounding; how they manage to remove so much of the flavor and nuance is beyond me. The one downside is the large amount of sugar.
Step One: Steam Juicer
A steam juicer is a large kettle with three sections and a hollow column in the middle to carry steam from the bottom water pan up to the top section where the fruit is. The juice drips into the middle section which has a reservoir to collect the juice as well as a tube to drain it. Using one, you never need to strain for seeds or such undesirable matter, so it is a great tool. When making jellies the traditional way, there's lots of straining and effort to ensure a seedless product. With a steam juicer, you just toss in fruit, cover it, and bring the water to a boil; the steam reduces the fruit, leaving seeds, stems, and tougher bits of the skin behind. I bought one once I moved back East, and this was the first time I've had the chance to use it here. I'm so glad I did. I expect I'll be making some fresh Guava and other tropical juices to perk up this winter because it is so easy and fresh juice is amazing.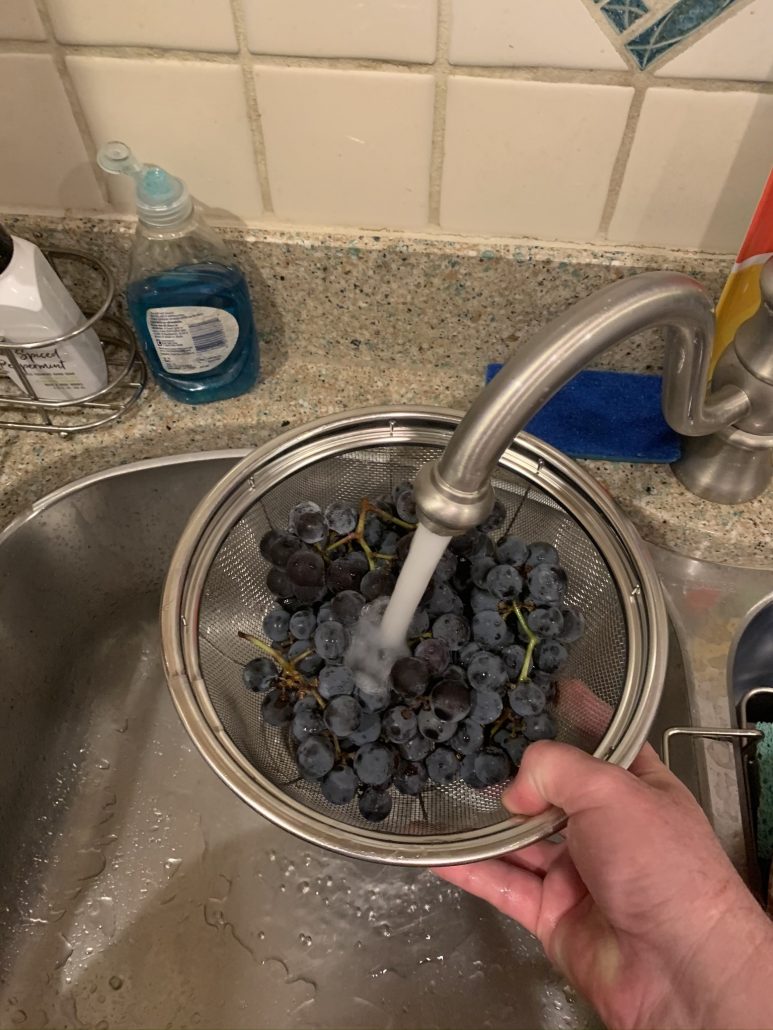 So the general process is to rinse off the grapes, stuff them into the top section of the juicer, then to bring the water to a boil. As the juice is released, you drain it into a pot or pitcher and you keep topping-off the grapes.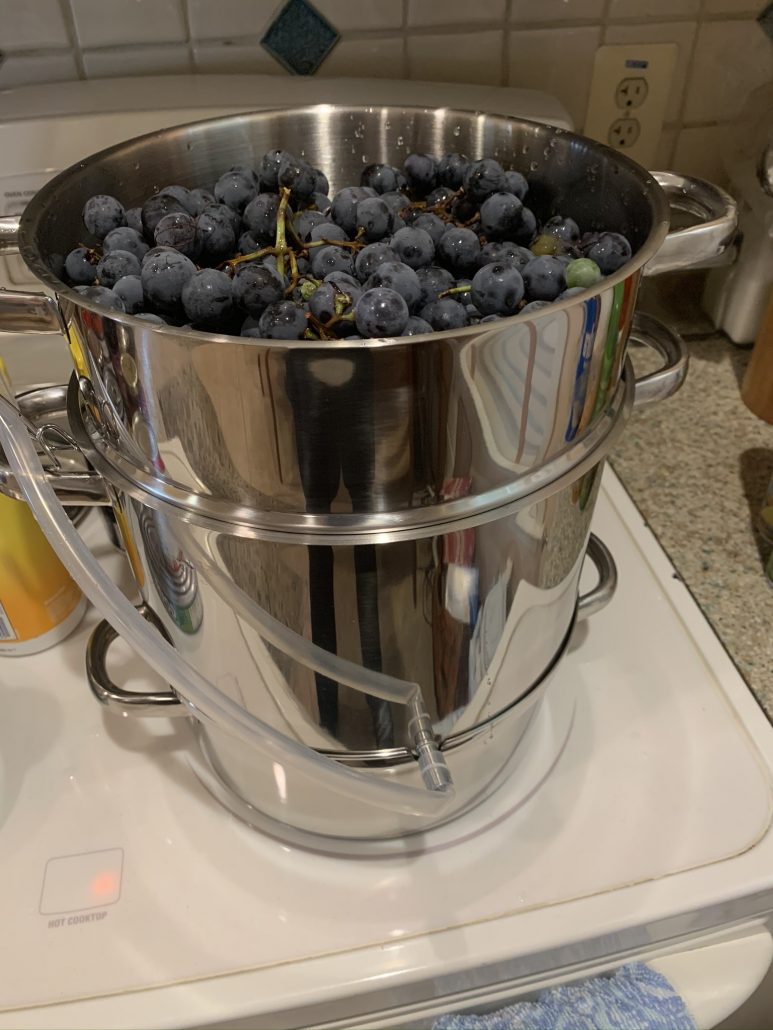 As you can see in the picture above, the bottom section has water, the middle collects the juice and has an outlet and tube to drain it, and the top holds the grapes. The lid keeps the steam in.
The whole juice making process took about 2 1/2 hours, but that's because I was not as much of a hawk on the heat as I should have been so there were slow periods. Normally, it should have been about 1 1/2- 2 hours.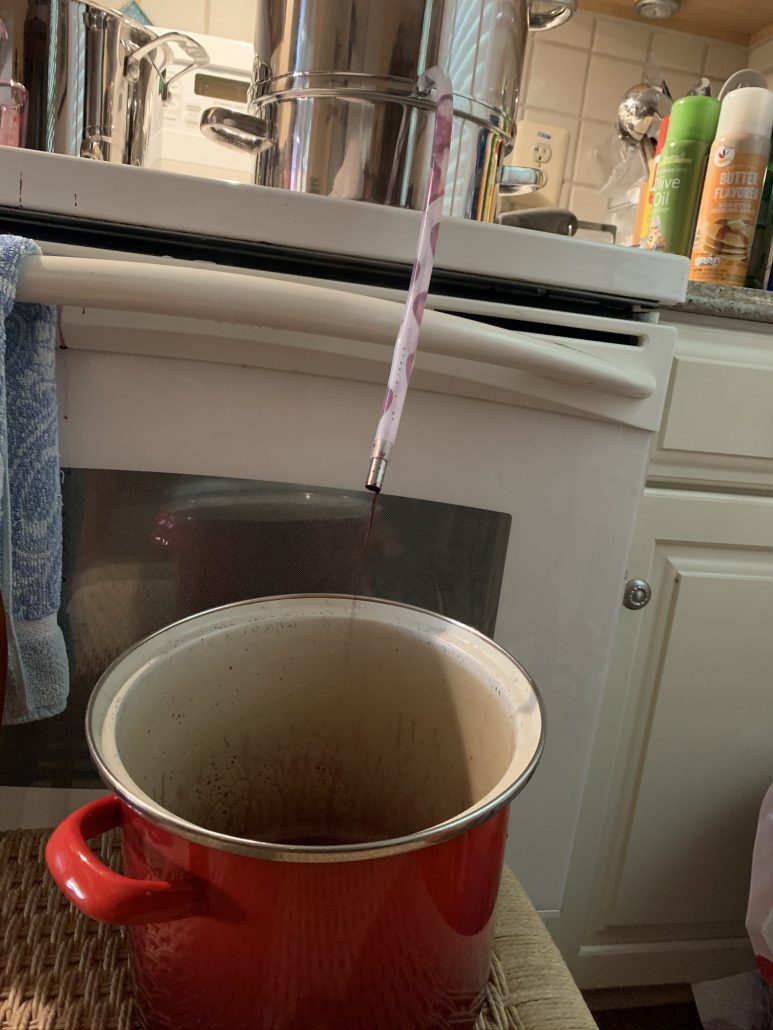 The juice starts flowing and the tube gets hot, so you quickly find a way to rig the pot and tube. Once this was full, I dumped most of it into my pot and began the first double-batch of the jelly to make use of the already-hot juice. I'm sure rush hour drivers and pedestrians loved smelling the intense grape smell I was blowing out front; I'm sure most have never smelled such a thing, but those who have likely had a nice flash of childhood or other precious memories, smells are like that.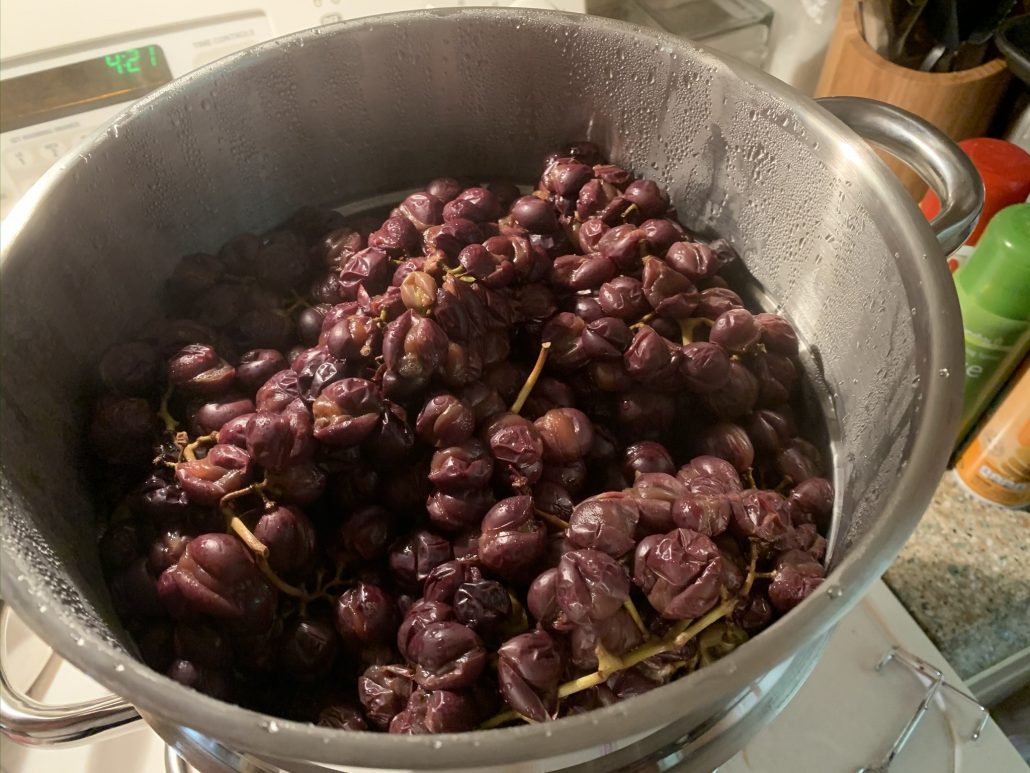 After steaming for a bit, grapes begin to lose their innards and look like this. There's lots more to steam out of them, so I topped them off and put the cover back on. Once the final batch was past this point, I tried to be patient, but I realized that I had so many, I didn't need to cook down the last set. I threw away lots of good grape pulp, but that's the way it goes sometimes. Regrettably, I don't currently compost, so this was truly wasted.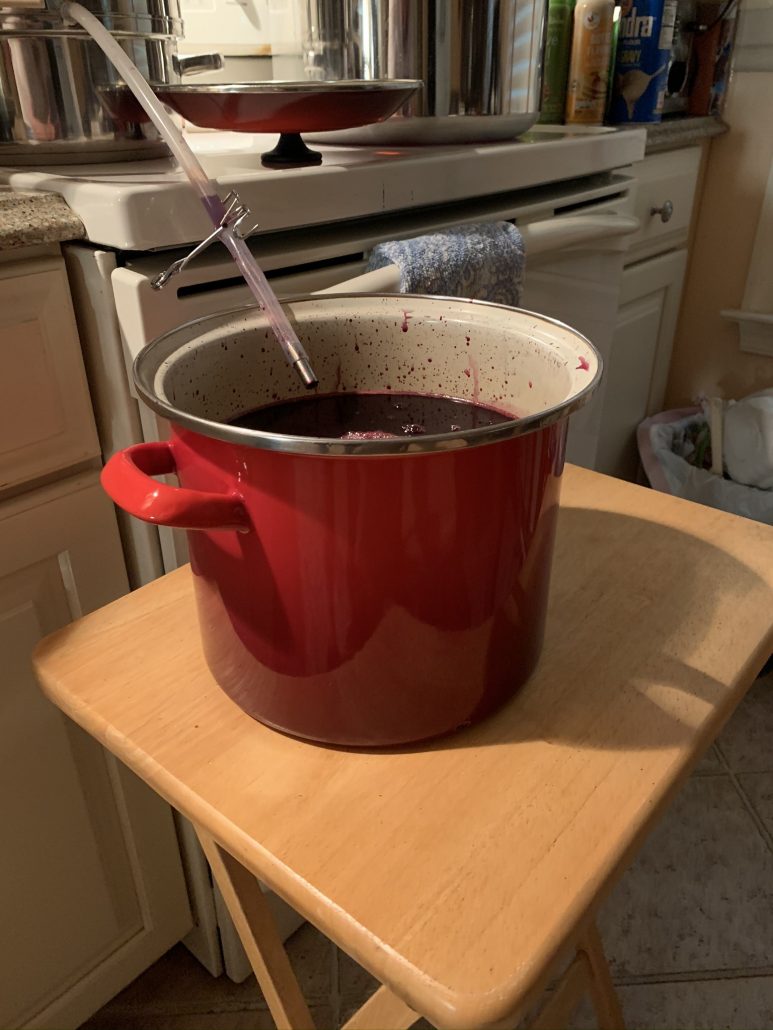 The second pot is almost full! I got almost three pots of juice, about 6 gallons in total. The large metal pot on the right is the first double-batch of the jelly. I had the jars in the dishwasher, clean and warm, and had lids ready. Not two minutes after I was done collecting juice, I had the canning water bath pot on the stove, with warm water in it and getting full-blast on the big burner so I transferred the jelly to the where the grapes are, stirring it gently as the sugar melted thoroughly and the temperature approach boiling. Once I had a good boil, I reduced the heat a bit, mixed in the pectin and began to stir and mix like crazy, trying to ensure that all bit of pectin spread throughout the jelly. One peril of making double (or triple or more!) batches is that the pectin doesn't mix evenly and so you get lots of jars that don't set. My results from this session were that my jelly flows a bit, so it spreads like a dream yet clings to the bread. Not perfect, but quite acceptable, it does its job suitably.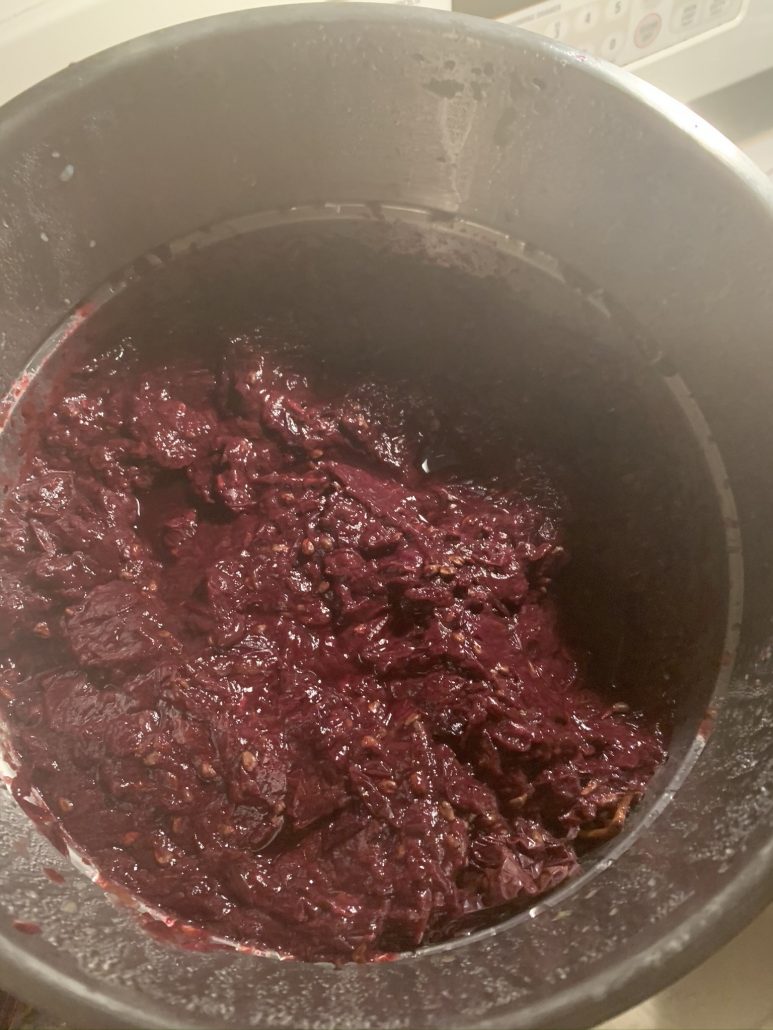 This was the final grape goo in the bottom of the pan, I was still squeezing it a bit to harvest some of the delicious juice, but threw away a lot, like I mentioned above. We have been drinking a lot of this grape juice. It is crazy intense and bursting with vitamins. I've since learned that you can take fresh hot juice, put it in a hot, clean canning jar, put the hot lid and ring on it, then flip it over and leave it upside down for an hour to do a simple canning trick that keeps your juice fresh for months without needing to do the full hot-water-canner treatment.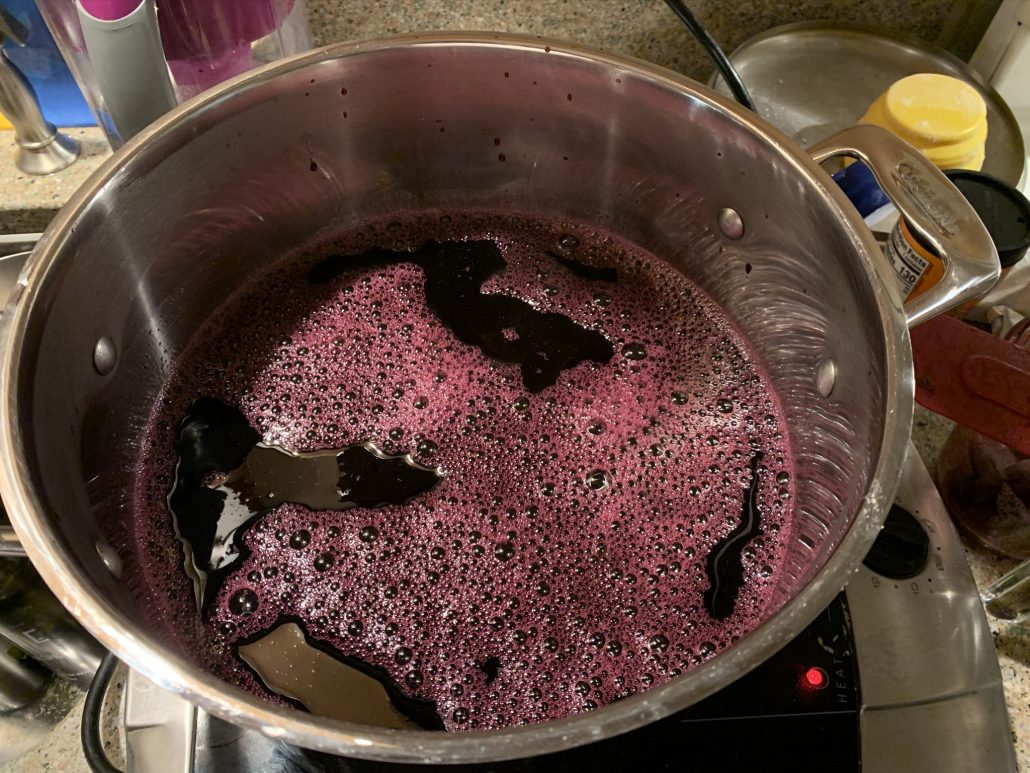 This is the second batch of jelly beginning to heat up – look at that color! Once I had grape juice, I measured the correct amount, added sugar, and pectin and brought it to a boil and canned it in a water bath canner. Then I made this second batch, again being very careful to mix it like crazy after adding the pectin. Next time, I will try using the sugar-free recipe pectin and try reducing the sugar from 7 to 5 cups. I don't want even that much sugar, but I hate artificial sweeteners and things like stevia don't taste or feel right for me.  So sugar it is.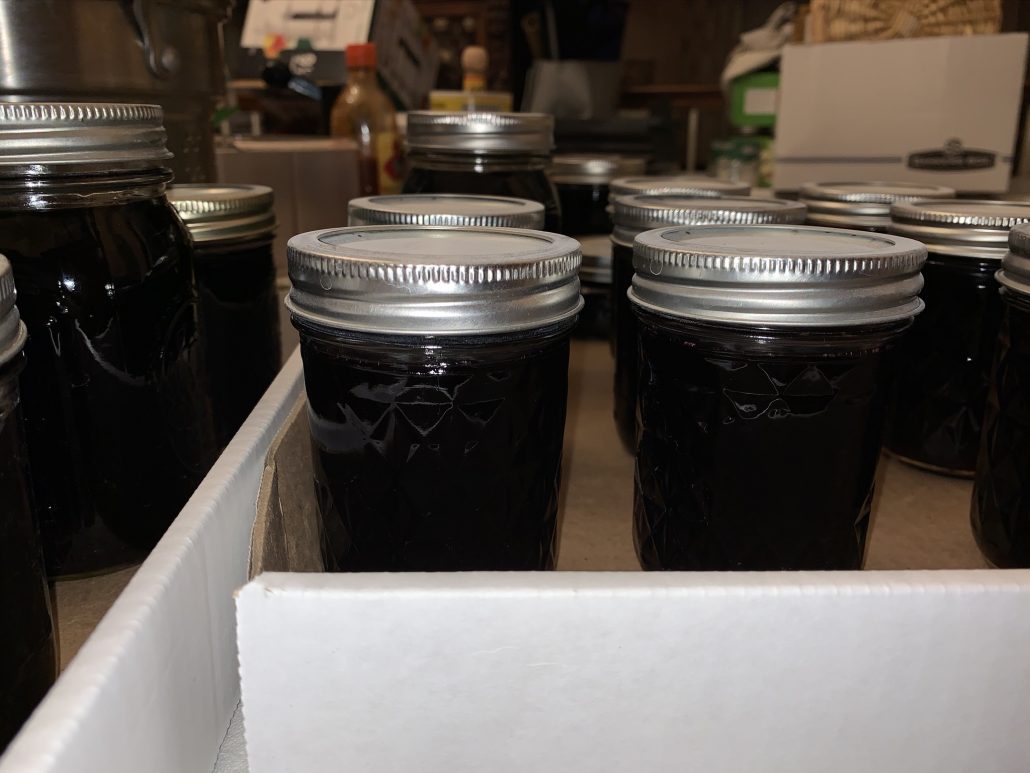 The final result – look at that gorgeous color! It's crazy how purple that juice and resulting jelly are! And so tangy, yum yum yum.  It is a tiny bit runny, but since most uses involve spreading, that's OK – it isn't watery, and spreads and holds nicely on bread. I find lots of store-bought jelly too-set so it tends to clump and stick to the knife, fling off on to the table or plate, etc. My product is better, I figure.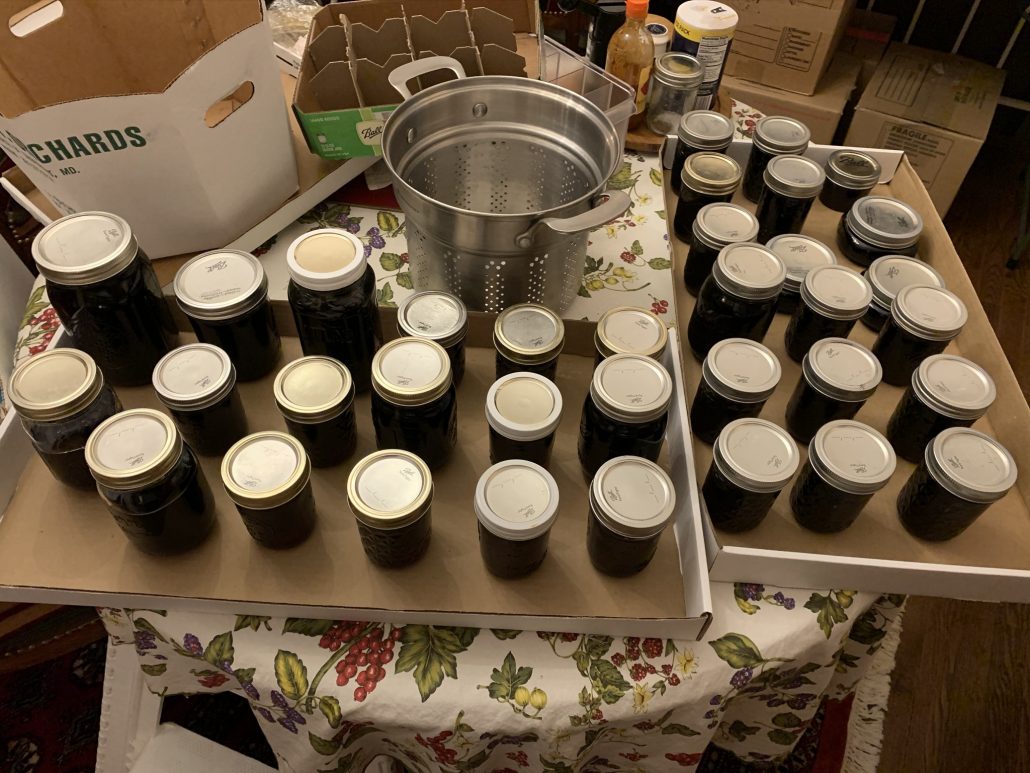 My total jelly haul – I had gallons of juice on top of this. I made two double-batches and eagle-eyed readers may notice two pint jars on the left that ended up almost exactly the same – 60% full. One from each batch. Now that's precision – accidental, I assure you! These will be Christmas gifts and lots of leftovers for us. Perhaps some meatballs will be made around the holidays, that's always a good use for surplus grape jelly. I'll send families with younger children an extra jar or two.  Combined with my ginger peach preserves, I'm giving a lot of yum (and yes, sugar…) to folks this year!
This is my label. It was originally a joke in 2011 referring to the 2012 Mayan Apocalypse silliness and zombies were beginning to really take off (again), so… presto! But with the shitheads in charge of so many countries these days, who knows, perhaps it's time to trademark it and go national as a niche/upscale survival food brand.

I hope you enjoyed this, have a wonderful day and week!