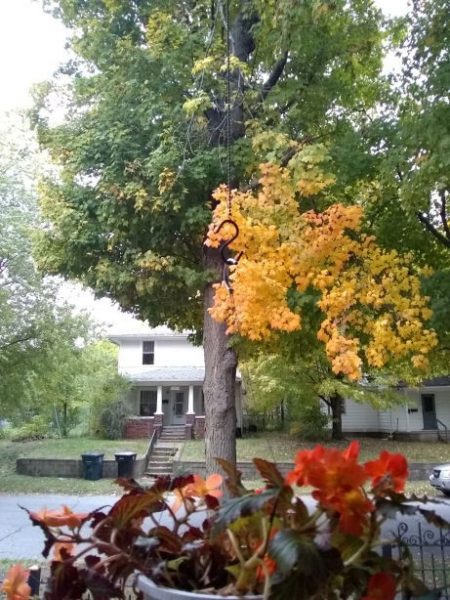 From beloved commentor, intrepid gardener, and cat-rescuer Satby:
The top pic shows the colors just starting on one of my sugar maples out front.

This one shows the south side of the hugelkultur bed. The dahlias ended up sprawling over my too low supports but still were pretty. The cannas came up but never bloomed, and the small geranium was just popped in for color. You can also see the hydrangea and rose of sharon shrubs in the greenery.


Close up of one of the dahlias. I like them, though I honestly never got a single one that I would call a "dinner plate" size.

And for the non-gardeners, here's a picture of the latest semi-feral I trapped and neutered. He's now known as Bud and has adapted reasonably well to being inside, though he complains occasionally. Bud has decided there's a lot of advantages to being out of the chilly rain and snuggled up on a lap.
***********
I need more submissions if you guys want garden pics on Sunday!
What's going on in your garden(s), this week?