On the Road is a weekday feature spotlighting reader photo submissions.
From the exotic to the familiar, whether you're traveling or in your own backyard, we would love to see the world through your eyes.
Good Morning Everyone,
Today we're finishing up HinTN's long-lost, then re-sent submissions from an amazing trip to Utah. So far, it's been wonder after wonder, and I know you'll just love today's offering!
But…this brief resurrection of On The Road is now over, and so OTR will return when the new site launches.  When it does, please use the new form that will be available on the new site to make submissions. As soon as I have one, I'll begin the new On The Road.  One issue with the new form and site is that the old OTR content will not be edited to look like the new OTR stuff, so layout, etc. will be very different. It looks good and works well, clean and simple – I can't wait for the first submission and post!
That plus my moving is why I'm fine with having a hiatus – there will be a clean break between old and new content and layout, etc. and I don't have a lot of time for the next couple of weeks. I'm still mid-craziness, though things are getting better by the day.
Continuing the series from HinTN.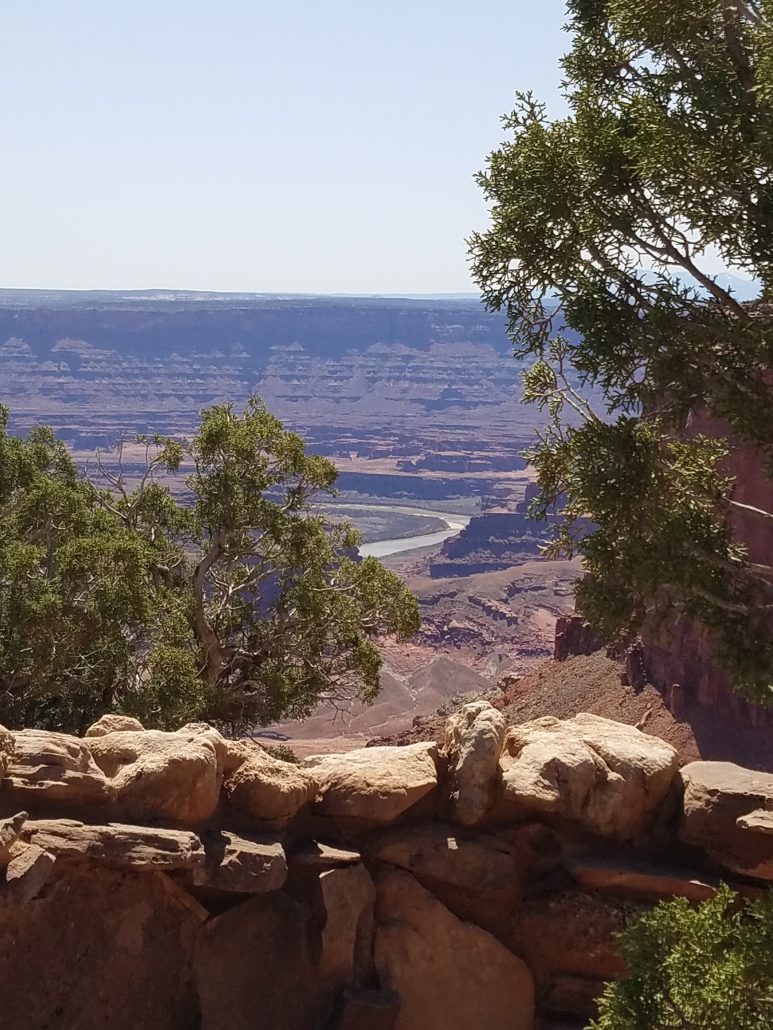 The only one from Dead Horse Point State Park.

Dead Horse Point – Colorado River View from Ryans Bench

Dead Horse Point State Park is a small slice of the hugeness that is Islands in the Sky, but it is especially beautiful in its overlooking of the Colorado River. This photograph is from the location of a bench placed in honor of a young man who loved these lands, worked at the park, and died much too young.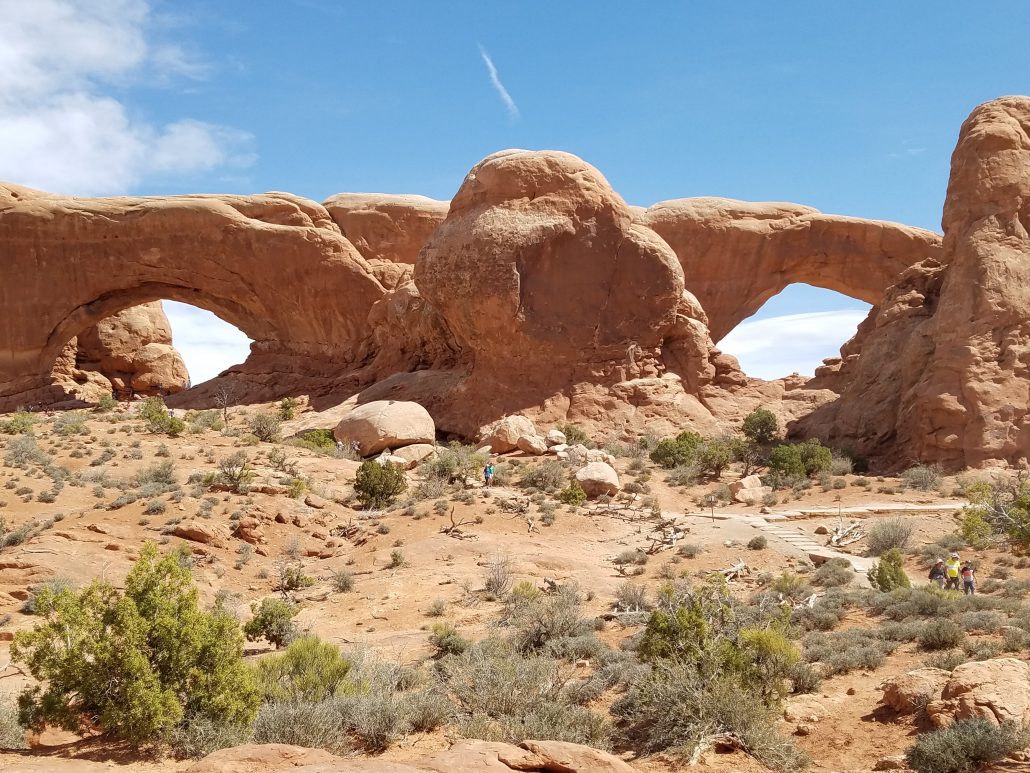 And then there's Arches NP. Wow, just WOW!

The first of five from Arches National Park.

Arches – North and South Arch

This is more or less what I thought Arches was going to be about, but I was delighted to discover how much more there is to this small park.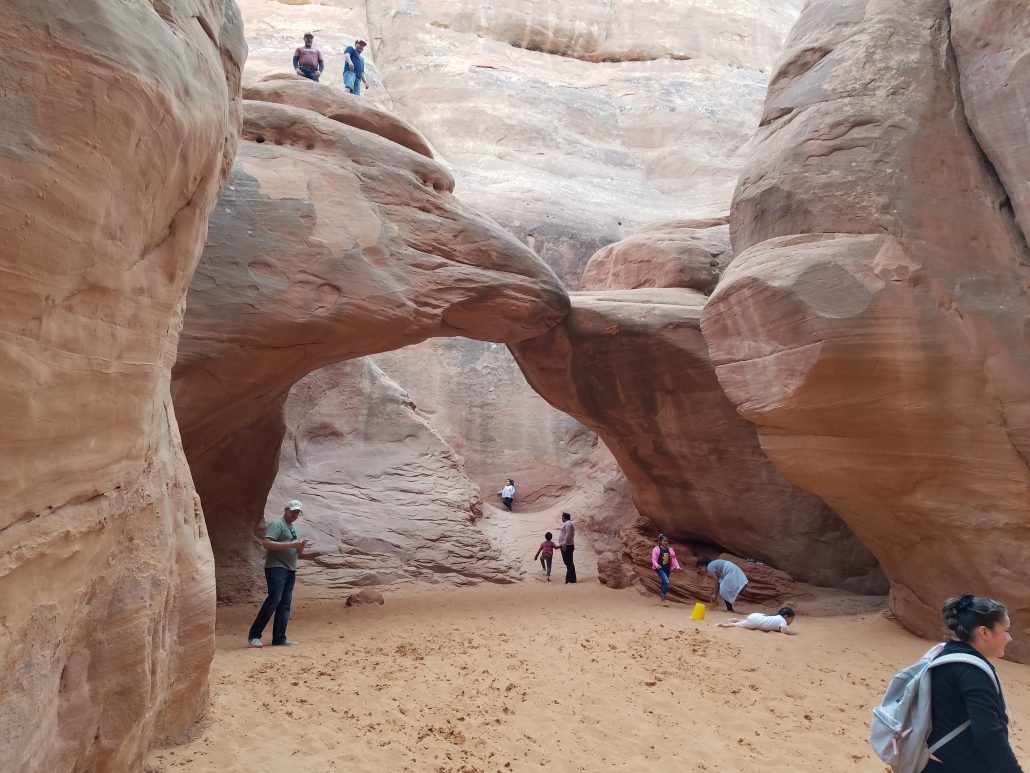 Arches – Sand Dune Arch

Sand Dune Arch was located in an enclosed space reached by passing through a narrow defile. Sand collected in the space, creating a beach you could sink your bare feet into satisfyingly cool sand and kids could play underneath and on top of the arch itself.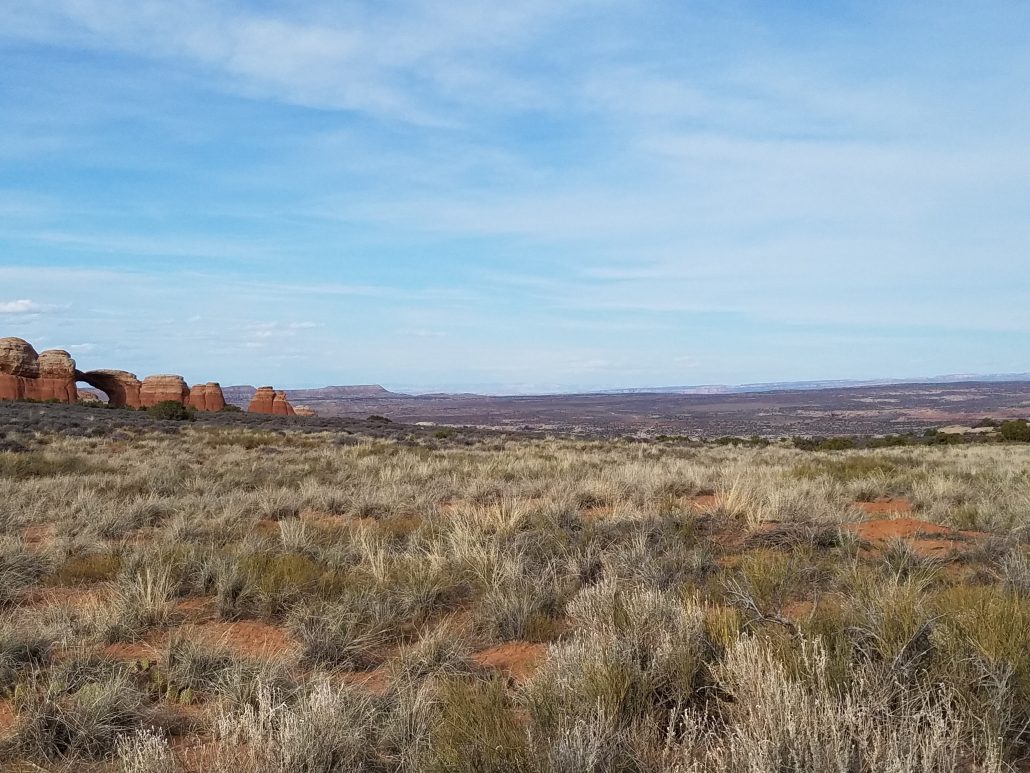 Arches – Broken Arch Across the Desert

Emerging from the beach at Sand Dune, the trek across the desert to Broken Arch beckoned with this vista.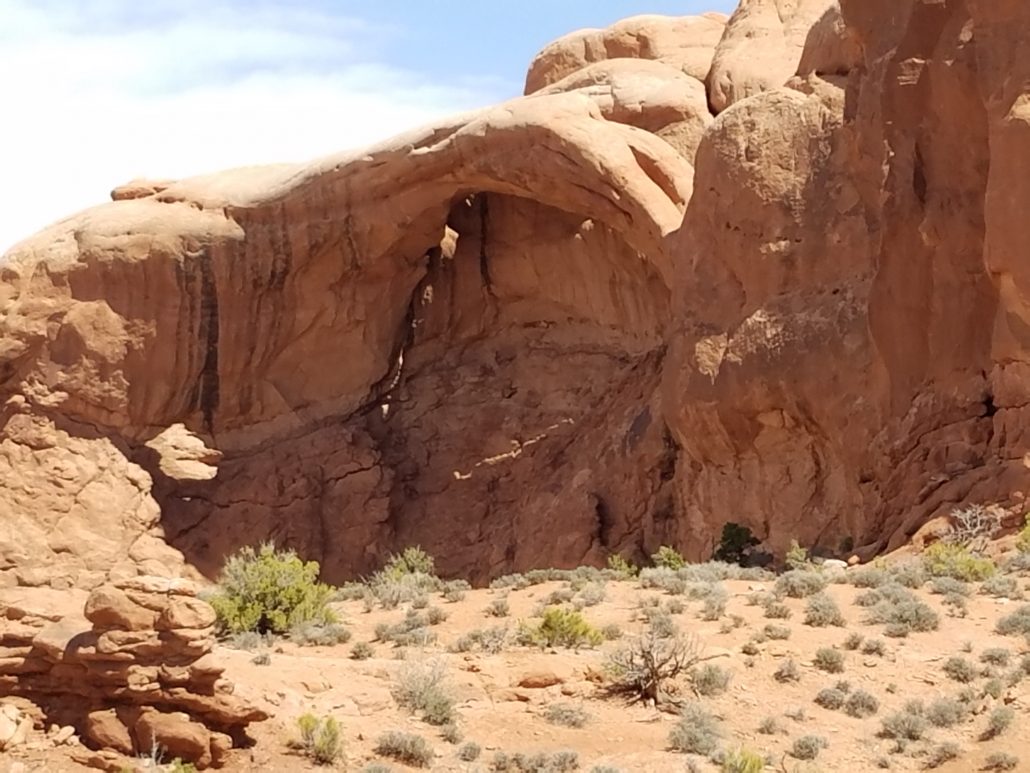 Arches – Arches in the Making Part 2

One of the most interesting aspects of being in Arches, indeed in all these parks, was the immediacy of the vastness of geologic time. Both water and wind work ever so slowly and inexorably on the seemingly immutable land. These "arches in the making" were exemplars of this work.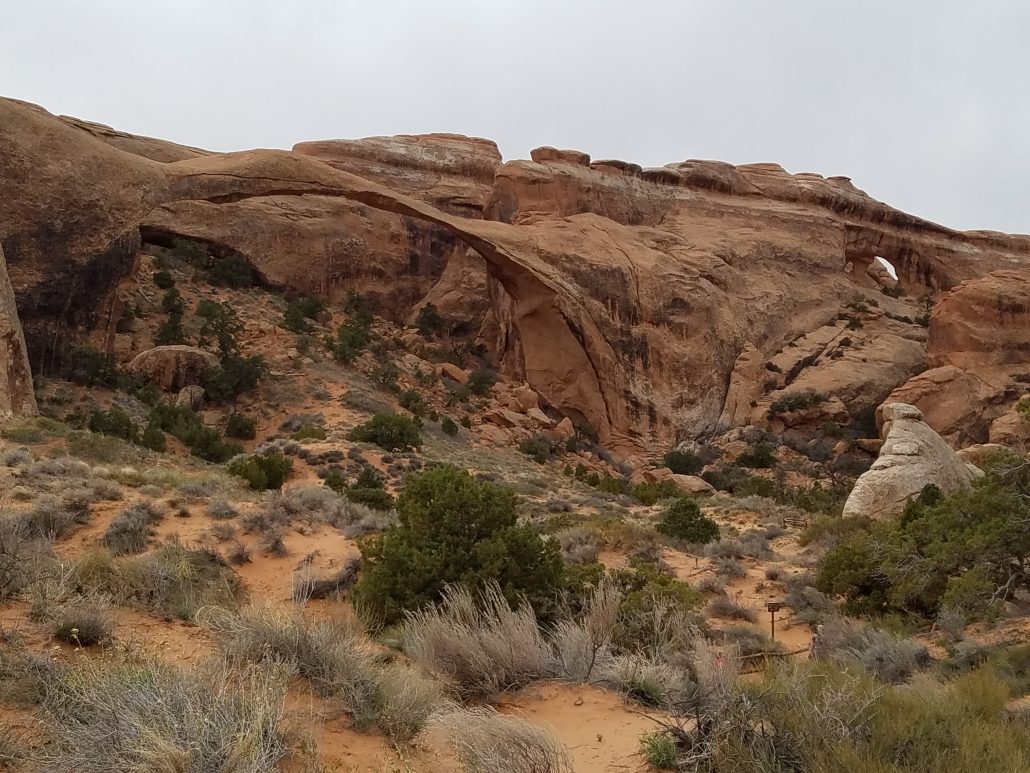 Arches – Landscape Arch and its Replacement

It was a brisk one hour round trip out to Landscape Arch, which in geologic time is probably not much longer for this world. Luckily, it has a replacement close to hand. If you look closely you can see how it's growing wider.

Also too, Moab was a delightful town.
Wow, just wow. Utah has amazing geology and I'm so thankful you could share some of it with us. In the late 'oughts, I did a couple of solo roadtrips from Colorado into Utah. Out West, I just love to drive and see, just see everything. So I went to Arches and did a couple of brief, hour hikes and took some (not so good!) photos and saw enough of Canyonlands to know I wanted to go and really explore and spend some time. Since then, I've learned of lots of interesting remains in Canyonlands, things left over from explorers, outlaws, hermits, Native tribes, etc. You could spend a lifetime exploring its entirety just on the geology, flora, and fauna, but with archaeology added, it really should be on folks' "don't-miss" list.
Have a great day, Halloween, and related holidays. I hope the Great Pumpkin is kind to you and yours.
It's comforting that my mother died on All Soul's Day/Dia de los Muertos. I've been a light collector/fan of Day of the Dead artwork, sculptures, and figurines for over 20 years now, but this year everything is packed; pre-Christmas, decorating isn't a priority right now!
On that note, OTR shall return with the new site, take care, all!