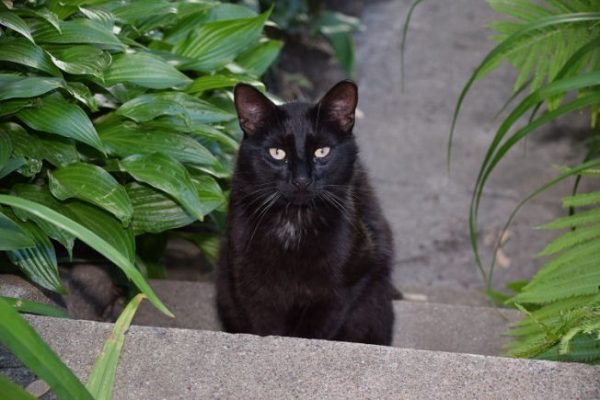 From former lurker Edith:
We are looking for a home for this cute little fella. We already have four, and a toddler, so we're at our limit. Here's what we know about him.

We think he's a feral rather than a dumped pet. He's been coming around for a couple of years to visit the food dish and heated water dish. He was very skittish at first, but started to warm up to us in the last year. Last winter he started following my son and I to the park, and otherwise hanging out with us when we were outside.

By this spring and summer he was clearly thinking that maybe being warm and having a person of his very own might be worth the loss of independence. I've caught him peeking in the screen door more than once, clearly hoping he might be invited inside. Later this summer and fall he started jumping up into our laps to be petted. He mostly avoids our toddler's attempts to pet him, but hasn't been aggressive. If our other cats are out in the yard he lurks around the edges, but stays out of their reach. I think he'd be ok with other cats. No idea about dogs.

We took him to the vet this summer for an infected foot. He was pretty passive with the vet. He was FIV/FeLV negative at that time, although he's been in a few fights since then, so I can't promise that he still is. I was unsure if we'd be able to get him in on a schedule, so we didn't start the vaccinations. I have no idea what he knows about a litter box.

I don't know his age but he probably 2-3 given how long he's been coming around. We'd pay to have him neutered and start all his vaccinations. We could drive a reasonable distance, but not more than an hour or two each way. We just want a good home for this special, sweet little guy before winter.
You know the drill — if you're interested, or know somebody who might be, leave a comment below. Or send me an email at annelaurie (dot) bj (at) gmail, and I'll forward your message to Edith. Fingers crossed we can help this charmer out!