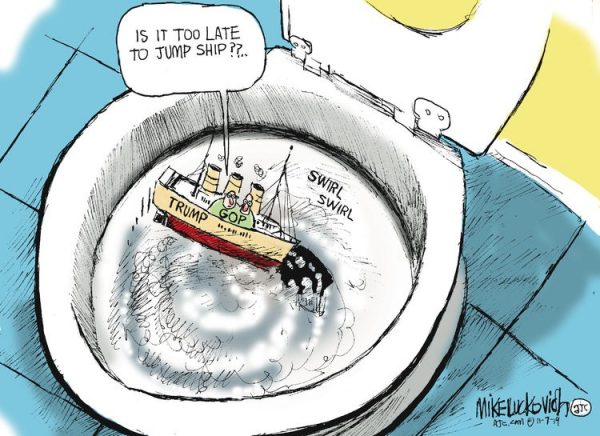 The thing Hunger Games got right about dystopia is how many horrifying stories are presented to the masses as inspirational.

— Schooley (@Rschooley) November 8, 2019
… Because I don't think A Warning, by Anonymous, will qualify for the full 'Flavor of the Day.' Not even on the Friday before a three-day government holiday.
"Tell us the story again about the brave thing you thought about doing in the war!" pic.twitter.com/i8D0zZYuf7

— James Poniewozik (@poniewozik) November 8, 2019
"Well, grandkids, I knew that whatever happened, I needed to keep my job in the administration, taking careful notes so that I could one day not tell anyone the details about anything." https://t.co/twKBBhEKGF

— James Poniewozik (@poniewozik) November 8, 2019
… The author — who first captured attention in 2018 as the unidentified author of a New York Times opinion column — describes Trump careening from one self-inflicted crisis to the next, "like a twelve-year-old in an air traffic control tower, pushing the buttons of government indiscriminately, indifferent to the planes skidding across the runway and the flights frantically diverting away from the airport."…

At a moment when a stream of political appointees and career public servants have testified before Congress about Trump's conduct as part of the House impeachment inquiry, the book's author defends his or her decision to remain anonymous.

"I have decided to publish this anonymously because this debate is not about me," the author writes. "It is about us. It is about how we want the presidency to reflect our country, and that is where the discussion should center. Some will call this 'cowardice.' My feelings are not hurt by the accusation. Nor am I unprepared to attach my name to criticism of President Trump. I may do so, in due course."…

The author describes senior officials waking up in the morning "in a full-blown panic" over the wild pronouncements the president had made on Twitter.

"It's like showing up at the nursing home at daybreak to find your elderly uncle running pantsless across the courtyard and cursing loudly about the cafeteria food, as worried attendants tried to catch him," the author writes. "You're stunned, amused, and embarrassed all at the same time. Only your uncle probably wouldn't do it every single day, his words aren't broadcast to the public, and he doesn't have to lead the US government once he puts his pants on."…

"I am not qualified to diagnose the president's mental acuity," the author writes. "All I can tell you is that normal people who spend any time with Donald Trump are uncomfortable by what they witness. He stumbles, slurs, gets confused, is easily irritated, and has trouble synthesizing information, not occasionally but with regularity. Those who would claim otherwise are lying to themselves or to the country."
Okay, I take back my earlier skepticism — 'Anonymous' is either KellyAnne Conway, or Ivanka working in tandem with a really skilled ghostwriter. (Jared's not smart enough to pull it off, or to find the right amanuensis.)
Or else it's some 24-year-old intern sent over from The Federalist, someone raised in a right-wing homeschooling bubble and studying at Liberty University, who thinks imitating 1950s Great Books imitations of Classical scholarship makes him sound like a sophisticated grown-up.
Watching the Times' reviewer dance around saying there is literally no reason to believe Anonymous is real is something else https://t.co/3E2uhF9Xvi pic.twitter.com/hUz0dZSQpK

— Tim Marchman (@timmarchman) November 8, 2019
"the ideal reader would seem to be an undecided voter who has lived in a cave for the past three years, and is irresistibly moved by quotations from Teddy Roosevelt and solemn invocations of Cicero."https://t.co/w7sPBGMq8z

— Edward-Isaac Dovere (@IsaacDovere) November 8, 2019
the question this raises is–is there such a bubble around the anonymous author and others that he/she believes the claims in here are revelatory? Or does he/she know that they aren't and just want to add another voice to the fire (+ pick up some of that advance)?

— Edward-Isaac Dovere (@IsaacDovere) November 8, 2019