It's not enough that Donald Trump extorted Ukraine's president, Volodymyr Zelensky, to manufacture dirt on the Bidens if he wanted the military aid he desperately needed to continue to defend eastern Ukraine. To add insult to injury, a bunch of American journalists who know nothing about Ukraine have descended on Kyiv to report on how all this affects the United States, with maybe a little local color and perhaps a misstep from Zelensky.
Christopher Miller, who is based in Ukraine and has been reporting from there for years, has had it with the parachuted-in journalistic troops.
Besides hounding Zelensky, reporters have also bombarded those of us who've reported in Ukraine for years. "Hey! Love your Ukraine reporting! Wanna grab a coffee or a drink?" they've said — code for "Tell me all your secrets and give me your sources, and I'll put your $1 Lvivske beer on the company card." And when we've offered contacts — some whose trust we've spent years trying to earn — these outsiders have bombarded them with queries too, and often mischaracterized their words, actions that ultimately forced many underground.

The reporters come flying in like flaming meteorites. And they leave with the earth scorched behind them.

Do they even care? That's not me wondering (although I do wonder); it's the many Ukrainians whom I see every day asking me for insight into just what the fuck is going on. They're worried about the picture that reporters and talking heads are painting of their country of 40 million people, which is struggling to root out corruption, trying to jumpstart its economy, and fighting for literal survival in a war fueled by an authoritarian ruler — Russia's Vladimir Putin — who is hell-bent on seeing it collapse. And a scan of US media suggests their concerns are warranted.
I have great sympathy for this, having been anywhere from annoyed to horrified at articles on Estonia, a place I know quite a bit about that is perhaps even more obscure to American reporters than Ukraine. I'm having a flashback to a New York Times article about Sillamäe, the town where I helped get an enormous tailings pond cleaned up. There were a number of things wrong or questionable about the town and the processing plant that had caused the environmental problems – I don't recall them all. The most inexcusable error, though, was the claim that the reporter had seen the lights of Narva across the bay from Sillamäe. Nope. No way. He never even looked at a map.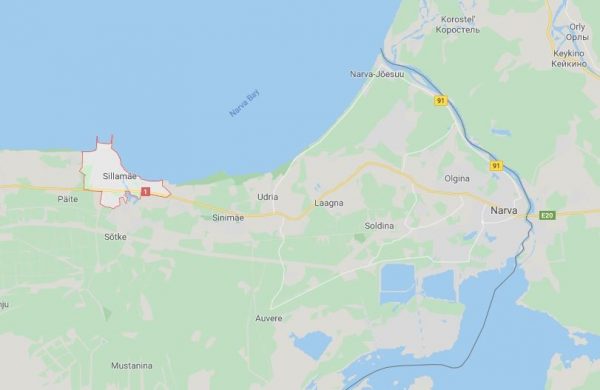 Highway 1 (E20 in Russia) goes more or less straight east to Narva, the town that our newsies like to use as the place that the Russian invasion/ subversion will take place. I disagree with that, but will do so at length some other time.
What probably confused our intrepid reporter was that the lights he saw were from Narva-Jõesuu, which means "the mouth of the Narva River," which he would have known if he had learned just a little bit of Estonian. ("Is it like Russian?" "No.")
Narva-Jõesuu is a resort town, and Narva is a typical city. Narva-Jõesuu lost much of its clientele when the border between Estonia and Russia (the Narva River in this area) became less passable. Narva has a couple of cool castles glaring across the river at each other, though.

Anyhoo, take what American reporters write about Ukraine with a grain of salt, and think about the real people who live in Ukraine and are trying to deal with some very difficult issues.
Open thread!