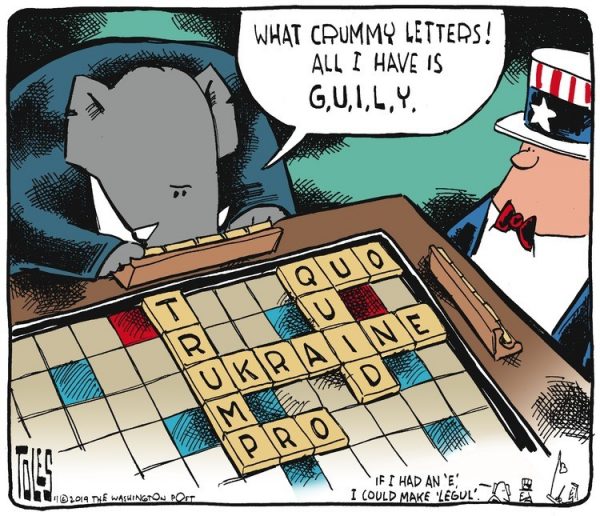 BOOKMARK ALERT: WaPo's Trump-Ukraine timeline is up to nearly 8,000 words. We think it's the most complete around.

Did we miss something, though? Let us know.https://t.co/85iW7EpqVA

— Aaron Blake (@AaronBlake) November 11, 2019
Across the aisle…
New New Hampshire poll via Quinnipiac:

Biden 20%
Warren 16%
Buttigieg 15%
Sanders 14%
Gabbard 6%
Yang 4%
Klobuchar 3%
Steyer 3%
Everyone else 1% or less

— Ryan Struyk (@ryanstruyk) November 11, 2019
Lest you make the mistake that Tulsi Gabbard's support is coming from the left, almost all of her support in the Q-Pac poll of NH is from voters who describe themselves as conservative or moderate. And almost all from independents and not Democrats. https://t.co/gjT1sex4Gg pic.twitter.com/gCULsOB2J1

— Nate Silver (@NateSilver538) November 11, 2019
Polling data from New Hampshire shows that Tulsi Gabbard has reached 6% support overall in the primary, but that is almost entirely because 10% of non-Democrats who can vote in the NH primary say they support her (as opposed to just 1% of Democrats) https://t.co/C0pqmRfmqP pic.twitter.com/etLujIZHdM

— Robert Mackey (@RobertMackey) November 11, 2019
Tusli is the choice of people who plan to vote in the Democratic Party but don't like Democrats and most of the things Democrats stand for. Those voters are plentiful in the NH primary, where independents participate in big numbers.

— Nate Silver (@NateSilver538) November 11, 2019
If No Labels thinks its good, its bad. https://t.co/5h4FNgwNtW

— Ragnarok Lobster (@eclecticbrotha) November 11, 2019
Speaking of New Hampshire… Apart from the NYTimes, Deval Patrick's only potential constituency, IMO, are people hoping to kneecap Elizabeth Warren in the Granite State.
NEWS: @DevalPatrick is considering a last-minute entry into the presidential race

And his Mass allies are already putting out feelers in early states.

Decision imminent: NH filing deadline is Friday https://t.co/0ZfjyK2Zdc

— Jonathan Martin (@jmartNYT) November 11, 2019

Patrick was a perfectly fine Massachusetts governor, in a state with such a weak gubernatorial system that we habitually elect 'sensible' Repubs as window dressing for our deep-blue legislature. He got two terms out of advertising himself as 'Obama, but without the vaguely scary radical overtones' to white suburban voters, and if he hadn't promised his wife not to run again he'd probably have kept right on winning the corner office.
But if Obama Adjacent is what NH Democratic primary voters are looking for, they already have a choice between Joe Biden and Pete Buttigieg. And if they're looking for a less alabaster alternative, well — neither Corey Booker nor Julian Castro, not to mention Kamala Harris, seem to be getting much Granite State attention.
Just in time for the holiday advertising blitz…
His time at Bain capital and the complete gutting of Toys R Us around the country is going to be extremely problematic. No way around it. Workers got screwed and Bain made $$$ https://t.co/ATqorXC27c

— KOMBIZ (@kombiz) November 11, 2019