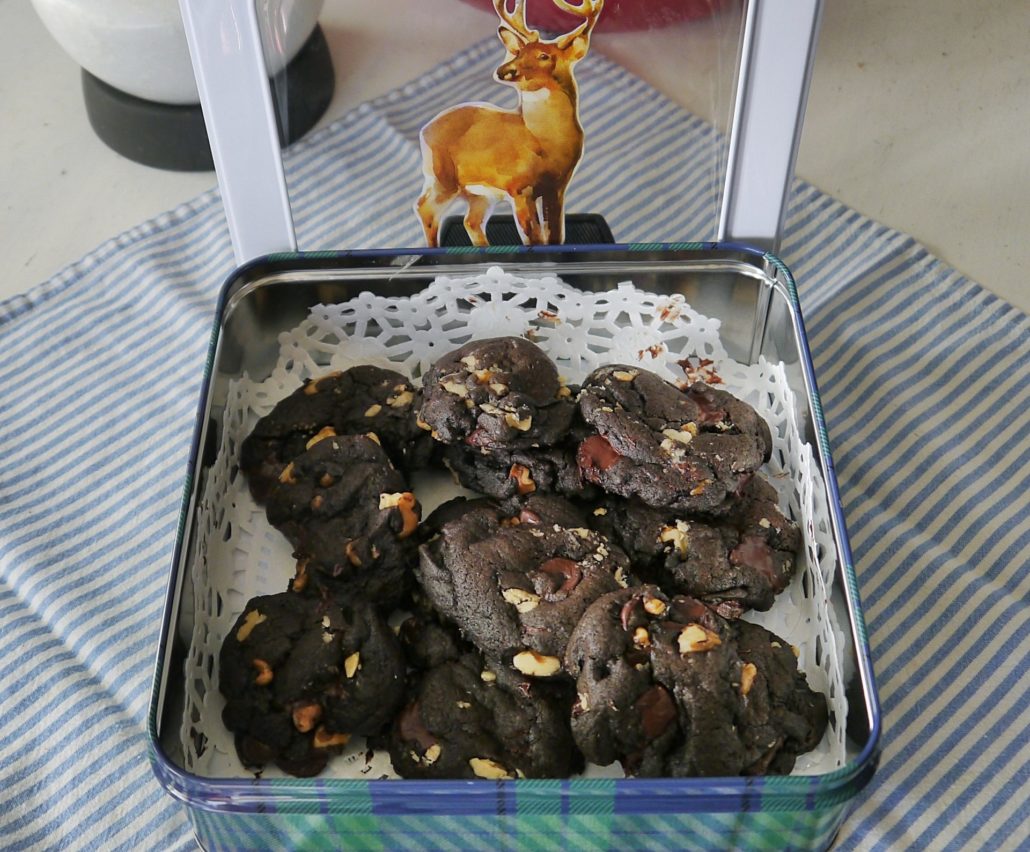 As predicted, yesterday was too, too crazy for a recipe thread. Trying tonight instead. It's never too early to start thinking about holiday food trays, boxes, and bags. I have an entire section dedicated to making sweet and salty treats here.
I had to go to a funeral and wanted to take something sweet. I find chocolate helps. Lots of chocolate.
I don't make these very often, because they are super rich and my Dark Chocolate Chip Cookies are usually enough.
They're easy and just a touch above regular chocolate chip cookies. This is a full batch, makes about 4 dozen cookies. Great for your holiday cookie boxes.
Chocolate Chocolate Chip Cookies
1 cup + 2 tbsp butter
1 cup dark brown sugar
1/2 cup sugar
2 eggs
2 tsp vanilla
dash of salt
1 tsp baking soda
2 cups flour
1/3 cup unsweetened cocoa
2 cups semi-sweet chocolate chips
1 cup nuts (walnuts, hazelnuts, almonds or peanuts), chopped
mixing bowl and cookie sheet
Preheat oven to 350 degrees (the lower temperature is because dark cookies can burn easily)
Cream together butter and sugars. Add eggs and vanilla, mixing well. Sift together salt, soda, flour and cocoa, then add to butter mixture, blending well. Add nuts and chocolate chips. Spoon onto cookie sheet and bake at 350 degrees for 10-12 minutes.
Cool on the cooling rack.
---
What's on your menu this weekend? Anyone have special requests for the Thanksgiving recipe exchange? Hit the comments to share your recipes, gift ideas, holiday requests or whatevah…