On the Road is a weekday feature spotlighting reader photo submissions.
From the exotic to the familiar, whether you're traveling or in your own backyard, we would love to see the world through your eyes.
Welcome to the new On The Road! It's been a long time coming, and I'm excited that we're back.
I'm still deep in the moving/unpacking process. To explain the long time this is taking – I'm moving two houses (my mother's and mine) into my newly-purchased home. And my house has 1.5 houses worth of stuff from our inability to throw things away combined with my mother-in-law's stuff we inherited. So it's not as simple as "put everything in a box" – in some cases, we have three, even four, of an item, but they aren't together. So as we pack things or reveal things to be packed, we often have to put an item aside until we can get to the other house to group similar items.
Coincidentally, I now live right near a feature called Red Rocks.
And now onto Bill!
I've made a couple of trips up to Red Rock to take advantage of it's dark skies this past month. The first trip I concentrated on the Orion nebula, a wide shot of the Andromeda and Triangulum galaxies, and a wide shot of the Orion nebula complex. I was quite unhappy with the later and returned to reshoot it(with a wider 30mm lens). I also wanted to shoot a narrow shot of the Triangulum galaxy but the battery on my sky tracker ran out of juice. On the way back though Mojave the CHP had blocked off the road for a truck carrying a very long, eh, something to the Mojave Spaceport.

Technical Note: The two Orion photos have the notation "LRGB Processing", this method of processing a photo separates the luminosity and the color in a photo and processes them separately.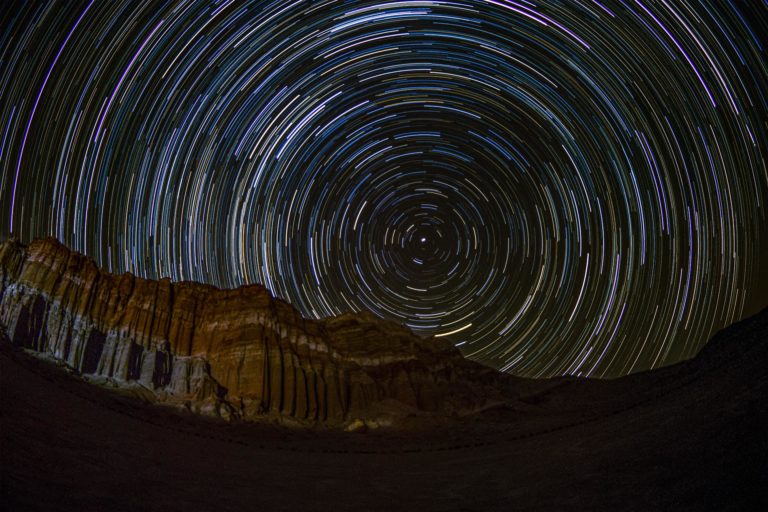 Red Rock Canyon State Park, CA
November 5, 2019
Star Trails at the Red Cliffs.
When I shoot at a place with an interesting foreground, I'll set up one camera and shoot star trails. They're easy to shoot and due to the relative lack of air traffic at Red Rock, easy to process as well.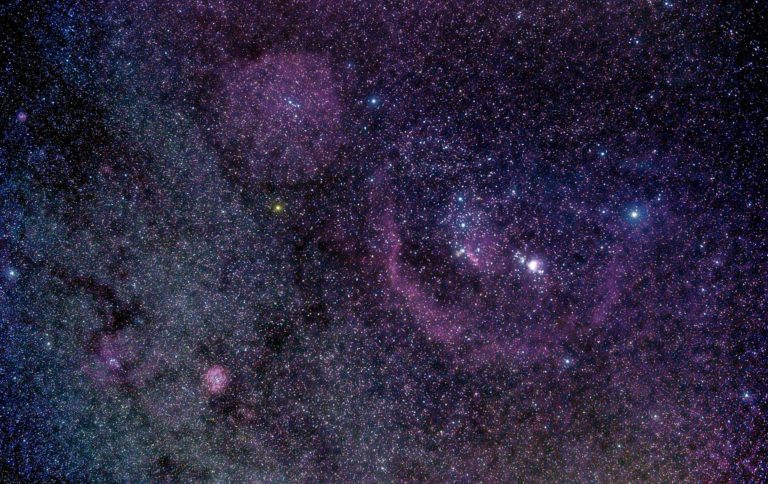 Red Rock Canyon State Park, CA
November 5, 2019
Orion Nebula Complex(LRGB processing)
The area in and around the Orion constilation contain a large number of nebula. The Great Orion nebula shines brightly to the right of center. On each side of the bottom star in Orion's belt are the Flame Nebula and the Horsehead Nebula. Surrounding these nebula and reaching to blue Rigel is Barnards Loop. Above Rigel is the faint Witchhead Nebula. At the bottom left is the Cone Nebula and Rosette Nebula.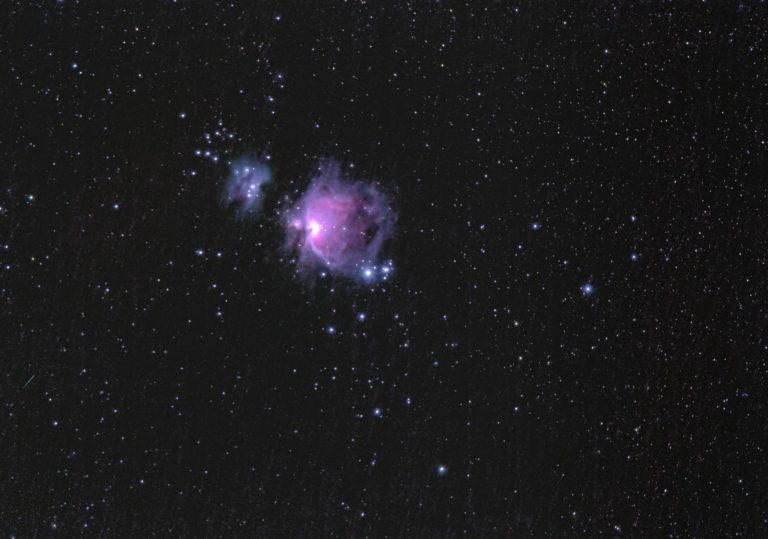 Red Rock Canyon State Park, CA
October 26, 2019
Great Orion Nebula and Running Man Nebula(LRGB processing)
I've posted pictures of the Great Orion nebula that I've shot here in town, Red Rock is a dark place and more detail is visible up there. There's a bit of pattern noise that showed up at the bottom, I've since figured a way to remedy that. I've added in a meteor that was caught in one of the first exposures, you can see it(it's the green line at the bottom left).