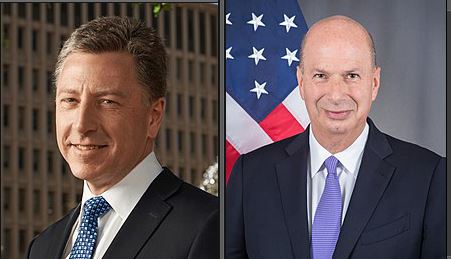 I expect that Jennifer Williams's and Lt. Col. Alexander Vindman's testimony this morning will confirm other witnesses' testimony, with few if any surprises.
The most interesting testimony this week is likely to come from Kurt Volker (this afternoon) and Gordon Sondland (Wednesday). It is hard to predict what they will say. A report last night said that Sondland is changing his deposition again.
Volker has been the Special Representative for Ukraine Negotiations, the negotiations on getting Russia out of eastern Ukraine. He has been a foreign service officer, like Chargé d'Affaires William Taylor and others who have testified. And yet he was one of the "Three Amigos," Sondland and Secretary of Energy Rick Perry being the other two. He seems to have known about the Giuliani channel into Ukraine and worked with it. Seemingly working for the United States of America, but with some special stuff on the side for Donald Trump personally. Perhaps we will learn how he reconciled those two things.
Sondland's career has been building a hotel chain. As a big donor to the Trump Inauguration Committee, he got in line for an ambassadorship and is now Ambassador to the European Union. There is nothing in his history that suggests he is in any way qualified for that job. He stretched (or was told to stretch) his responsibilities to Ukraine, which is not part of the EU. In fact, having the American Ambassador to the EU messing around with Ukraine would be likely to irritate Russia and raise questions in other places about US intentions.
Adam Schiff and the House Intelligence Committee are doing a great job in the hearings, but I have some questions of my own for Gordon Sondland.
1) Did Donald Trump suggest the job of Ambassador to the EU, or did you?
2) How did he describe what he wanted you to do in the job? Do you have a written job description?
3) Did you contact current or former ambassadors to learn how to ambassador? If you did, was that before or after the job offer?
4) Do you know that Ukraine is not a member of the EU? That Russia feels strongly about that? Did you know when you told Ambassador Marie Yovanovitch that you were in charge of Ukraine?
5) Did you at any time meet with or take instruction from Secretary of State Mike Pompeo?
6) Did you have any training in security issues? Did Trump tell you to disregard security precautions?
7) Are you aware that the Federal Records Act applies to your communications with the President?