Last night Ruemara made the very good point that the prices that we pay for healthcare are ridiculous and that the split between insurance types that really comes into play above the shoulder blades is nuts.
The solution, it turns out, is cutting open my gum & stuffing it with, uh, bone, I believe. Like stuffing a bra with tissues only the hope is the tissues will bond with the boobies to build healthy bone in the jaw. Or something like that. This procedure costs $3k. With insurance. Which is a yikes. And a "motherfuck, is this going to give me superpowers, at least? " Because, yikes, and on both sides of my jaw. Double yikes.
There is one point I want to circle back to though:
making healthcare affordable will require addressing the scale of costs in the U.S. for medicine, tools, personnel, materials — the whole shebang. I don't believe Medicare for All addresses that except with the idea that we excise insurance companies from the equation.
The logic model of this statement is that the traditional Medicare program spends about 5% of total program expenses on administration and overhead while the ACA allows insurers to spend between 80% (individual and small group) and 85% (large group) of premiums on claims and therefore spend between 15% and 20% on administrative overhead, hookers and blow for the C-suite and profit.  Squeezing 10 points from the hookers and blow accounts and profit would lead to lower prices.
To a limited extent, that is probably right.  But it is a very limited extent.
There are two things we must consider though. First the denominator problem. [Total Claims/ (Total Claims+ Admin Costs ) ]*100  is how we get the 95% figure for Medicare.  We don't know if we are at an optimal level of administration for Medicare.  The easiest way to make the number go up is to increase total claims as that increases the numerator faster than the denominator.  This metric rewards spending a lot on ineffective claims and very little on non-billable services that are far more effective and efficient.   As a subpoint, efficient insurers can be profitable at 88% to 90% MLR and at least some of the money that they spend between 88% and 95% is on administrators that adds system complexity in forms such as bundled payments, care coordination and alternative payment models that lowers total cost of care that accrues directly to the payer and also has positive,cost reducing system delivery spillover savings.  We want care delivery changes that leads to lower total spending and sometimes that involves substituting clinical claims dollars for administration dollars.
Secondly, insurers aren't where the money is.   I am pulling up Table 3 of the 2017 National Health Expenditure.
The graph has source of spending for everything except 3rd party and other sources of funding as this is quick and dirty.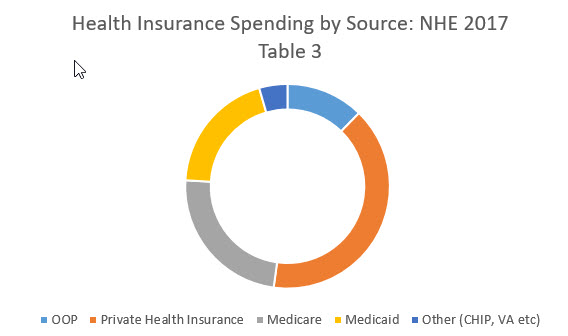 Private health insurance makes up about 40% of the spending in this subset.  12% is out of pocket spending through either direct cash payments or cost sharing which comes from either private insurance, Medicare or other types of insurance.  The rest is government spending.  Eliminating 10% of the spending from the administration of private insurance leads to a one time 4 point drop in national health expenditures in a static analysis.  I think the actual drop in this scenario would be significantly less as I think that at least some of the work that my former co-workers do every day is not pointless red queen racing or performative preening.
Making insurers more efficienct is a good thing.  I am not disputing that.  However moving every insurer to a theoretical optimal level of administrative leanness (I am not assuming it is the Medicare level) that is higher than the current average level of administrative efficiency will only produce a couple of points in change for a single year. The real money is not at the insurers.  And that insight is why Colorado is trying to institute price banding on hospitals in their public option plan.